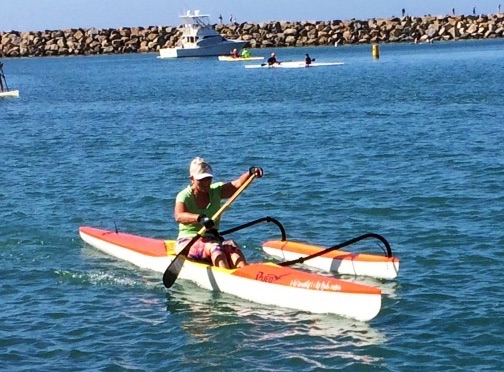 Toni's Wall:
Thank you Toni for being the first ever to register for the North Shore Xtreme 2016, back in June. We look forward to seeing you at the Salton Sea next February. Happy holidays.
Posted by Tevita Moce on Wed, 16 Dec 2015 02:45:42
---
Check out this race...looking to add some OC's...if you know of any women paddlers..that would be great!!! Big River Regional 2015 Thanks, MJ
Posted by Mj Janczewski on Fri, 31 Jul 2015 00:21:38
---
Please come paddle in the "Gasparilla SUP Invasion," on March 22nd and take the Captain's Gold in this pirate themed event. Race the urban waterways along the gorgeous new Riverwalk of downtown Tampa and have FUN doing it! Vendors, food, paddling and more! www.gasparillasupinvasion.com https://twitter.com/GASPARILLASUP http://instagram.com/gasparilla_sup_invasion/
Posted by Melissa Trinidad on Sat, 31 Jan 2015 12:06:02
---
We want to invite you to Paddle Stars, visit www.PaddleStars.com lot's of great prizes, trophies and events. Cash purse $12,000. It's going to be an incredible weekend on one of the worlds best beaches! Join us at Paddle Stars.
Posted by Thomas Ganz Jr on Wed, 04 Jun 2014 16:14:45
---
| Title | Toni's Entries | Location | Date |
| --- | --- | --- | --- |
| NAC Hal Rosoff Classic 2018 | View Entries | Newport Aquatic Center Inc, Whitecliffs Drive, Newport Beach, CA | 02/10/2018 |
| 2018 Hanohano Huki Ocean Challenge | View Entries | Bonita Cove Park, Mission Bay Park, San Diego, CA | 01/27/2018 |
| SDOCC La Jolla Shores Invitational 2017 | View Entries | Kellogg Park, La Jolla, CA | 11/11/2017 |
| Off Da Couch Race 2017 | View Entries | Newport Aquatic Center Inc, Whitecliffs Drive, Newport Beach, CA | 10/14/2017 |
| NAC Hal Rosoff Classic 2017 | View Entries | Newport Aquatic Center Inc, Whitecliffs Drive, Newport Beach, CA | 02/11/2017 |
| 2017 Hanohano Huki Ocean Challenge | View Entries | Bonita Cove Park, Mission Bay Park, San Diego, CA | 01/28/2017 |
| Return to the Pier 2017 | View Entries | 301 W Cabrillo Blvd, Santa Barbara, CA 93101 | 01/14/2017 |
| Becky Stuart Memorial Race 2016 - Official Registration | View Entries | Oceanside, CA 92057 | 12/03/2016 |
| SDOCC La Jolla Shores Invitational 2016 | View Entries | Kellogg Park, La Jolla, CA | 11/12/2016 |
| 7th Annual Another Dam Race: Parker | View Entries | 675 Parker Dam Rd, Parker Dam, CA 92267 | 11/05/2016 |
| Off Da Couch Race - The Sam Couch Race 2016 | View Entries | Newport Aquatic Center Inc, Whitecliffs Drive, Newport Beach, CA | 10/15/2016 |
| NAC Friday Night Brights: Neon Summer Lights 2016 | View Entries | 1 Whitecliffs Drive, Newport Beach, CA | 08/19/2016 |
| NAC Friday Night Brights: Patriotic Lights | View Entries | 1 Whitecliffs Drive, Newport Beach, CA | 07/01/2016 |
| NAC Friday Night Brights: Fiesta Taco Bites | View Entries | 1 Whitecliffs Drive, Newport Beach, CA | 05/06/2016 |
| NAC Friday Night Brights: Earth Day Highlights | View Entries | 1 Whitecliffs Drive, Newport Beach, CA | 04/22/2016 |
| Dana Ocean Challenge 2016 | View Entries | Dana Point Harbor, Dana Point, CA | 03/19/2016 |
| Lanakila Classic 2016 | View Entries | Seaside Lagoon, Portofino Way, Redondo Beach, CA | 02/20/2016 |
| 2016 North Shore Xtreme | View Entries | Salton Sea, CA | 02/11/2016 |
| 2016 Hanohano Huki Ocean Challenge | View Entries | Bonita Cove Park, Mission Bay Park, San Diego, CA | 01/23/2016 |
| Return to the Pier 2016 | View Entries | 301 W Cabrillo Blvd, Santa Barbara, CA 93101 | 01/16/2016 |
| Tecolote 5000 2015 | View Entries | SDCKT Boathouse at the Youth Aquatic Center 1750 Fiesta Island Road, San Diego, CA | 12/12/2015 |
| Becky Stuart Memorial Race 2015 - Official Registration | View Entries | Oceanside, CA 92057 | 12/05/2015 |
| Off Da Couch Race - The Sam Couch Memorial Race 2015 | View Entries | Newport Aquatic Center Inc, Whitecliffs Drive, Newport Beach, CA | 10/17/2015 |
| NAC Friday Night Brights: Neon Summer Lights | View Entries | 1 Whitecliffs Drive, Newport Beach, CA | 08/14/2015 |
| NAC Friday Night Brights Races | View Entries | 1 Whitecliffs Drive, Newport Beach, CA | 07/03/2015 |
| 2015 Hawaiian Airlines Liberty Challenge | View Entries | Pier 26, New York, NY | 06/20/2015 |
| Paddleme Championships 2015 | View Entries | Mother's Beach, Admiralty Way, Marina del Rey, CA | 03/28/2015 |
| Dana Ocean Challenge 2015 | View Entries | Dana Point Harbor, Dana Point, CA | 03/21/2015 |
| Lanakila Classic 2015 | View Entries | Seaside Lagoon, Portofino Way, Redondo Beach, CA | 02/28/2015 |
| Hal Rosoff Classic 2015 | View Entries | Newport Aquatic Center Inc, Whitecliffs Drive, Newport Beach, CA | 02/07/2015 |
| 2015 Hanohano Huki Ocean Challenge | View Entries | Bonita Cove Park, Mission Bay Park, San Diego, CA | 01/24/2015 |
| Return to the Pier 2015 | View Entries | 301 W Cabrillo Blvd, Santa Barbara, CA 93101 | 01/17/2015 |
| Becky Stuart Memorial Race 2014 | View Entries | Oceanside, CA | 12/06/2014 |
| SDOCC La Jolla Shores Invitational 2014 | View Entries | Kellogg Park, La Jolla, CA | 11/08/2014 |
| Off Da Couch Race - The Sam Couch Memorial Race | View Entries | Newport Aquatic Center Inc, Whitecliffs Drive, Newport Beach, CA | 10/18/2014 |
| California Coastal Relay 2014 | View Entries | Long Beach, CA | 04/05/2014 |
| Paddleme Championships | View Entries | Mother's Beach, Admiralty Way, Marina del Rey, CA | 03/22/2014 |
| Dana Ocean Challenge | View Entries | Dana Point, CA | 03/15/2014 |
| Lanakila Classic | View Entries | 200 Portofino Way, Redondo Beach, CA | 02/22/2014 |
| Hal Rosoff Classic 2014 | View Entries | 1 Whitecliffs Dr, Newport Beach, CA 92660 | 02/08/2014 |
| 2014 Hanohano Huki Ocean Challenge | View Entries | Bonita Cove Park, Mission Bay Park, San Diego, CA | 01/25/2014 |
| Return to the Pier | View Entries | 301 W Cabrillo Blvd, Santa Barbara, CA 93101 | 01/11/2014 |
| 2013 Tecolote 5000 | View Entries | 1750 Fiesta Island Road, San Diego, CA | 12/14/2013 |
| Becky Stuart Memorial | View Entries | Oceanside, CA | 12/07/2013 |
| SDOCC La Jolla Shores Invitational | View Entries | Kellogg Park, La Jolla, CA | 11/09/2013 |
| Malibu To Marina | View Entries | Mother's Beach, Admiralty Way, Marina del Rey, CA | 03/23/2013 |
| Dana Outrigger Ocean Challenge | View Entries | Dana Point Harbor Drive, Dana Point, CA | 03/02/2013 |
| Hal Rosoff Classic | View Entries | Newport Aquatic Center Inc, 1 Whitecliffs Dr, Newport Beach, CA 92660 | 02/09/2013 |
| Hanohano Huki Ocean Challenge | View Entries | Bonita Cove, San Diego, CA | 01/26/2013 |
Check out all the PaddleGuru Races »
Races For Which You Are an Admin:
| Race | Date | Listing | Registration | Duplicate Race |
| --- | --- | --- | --- | --- |