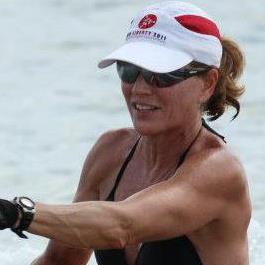 Jennifer's Wall:
Please come paddle in the "Gasparilla SUP Invasion," on March 22nd and take the Captain's Gold in this pirate themed event. Race the urban waterways along the gorgeous new Riverwalk of downtown Tampa and have FUN doing it! Vendors, food, paddling and more! www.gasparillasupinvasion.com https://twitter.com/GASPARILLASUP http://instagram.com/gasparilla_sup_invasion/
Posted by Melissa Trinidad on Thu, 29 Jan 2015 13:55:37
---
We want to invite you to Paddle Stars, visit www.PaddleStars.com lot's of great prizes, trophies and events. Cash purse $12,000. It's going to be an incredible weekend on one of the worlds best beaches! Join us at Paddle Stars.
Posted by Thomas Ganz Jr on Wed, 04 Jun 2014 15:57:03
---
| Title | Jennifer's Entries | Location | Date |
| --- | --- | --- | --- |
| Florida Cup 2018 | View Entries | 15100 Gulf Boulevard, St Petersburg, FL 33708 | 05/19/2018 |
| Pareidolican 5K | View Entries | Sebastian, FL, USA | 05/06/2018 |
| Key West Paddle Classic 2018 | View Entries | Higgs Beach, 1000 Atlantic Boulevard, Key West, FL | 04/28/2018 |
| Shark Bite Challenge 2018 | View Entries | Honeymoon Island State Park, 1 Causeway Blvd, Dunedin, FL 34698 | 04/13/2018 |
| Flying Fish Spring Paddle Challenge | View Entries | 4969 SE Dixie Hwy, Stuart, FL | 03/24/2018 |
| East Coast Paddleboard Championship | View Entries | Hollywood Beach, Hollywood, FL | 02/17/2018 |
| Palm Beach Paddlefest 2018 | View Entries | 200 U.S. 1, Jupiter, FL | 02/10/2018 |
| Silver River Race | View Entries | 9564 Northeast 28th Lane, Silver Springs, FL 34488 | 12/02/2017 |
| Nish Outrigger Challenge 2017 | View Entries | Miami Rowing Club, Rickenbacker Causeway, Key Biscayne, FL | 11/11/2017 |
| Clearwater Beach Classic 2017 | View Entries | Clearwater Community Sailing Center, 1001 Gulf Boulevard, Clearwater, FL | 09/28/2017 |
| Blueline Summer Race League: Race 2 | View Entries | 997 Hwy A1A, Jupiter, FL | 06/20/2017 |
| Blueline Summer Race League: Race 1 | View Entries | 997 Hwy A1A, Jupiter, FL | 06/13/2017 |
| Battle on the Blueway 2017 | View Entries | Fort Myers Beach, FL | 06/10/2017 |
| Sunshine SUP Series 2017 Race 1 | View Entries | 50 N Pompano Beach Blvd, Pompano Beach, FL | 06/03/2017 |
| Blueline Race League: Race 10 BUT POTLUCK MOVED TO May 30 | View Entries | 997 Hwy A1A, Jupiter, FL | 05/23/2017 |
| 3rd Annual Urban Kai's King & Queen of the Bay 2017 | View Entries | 13090 Gandy Boulevard North, St. Petersburg, FL | 05/21/2017 |
| East Coast Ocean Surfski & Paddleboard Championships | View Entries | Hollywood Beach, Hollywood, FL | 05/20/2017 |
| Blueline Race League: Race 9 | View Entries | 997 Hwy A1A, Jupiter, FL | 05/16/2017 |
| Palm Beach Paddlefest | View Entries | 200 U.S. 1, Jupiter, FL | 05/13/2017 |
| Blueline Race League: Race 8 | View Entries | 997 Hwy A1A, Jupiter, FL | 05/09/2017 |
| Blueline Race League: Race 7 | View Entries | 997 Hwy A1A, Jupiter, FL | 04/25/2017 |
| Calusa Palooza 2 | View Entries | Koreshan State Historic Site, 3800 Corkscrew Rd, Estero, FL | 04/22/2017 |
| Blueline Race League: Race 6 | View Entries | 997 Hwy A1A, Jupiter, FL | 04/18/2017 |
| Shark Bite Challenge 2017 | View Entries | Honeymoon Island State Park, 1 Causeway Blvd, Dunedin, FL 34698 | 04/07/2017 |
| Nish-Pombo Paddle Fest Miami 2016 | View Entries | Miami Rowing Club, Rickenbacker Causeway, Key Biscayne, FL | 11/19/2016 |
| Blueline Race League FALL FUN: Race 6 | View Entries | 997 N Hwy A1A, Jupiter, FL | 11/15/2016 |
| Blueline Race League FALL FUN: Race 5 | View Entries | 997 N Hwy A1A, Jupiter, FL | 11/08/2016 |
| Blueline Race League FALL FUN: Race 4 | View Entries | 997 N Hwy A1A, Jupiter, FL | 11/01/2016 |
| Blueline Race League FALL FUN: Race 3 | View Entries | 997 N Hwy A1A, Jupiter, FL | 10/25/2016 |
| Blueline Race League FALL FUN : Race 2 | View Entries | 997 N Hwy A1A, Jupiter, FL | 10/18/2016 |
| Clearwater Beach Classic 2016 | View Entries | Clearwater Community Sailing Center, 1001 Gulf Boulevard, Clearwater, FL | 10/01/2016 |
| Ocean Warrior Challenge 2016 | View Entries | Carlin Park, North SR-A1A, Jupiter, FL (Jupiter Civic Center) | 09/11/2016 |
| The Great Ponte Vedra Paddle 2016 | View Entries | Ponte Vedra Beach, FL | 09/05/2016 |
| Blueline Race League Season 2: Race 10 | View Entries | 997 N Hwy A1A, Jupiter, FL | 08/23/2016 |
| Blueline Race League Season 2: Race 9 | View Entries | 997 N Hwy A1A, Jupiter, FL | 08/16/2016 |
| Blueline Race League Season 2: Race 8 | View Entries | 997 N Hwy A1A, Jupiter, FL | 08/02/2016 |
| Blueline Race League Season 2: Race 7 | View Entries | 997 N Hwy A1A, Jupiter, FL | 07/26/2016 |
| Blueline Race League Season 2: Race 6 | View Entries | 997 N Hwy A1A, Jupiter, FL | 07/19/2016 |
| Blueline Race League Season 2: Race 5 | View Entries | 997 N Hwy A1A, Jupiter, FL | 07/12/2016 |
| South Florida Surfcraft Challenge | View Entries | Hollywood Beach, Hollywood, FL | 07/10/2016 |
| 19th Annual East Coast Paddleboard and SUP Championships | View Entries | Crabby Joe's Deck and Grill, On the SunGlow Pier, Port Orange, FL, 32127 | 07/09/2016 |
| Battle on the Blueway | View Entries | Fort Myers Beach, FL | 06/11/2016 |
| Shark Bite Challenge 2016 | View Entries | Honeymoon Island State Park, 1 Causeway Blvd, Dunedin, FL 34698 | 04/08/2016 |
| Neptunalia Winter Challenge presented by BIC SUP | View Entries | Indian Harbour Beach, FL | 01/17/2016 |
| Shark Bite Challenge 2015 | View Entries | Honeymoon Island State Park, 1 Causeway Blvd, Dunedin, FL 34698 | 04/10/2015 |
| 2014 WPA Paddle Championships | View Entries | Sirata Beach Resort, 5300 Gulf Boulevard, St. Pete Beach, FL | 10/25/2014 |
| Florida Cup 2014 | View Entries | Treasure Island, FL | 05/16/2014 |
| Key West Paddle Board Classic 2014 | View Entries | Key West, FL | 05/03/2014 |
| Shark Bite Challenge | View Entries | Honeymoon Island State Park, 1 Causeway Blvd, Dunedin, FL 34698 | 04/04/2014 |
| The Race Around Palm Island | View Entries | 7092 Placida Rd, Placida, FL | 09/28/2013 |
Check out all the PaddleGuru Races »
Races For Which You Are an Admin:
| Race | Date | Listing | Registration | Duplicate Race |
| --- | --- | --- | --- | --- |
Ocean Club: