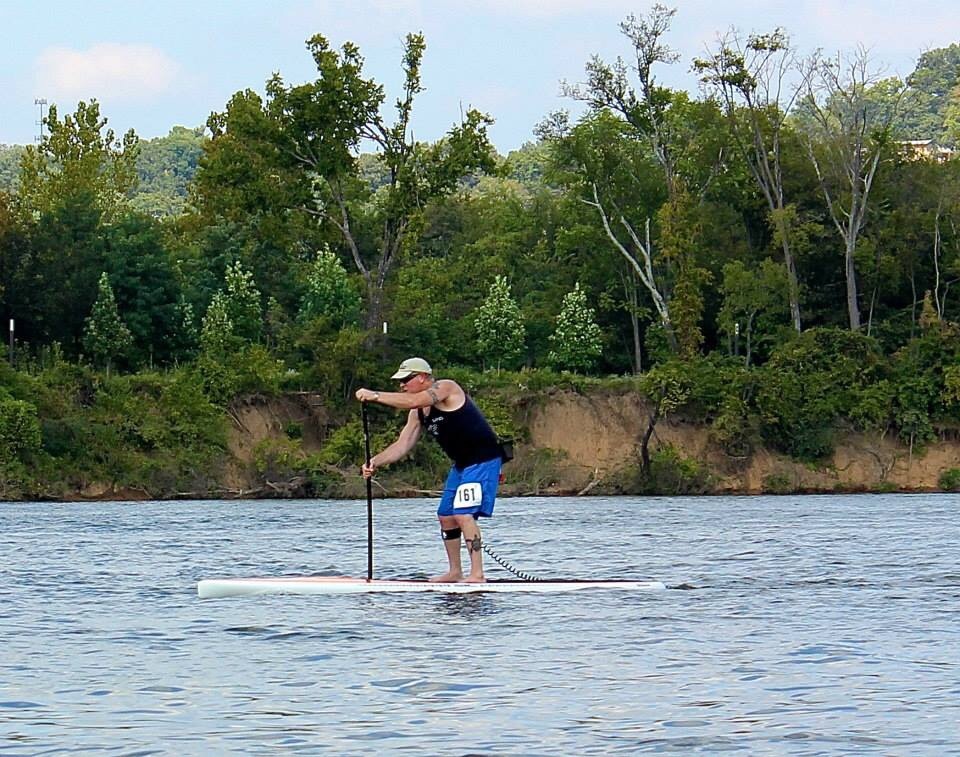 Scott's Wall:
Hi Scott, just wanted to be sure you knew about this year's Pirate Paddle. Sunday, May 22, same place as last year, but bigger and even better. Hope you can make. Rich Bubnowski
Posted by Richard Bubnowski on Sun, 01 May 2016 22:04:30
---
I am contacting you to let you know that I am canceling the Lowcountry Cold Water Classic scheduled for Saturday, March 19, 2016. Andy Kennedy Multisport Fitness, LLC Hilton Head Is., SC 225-772-2737
Posted by Andy Kennedy on Fri, 18 Mar 2016 11:20:57
---
Aloha Scott! Congratulations on signing up for the Bay Bridge Paddle! It's going to be an amazing day on the water. Capital SUP has designed an entry level on-water & on-land training program for you to follow to get you ready for the race. Check out our Facebook page (www.facebook.com/capitalsup) or email bmeyer@capitalsupbiz.com to get more details!
Posted by Brian Meyer on Thu, 03 Mar 2016 13:08:26
---
| Title | Scott's Entries | Location | Date |
| --- | --- | --- | --- |
| B'More SUP Race Series | View Entries | 8500 Cove Road, Dundalk, MD | 08/13/2017 |
| East of Maui-Eastport YC Chesapeake Stand Up Challenge 2017 | View Entries | Eastport Yacht Club, First St, Annapolis, MD | 07/08/2017 |
| Paddle Second Chance 2017 | View Entries | Holts Landing State Park, Millville DE | 06/25/2017 |
| Treasure Island Pirate Paddle III 2017 | View Entries | Riverfront Park, River Road, Point Pleasant, NJ | 05/20/2017 |
| Bay Bridge Paddle 2017 | View Entries | Sandy Point State Park, 1100 East College Parkway, Annapolis, MD | 04/29/2017 |
| Kumu'ohu Challenge 2017 | View Entries | 3700 K Street Northwest, Washington, DC | 04/15/2017 |
| Surf to Sound 2016 | View Entries | Blockade Runner Beach Resort, Waynick Boulevard, Wrightsville Beach, NC | 11/04/2016 |
| NCA Mini-Mental Outrigger Canoe Race 2016 | View Entries | Anacostia Community Boathouse, M Street Southeast, Washington, DC | 09/11/2016 |
| The Colonial SUP Race 2016 | View Entries | 403 East Front Street, New Bern, NC | 08/27/2016 |
| Battle on the Bay 2016 | View Entries | 201 60th Street, Ocean City, Maryland 21842 | 08/20/2016 |
| Cayuga Lake SUP Cup 2016 | View Entries | Myers Park, Lansing Park Road, Lansing, NY | 07/29/2016 |
| Cape SUP Challenge 2016 | View Entries | 104 St Louis St, Dewey Beach, DE | 07/23/2016 |
| Return to Goat Island | View Entries | Snow Hill, Maryland | 06/18/2016 |
| Treasure Island Pirate Paddle II | View Entries | Riverfront Park, River Road, Point Pleasant, NJ | 05/22/2016 |
| Bay Bridge Paddle | View Entries | Sandy Point State Park, 1100 East College Parkway, Annapolis, MD | 05/14/2016 |
| Paddle Race for the Bays, Sag Harbor - 2016 | View Entries | Havens Beach Road, Sag Harbor, NY | 05/07/2016 |
| The West Marine Carolina Cup 2016 | View Entries | Wrightsville Beach, NC | 04/19/2016 |
| Kumu'ohu Challenge 2016 | View Entries | 3700 K Street Northwest, Washington, DC | 04/16/2016 |
| Surf to Sound 2015 | View Entries | Blockade Runner Beach Resort, Waynick Boulevard, Wrightsville Beach, NC | 11/06/2015 |
| Paddle Race For Ocean Rescue - 2015 | View Entries | Shore Road, Napeague, NY (Lazy Point) | 10/11/2015 |
| Sandy Point Paddlefest ***Date Changed to Oct 10th*** | View Entries | East Beach, Sandy Point State Park, East College Parkway, Annapolis, MD | 10/10/2015 |
| Sandbridge Hei Hei 2015 | View Entries | 3701 Sandpiper Rd, Virginia Beach, VA | 09/19/2015 |
| 23rd Annual Wye Island Regatta | View Entries | Wye Landing, MD | 09/12/2015 |
| Battle on the Bay 2015 | View Entries | 201 60th Street, Ocean City, Maryland 21842 | 08/22/2015 |
| Cape SUP Challenge 2015 | View Entries | 104 St Louis St, Dewey Beach, DE | 07/25/2015 |
| Paddle Second Chance 2015 | View Entries | Holts Landing State Park, Millville DE | 06/28/2015 |
| Stand Up Paddle Annnapolis & KIOCC Holo Niu Race 2015 | View Entries | Kent Island Yacht Club, Yacht Club Drive, Chester, MD | 06/06/2015 |
| Treasure Island Pirate Paddle | View Entries | Riverfront Park, River Road, Point Pleasant, NJ | 05/17/2015 |
| Surf to Sound 2014 | View Entries | Blockade Runner Beach Resort, Waynick Boulevard, Wrightsville Beach, NC | 10/31/2014 |
| Golden Nugget SUP Race | View Entries | 526 Mill Street, Mt Pleasant, SC | 10/11/2014 |
| Battle on the Bay | View Entries | 201 60th Street, Ocean City, Maryland 21842 | 08/23/2014 |
| Stand Up Paddle Annnapolis & KIOCC Holo Niu Race | View Entries | Kent Island Yacht Club, Yacht Club Drive, Chester, MD | 08/02/2014 |
| Cape SUP Challenge | View Entries | Dewey Beach, DE | 07/20/2014 |
| Midwest Stand Up Paddle Festival | View Entries | 401 S Brittingham Pl, Madison, WI 53715 | 07/12/2014 |
Check out all the PaddleGuru Races »
Races For Which You Are an Admin:
| Race | Date | Listing | Registration | Duplicate Race |
| --- | --- | --- | --- | --- |