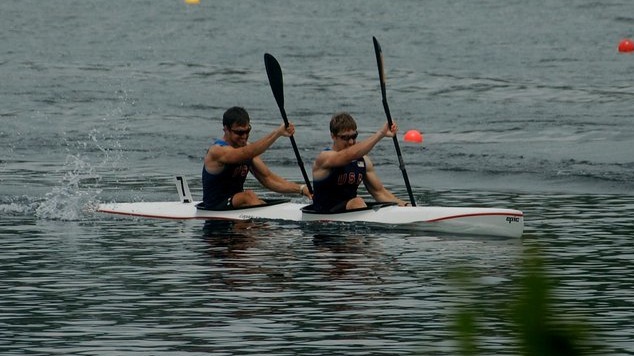 David's Wall:
Thank you for registering for the Special Olympics Florida SUP Invitational! Watch our event page for more info. We will be updating the closer we get to the event.
Posted by Ruth Holland on Wed, 08 Jan 2014 10:58:45
---
So torqued for the future.
Posted by Sam Ritchie on Sat, 07 Dec 2013 00:55:44
---
Over 160 pre-registrations for the Hanohano race already!
Posted by David Petrovics on Mon, 21 Jan 2013 08:05:49
---
Just finished a hard morning paddle.
Posted by David Petrovics on Wed, 14 Nov 2012 21:25:10
---
First status update! Welcome to PaddleGuru!
Posted by David Petrovics on Wed, 14 Nov 2012 06:31:33
---
| Title | David's Entries | Location | Date |
| --- | --- | --- | --- |
| Dave PG newbox test | View Entries | Berkeley, CA | 12/09/2017 |
| DummyRace | View Entries | Mission Bay, San Diego, CA | 12/01/2017 |
| Capital SUP Race Series Event #1: Creek to Creek | View Entries | 808 Boucher Avenue, Annapolis, MD | 10/21/2017 |
| DummyRace 2 | View Entries | San Francisco, CA | 10/14/2017 |
| The Cold Hands Paddle 2017 | View Entries | Cabrillo Beach, Stephen M White Drive, San Pedro, CA | 03/05/2017 |
| ADR DEMO PRACTICE RACE | View Entries | 675 Parker Dam Rd, Parker Dam, CA 92267 | 11/05/2016 |
| david test race 99 | View Entries | Washington, DC | 10/22/2016 |
| peter race | View Entries | Maryland | 08/30/2016 |
| WhatSUP - A Paddle Board Race On The Navesink River | View Entries | Victory Park, Lafayette Street, Rumson, NJ | 08/06/2016 |
| USA Canoe Kayak 2016 Sprint Canoe Kayak National Team Trials | View Entries | Lanier Canoe and Kayak Club, Clarks Bridge Road, Gainesville, GA | 04/29/2016 |
| Daves Test Race | View Entries | San Francisco, CA | 02/05/2016 |
| Dauphin Island Sea Lab Foundation SUP Classic: Cancelled | View Entries | Dauphin Island, AL | 10/24/2015 |
| Round the Rock | View Entries | Seward Park, Seattle, WA | 09/12/2015 |
| Mountain Swim Series | View Entries | Boulder, CO | 06/13/2015 |
| Florida Cup 2015 | View Entries | 15100 Gulf Boulevard, St Petersburg, FL 33708 | 05/15/2015 |
| Race Demo | View Entries | San Diego, CA | 11/30/2014 |
| SUP Invitational- Key West 2014 | View Entries | Higgs Beach,Key West, FL | 10/18/2014 |
| Half Moon Bay WaveChaser Race 1 | View Entries | Half Moon Bay, CA | 10/11/2014 |
| Island Paddle's G-Bay Paddle Race 2014 | View Entries | Palm Beach, Moody Gardens®, Hope Boulevard, Galveston, TX | 09/27/2014 |
| Great Lakes SUP Classic | View Entries | Holland, Mich | 09/13/2014 |
| Tahoe Waterman Race | View Entries | 5166 North Lake Boulevard, Carnelian Bay, CA | 08/23/2014 |
| Nelo Summer Challenge | View Entries | Vila do Conde, Portugal | 07/11/2014 |
| Sprint and Splash | View Entries | Lake St. Clair, Harrison Township, MI | 06/15/2014 |
| davieboy! | View Entries | berkeley, ca | 05/10/2014 |
| Yak For A Stack | View Entries | Satellite Beach, FL | 03/15/2014 |
| Fun Race | View Entries | San Diego, CA | 12/07/2013 |
| Riding Bumps Downwind Race 3 | View Entries | 177 North Causeway, New Smyrna Beach, Florida 32169 | 12/01/2013 |
| Riding Bumps Downwind Race 1 | View Entries | 177 North Causeway, New Smyrna Beach, Florida 32169 | 11/17/2013 |
| Lake Murray SUP Classic 2013 | View Entries | Lexington, SC | 09/28/2013 |
| Paddle For the Bays Race: Cape Cod | View Entries | Cotuit, Massachusetts | 09/22/2013 |
| Gerry Lopez Elk Lake SUP Race Event 3 | View Entries | Bend, Oregon | 09/14/2013 |
| Coronado Chainsaw Massacre | View Entries | Coronado, CA | 09/07/2013 |
| Race Down The Rogue River | View Entries | Gold Beach, Oregon | 06/23/2013 |
| 12th Annual Surftech Jay Race | View Entries | Capitola, Ca | 06/22/2013 |
| Santa Barbara Downwinder | View Entries | Ledbetter Beach and Park, Shoreline Drive, Santa Barbara, CA | 05/18/2013 |
| SDCKT Summer Membership | View Entries | San Diego, CA | 05/01/2013 |
Check out all the PaddleGuru Races »
Races For Which You Are an Admin:
| Race | Date | Listing | Registration | Duplicate Race |
| --- | --- | --- | --- | --- |