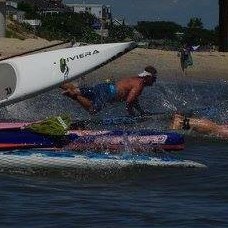 Bill's Wall:
I don't recommend participating in the 2016 Cape 2 Cape. Steve Eudy, Dave Shotten and myself are not the race directors. The current Race Director-Jay is not even a paddler.
Posted by Bill House on Fri, 19 Feb 2016 01:37:46
---
Paddle in Va Beach...Race Director for Cape Story Races and Cape2Cape Race.
Posted by Bill House on Fri, 17 Jul 2015 03:07:22
---
Would like to change picture
Posted by Bill House on Thu, 02 Jul 2015 13:46:57
---
| Title | Bill's Entries | Location | Date |
| --- | --- | --- | --- |
| Onancock Challenge 2017 | View Entries | 2 King Street, Onancock, VA | 09/23/2017 |
| Sandbridge Hei Hei 2017 | View Entries | 3701 Sandpiper Rd, Virginia Beach, VA | 09/16/2017 |
| Long Creek Paddle Race 2017 | View Entries | 2100 Marina Shores Drive, Virginia Beach, VA | 08/13/2017 |
| 6th Annual Beyond The Paddle - Beach Party and Paddle Race | View Entries | 2800 Shore Drive, Virginia Beach, VA | 05/13/2017 |
| 50 Dismal Miles Paddle Race | View Entries | 1200 Dismal Swamp Canal Trail, Chesapeake, VA 23323 | 10/01/2016 |
| Rudee Paddle '16 CANCELLED!!! | View Entries | Rudee Inlet Stand Up Paddle, 308 Mediterranean Avenue, Virginia Beach, VA | 09/17/2016 |
| Sandbridge Hei Hei 2016 | View Entries | 3701 Sandpiper Rd, Virginia Beach, VA | 09/17/2016 |
| Onancock Challenge 2016 | View Entries | 2 King Street, Onancock, VA | 09/10/2016 |
| VB Surf Sessions Presents CE ECSC VA SUP Cup | View Entries | Rudee Inlet, Virginia Beach, Virginia | 08/21/2016 |
| Virginia Commonwealth Games - Long Creek Paddle Race 2016 | View Entries | 2100 Marina Shores Drive, Virginia Beach, VA | 08/14/2016 |
| Paddle for the Bay 2016 | View Entries | Norfolk, VA | 07/30/2016 |
| La Prueba | View Entries | 5700 Atlantic Avenue, Virginia Beach, VA | 06/26/2016 |
| 5th Annual Beyond The Paddle | View Entries | 2800 Shore Drive, Virginia Beach, VA | 05/07/2016 |
| The West Marine Carolina Cup 2016 | View Entries | Wrightsville Beach, NC | 04/19/2016 |
| Sandbridge Hei Hei 2015 | View Entries | 3701 Sandpiper Rd, Virginia Beach, VA | 09/19/2015 |
| Onancock Challenge 2015 | View Entries | 2 King Street, Onancock, VA | 09/12/2015 |
| Virginia Commonwealth Paddle Games | View Entries | 2100 Marina Shores Drive, Virginia Beach, VA | 08/16/2015 |
| Paddle for the Bay 2015 | View Entries | Norfolk, VA | 08/01/2015 |
| Beyond The Paddle | View Entries | 2800 Shore Drive, Virginia Beach, VA | 05/09/2015 |
| Sandbridge Hei Hei 2014 | View Entries | 3701 Sandpiper Rd, Virginia Beach, VA | 09/20/2014 |
| Ku'ono Paddle Series | View Entries | Paradise Ocean Club, 490 Fenwick Road, Hampton, VA | 09/13/2014 |
| Onancock Challenge | View Entries | 2 King Street, Onancock, VA | 09/06/2014 |
Check out all the PaddleGuru Races »
Races For Which You Are an Admin:
| Race | Date | Listing | Registration | Duplicate Race |
| --- | --- | --- | --- | --- |