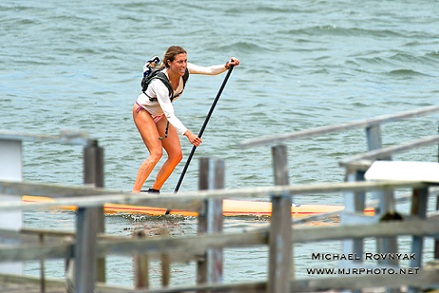 Stephanie's Wall:
Stephanie, thank you for signing up for Pirate Paddle for the third year in a row. Looking forward to seeing you!
Posted by Richard Bubnowski on Wed, 03 May 2017 11:56:14
---
So psyched you're coming to Peconic again!
Posted by Bob Arnot on Wed, 07 Sep 2016 00:29:10
---
Hi Stephanie, please join us this Saturday August,6 at victory park in Rumson, NJ. Its a great charity and race (WhatSUP). Prize money will be awarded. Hope you can make it!
Posted by Michael Fithian on Mon, 01 Aug 2016 13:58:47
---
| Title | Stephanie's Entries | Location | Date |
| --- | --- | --- | --- |
| Gorge Downwind Champs 2018 - Ski, OC | View Entries | Hood River, OR | 07/16/2018 |
| Treasure Island Pirate Paddle IV 2018 | View Entries | Riverfront Park, River Road, Point Pleasant, NJ | 05/19/2018 |
| Key West Paddle Classic 2018 | View Entries | Higgs Beach, 1000 Atlantic Boulevard, Key West, FL | 04/28/2018 |
| The Carolina Cup 2018 | View Entries | Wrightsville Beach, NC | 04/19/2018 |
| Lanakila Classic 2018 | View Entries | Seaside Lagoon, Portofino Way, Redondo Beach, CA | 02/24/2018 |
| NAC Hal Rosoff Classic 2018 | View Entries | Newport Aquatic Center Inc, Whitecliffs Drive, Newport Beach, CA | 02/10/2018 |
| Surf to Sound 2017 | View Entries | Blockade Runner Beach Resort, Waynick Boulevard, Wrightsville Beach, NC | 11/02/2017 |
| SUP-at-the-BSYC 2017 | View Entries | Bay Shore Yacht Club Inc, Shore Road, Bay Shore, NY | 08/26/2017 |
| Naish Columbia Gorge Paddle Challenge 2017 | View Entries | Waterfront Park, Hood River Waterfront Trail, Hood River, OR | 08/19/2017 |
| Cayuga Lake SUP Cup 2017 | View Entries | Myers Park, Lansing Park Road, Lansing, NY | 07/28/2017 |
| Gorge Downwind Champs 2017 - Ski, SUP, OC | View Entries | Hood River, OR | 07/17/2017 |
| Soundsurfer Watermans Challenge 2017 | View Entries | Seaside Park, Bridgeport, CT | 06/17/2017 |
| Santa Monica Paddleboard Race & Ocean Festival 2017 | View Entries | Santa Monica Pier, Santa Monica, CA | 06/10/2017 |
| Great Peconic Race - Paddle for the Bays - 2017 | View Entries | Three Mile Harbor Marina, Boat Yard Road, East Hampton, NY | 06/03/2017 |
| Treasure Island Pirate Paddle III 2017 | View Entries | Riverfront Park, River Road, Point Pleasant, NJ | 05/20/2017 |
| The West Marine Carolina Cup 2017 | View Entries | Wrightsville Beach, NC | 04/19/2017 |
| The 4th Annual Coconut Cup Sup Festival 2017 | View Entries | Frederiksted, St. Croix, U.S. Virgin Islands | 03/31/2017 |
| Surf to Sound 2016 | View Entries | Blockade Runner Beach Resort, Waynick Boulevard, Wrightsville Beach, NC | 11/04/2016 |
| Great Peconic Race 2016 | View Entries | Shelter Island, NY | 09/10/2016 |
| New York SUP Race Series | View Entries | Beach 32nd st, Rockaway Park, NY 11694 | 08/07/2016 |
| Soundsurfer Watermans Challenge 2016 | View Entries | Seaside Park, Bridgeport, CT | 06/18/2016 |
| 2016 DRCF Paddle For A Cause Presented by J&L Amish Depot | View Entries | Golden Nugget Hotel, Castle Boulevard, Atlantic City, NJ 08401 | 06/11/2016 |
| Treasure Island Pirate Paddle II | View Entries | Riverfront Park, River Road, Point Pleasant, NJ | 05/22/2016 |
| Paddle Race for the Bays, Sag Harbor - 2016 | View Entries | Havens Beach Road, Sag Harbor, NY | 05/07/2016 |
| The West Marine Carolina Cup 2016 | View Entries | Wrightsville Beach, NC | 04/19/2016 |
| Surf to Sound 2015 | View Entries | Blockade Runner Beach Resort, Waynick Boulevard, Wrightsville Beach, NC | 11/06/2015 |
| Pacific Paddle Games presented by Salt Life | View Entries | Doheny Beach, Dana Point, CA | 10/10/2015 |
| Great Peconic Race 2015 | View Entries | Shelter Island, NY | 09/20/2015 |
| The Naish Endless SUP Race | View Entries | Asbury Park, NJ | 06/14/2015 |
| Soundsurfer Watermans Challenge 2015 | View Entries | Seaside Park, Bridgeport, CT | 05/30/2015 |
| Treasure Island Pirate Paddle | View Entries | Riverfront Park, River Road, Point Pleasant, NJ | 05/17/2015 |
| Paddle Race for the Bays - 2015 | View Entries | Havens Beach Road, Sag Harbor, NY | 05/09/2015 |
| The Carolina Cup 2015 | View Entries | Wrightsville Beach, NC | 04/22/2015 |
| Great Peconic Race | View Entries | Shelter Island, NY | 09/14/2014 |
| Paddle Race for Humanity | View Entries | Wainscott, NY 11975 | 06/21/2014 |
| Soundsurfer Watermans Challenge | View Entries | 575 Riverside Avenue, Westport, CT | 05/31/2014 |
| Paddle Race for the Baykeeper | View Entries | Havens Beach Road, Sag Harbor, NY 11963 | 05/10/2014 |
Check out all the PaddleGuru Races »
Races For Which You Are an Admin:
| Race | Date | Listing | Registration | Duplicate Race |
| --- | --- | --- | --- | --- |
Ocean Club:
Sprint Club: