2014 WPA Paddle Championships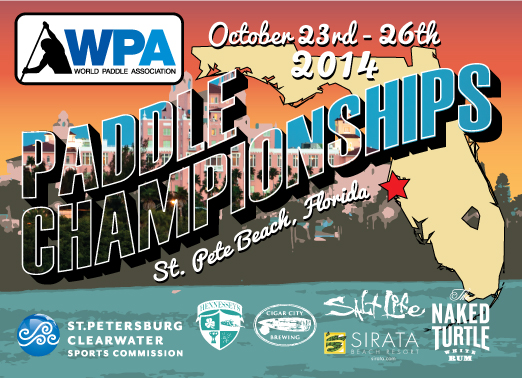 The World Paddle Association (WPA) in conjunction with the St. Petersburg-Clearwater Florida Sports Commission along with our sponsors Naked Turtle Rum, Salt Life Apparel, Cigar City Brewing and Hennessey's Tavern Inc. are proud to bring the WPA Paddle Championships to the east coast of the U.S. to be held at the Sirata Beach Resort at St. Pete Beach, Florida October 23, 24, 25 & 26, 2014.  There will be open entry for all competitors in all races, however each competitor should decide which race with best suit their ability.  PFD's will be REQUIRED for ALL competitors in ALL races.
The WPA Paddle Championship Elite race will NOT require qualifying to enter or to be a WPA member to compete in any of the scheduled races.  In past years the WPA has required competitors that wanted to enter in the stand up paddle elite race of the championship to qualify with points from the Salt Life National Race series and selected events.  Since most of the top competitors compete in the Salt Life National races which offers bonus money for the top male and female point's leader combined with the points from the WPA Paddle Championship, this gives more incentive to compete in Salt Life National races and to build participation.
Salt Life will be giving a $5000 bonus to the top Men's (SUP 14') point's leader and $3000 to the top Female (SUP 12'6) point's leader.  The Salt Life Cup (announced April 4, 2014) is an accumulation of points from all Salt Life National Races (WPA) in the long course and the WPA Paddle Championships.  All WPA National races carry double points (2,000 to 1st) from regional WPA races and the WPA Championships is double of the National races (4,000 to 1st).  Standings are listed on www.worldpaddleassociation.com.
The WPA Paddle Championships will include the following races and board divisions, 3-4 mile Open race (Saturday), 1 & 3 mile Kids races and relay race (Saturday), 5-6 mile SUP Pro technical race (Saturday), 9 mile Distance race (Sunday) that will include all paddling classes.  You can see full race schedule with travel and hotel discounts along with registration on this website.  All race distances, times and days are tentative and subject to change given weather and conditions.  All paddling classes entered in the Pro Technical race and Distance race will offer cash prizes to the top finishers across the line overall (not by age division) and meet the minimum number entries by board class.
Clinics with the top athletes and sponsors will be held on Thursday, October 23 and Friday, October 24, Board Demos Thursday through Sunday and then championship races on Saturday, October 25th and Sunday, October 26th.
For more information on Exhibitor Space, Sponsorship Opportunities and Media Relations please contact Kristin Artz, WPA Public Relations: kristin@worldpaddleassociation.com
2014 WPA Paddle Championships
Event Schedule
St Pete Beach, FL
(Date, times and distances subject to change)
PFD's REQUIRED FOR ALL SCHEDULED RACES!
THURSDAY, October 23rd
Board Storage- Mediterranean Palm
12pm-6pm   Vendor set up & Board Demo's
FRIDAY, October 24th
Board Storage- Mediterranean Palm
9am-5pm      Vendor set-up, Clinics & Demo's

9-11am          Danny Ching Stroke/Race Clinic

12-2pm          Danny Ching Stroke/Race Clinic

2-7pm            Registration (Coconut Palm)

2-4pm            SUP Yoga Clinic- Jeramie Vaine

7-10pm          h2o Mexico Movie Premiere/Presented by Suncoast Surf Shop/404
SATURDAY, October 25th
Board Storage- Mediterranean Palm
7am                Registration/check in

9am-5pm      Board Demo's

8:45am          Paddlers Meeting- Open Race

9:00am          Open Race(3-4 miles) OC, Surfski, SUP, Prone Stock

10:45am       Kids Paddlers Meeting

11am             Kids Race (1 & 3 miles), SUP & Prone Stock

12:45pm       Paddlers Meeting- Kids SUP Relay Race

1pm               Kids SUP Relay Race

1:45pm         Paddlers Meeting- Pro Tech Race

2pm               Pro SUP Technical Race (5-6 miles)

6pm-10pm   Awards Dinner Banquet (Sirata Beach Resort
SUNDAY, October 26th
Board Storage- Sabel/Canary Palm
7am                Registration/check in

9am-1pm      Board Demo's

8:45am          Paddlers Meeting- Distance Race
9am                Distance Race (9 miles)

2pm                Vendors to be clear of the beach

4pm                 Awards
2014 WPA Championship Travel Discounts
The WPA has partnered with Delta Airlines, Sirata Beach Resort and Hertz Rental Car to bring you travel discounts for the 2014 WPA Championship Race October 23-26th. Speciality Clinics begin on Thursday October 23, 2014 and events conclude on Sunday October 26, 2014.

AIRLINE:
Book your tickets online at Delta.com using the code NMK2W.
ACCOMMODATION:
Please call the Reservations Department at Sirata Beach Resort on 800-344-5999 and mention 
World Paddle Board Championship Competition to get discounted rate.
Reserve your room today as space is limited!! 
CAR RENTAL:
Click the following link Hertz Rental Information and to book your rental car:
https://www.hertz.com/rentacar/reservation/?id=44312&LinkType=HZLK
Please do not hesitate to contact us if you have any questions. 
We look forward to seeing you all at the Championship Race in October. 
 ###
Kristin Artz
Director of Public Relations & Marketing
World Paddle Association
kristin@worldpaddleassociation.com
305-509-2559
This list is private.
Results Select an event to view results.
Note: All live times are unadjusted and unofficial.
Sirata Beach Resort (Official WPA Championships Hotel)
5300 Gulf Blvd
St. Petersburg, FL 33706
727-897-5200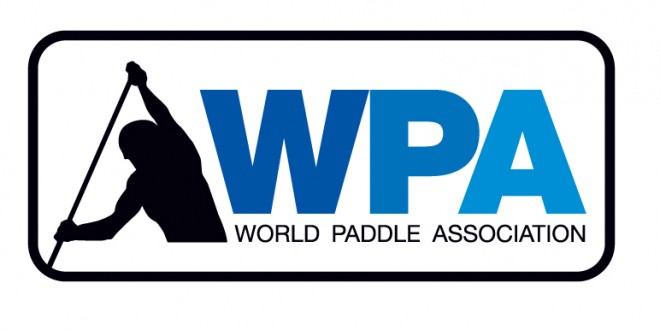 When:
Oct 25 to Oct 26, 2014
---