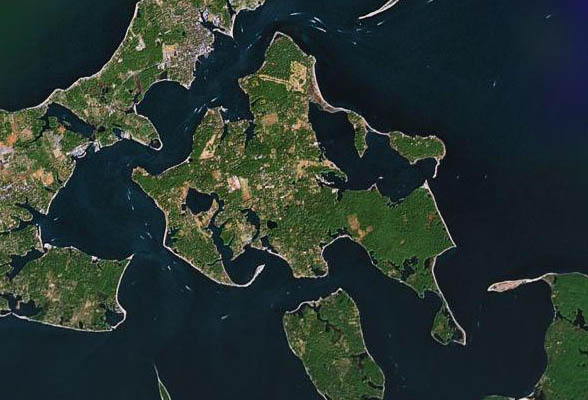 Great Peconic Race Website:  www.greatpeconicrace.com
Race Description
The 5th annual Great Peconic Race – "GPR" – will be an exciting adventure for all levels of paddling skill, from elite, to advanced, to intermediate, and even for novice paddlers.  All paddlable or rowable crafts are welcome to participate, including SUP, Surf Ski, OC1, OC6, Kayaks, Coastal Rowers, Prone and others. The premier 19.5 mile elite race course circumnavigates Shelter Island, beginning at Wades Beach in Noyac Bay and continues through Southold Bay, passing Greenport, and around into Gardiner's Bay, rounding the Nature Conservancy's nearly pristine 2100-acre Mashomack Preserve, passing Sag Harbor, and then returning to Wades, while battling wind, tidal currents and an occasional sea monster. We expect to have many spectators gathered on the shore around Shelter Island cheering the racers on.
This will be the 4th year offering a 9-mile half course for those looking for a less painful challenge ( this course lay out may differ on race day than indicated on map)  and a 3-mile course so everyone can join in on the fun.
For the 2nd time we will be offering a 500 yd kids race !!! This event is for children ages 12 and under. This race is free and registration is on race day and entrants must be accompanied by a parent or guardian. Good luck kids ! 
 ***Note while the kids race is free, the ticket to charity beach party per adult will be $75. This will give you food, drinks and a donation to Cornell Marine with your kid eating for free.

Shelter Island is located in the beautiful Peconic Bays between the North and South Forks of Long Island. 
The race honors Ted Baldwin's love for the bays and proceeds this year will be donated in support of the Cornell Cooperative Marine Extension Program.
The 19.5-mile full course is an advanced recreational and elite race open to all seaworthy craft powered by oar or paddle. Participants can expect open bay conditions, including at times strong currents and any host of wind/wave conditions. There is no rain date; alternate courses are in place should there be rough or foggy conditions.
Race Divisions
To be recognized as a race division there must be five or more crafts of the same type in a division. Other types of crafts are welcome to participate, but will not be awarded a trophy or cash prize. Cash prizes will be awarded only for the Elite 19.5 mile race.   It will be at the race committee's discretion to add new divisions, but prizes and trophies may not be available for those new divisions.   2017 RESULTS :Overall Divisional
Safety First
While we will have power boat escorts, EMT's and ground truck support, there will be extended periods of time when you will be on your own and must be prepared to be independent and self sufficient. Basic safety gear and day provisions are required of all participants.
A Paddle for Ted
My brother Ted grew up in North Sea on Little Peconic Bay where he lived for the water. Ted loved to test the limits of his abilities, imagination and Mother Nature's patience and he always dared us to have as much fun as possible!
Ted was a true waterman, there wasn't a sport, activity or an element of nature that he had not tried or loved to do. From designing a slalom course in Scallop Pond, our favorite ski hang out, to water ski jumps, hobbie catting around Robin's Island, jet skiing, parasailing, windsurfing, wake boarding and, John Anderson's (the Bay Constable at the time) favorite, "The human catapult." Someone had to feed the fish.
Ted built bonfires on the beach most nights and often enjoyed the waters at night during full moon cruises in our boat or paddling in the back channels of North Sea. Ted would dig for clams or cherry stones or crab for blue claws in Davis creek in from of our house, and at night my pop would take us for lantern walks to Towd Point telling us ghost stories. Ted even got a few good rounds in at National Golf Links on Great Peconic Bay with his dad.
Ted had very little fear when it came to his abilities or whatever Mother Nature could through at him. This confidence was put to the greatest test as he battled a disease that eventually physically took Ted away from us.
This race is to honor Ted's love for the waters on which he had so many adventures and fun, with the distance to honor his endurance, while supporting Cornell's Cooperative Marine Extension Program in Suffolk County.

Date and Time
Great Peconic Race – Saturday September 8th 2017
Registration information should be submitted online before Friday, September 3rd.  Check-in begins at 7:00 am on Saturday and the first launch will be at 8:30 am.

The race course will begin and end at Wades Beach on the south side of Shelter Island.
Individuals or 2 person relay teams are welcome to compete.
19.5 miles long course (timed) Cash prizes awarded

9 miles short course (timed)

3 miles course (timed)

500 yd kids race 
Event Entries Click on an event to see who entered.
Results Select an event to view results.
Note: All live times are unadjusted and unofficial.


All race courses will start and end in front of Wades Beach on Shelter Island.  Assuming the wind is favorable, the elite course will proceed in a clockwise direction to the west, and encompass a complete circumnavigation of Shelter Island, a total distance estimated at 19.5 miles. Chase boats and timing will finish after 7 hours. All paddlers will be asked to paddle to a designated extraction point and be transported back to Wades Beach via our support vehicle if they haven't finished by that time.
Participants may elect to paddle a shorter (timed) course of about 9 miles, with trophies/prizes, or an untimed recreational course of about 3 miles --- without trophies or prizes.

Weather conditions will be assessed on race day to determine whether an alternate course is needed.
Alternate 1: Partial Course, West Side: Should there be heavy east or northeast winds, we will modify the standard course to a west side partial circumnavigation. The course will run Wades Beach clockwise to Hiberry Lane and back, finishing at Wades Beach.
Alternate 2: Partial Course, East Side: Should there be heavy west or southwest winds, we will modify the standard course to a west side partial circumnavigation. The course will run from the Wades Beach counterclockwise to the east, and finish at Menhaden Lane on the east side of Shelter Island.
Note: Courses may be adjusted depending on weather conditions.
Tides in Noyac Bay and Sunrise/Sunset Times on Race Day
Saturday, September 9, 2017. Sun 8:00 low tide. high tide 2:20pm High
Directions
T
From New York City on North Fork:

Take the Long Island Expressway to last exit, number 73 in Riverhead. When you come off that exit, you will be heading east on County Road 58. County Road 58 becomes Route 25 on the other side of Riverhead. It is about a 45 minute drive from the end of the expressway to Greenport. In Greenport you will pass the High School on the left side. Within 2 blocks – on the right side – you will see markers for Route 114 and Shelter Island Ferry. Follow those markers – down a side street – to the ferry landing. Follow directions below "From North Ferry."
From the South Fork:
Take the Long Island Expressway to the Sunrise Highway (Route 27). The Sunrise Highway turns into County Road 39. North onto Sandy Hollow Road (look for sign to Sag Harbor) to North Sea Road, then right onto Noyack Road. Left at The Waterside Condominiums onto Long Beach Road (which turns into Route 114 at the circle). Take 114 to the end, South Ferry Landing. Follow directions below "From South Ferry."
From New England:
Take the Cross Sound Ferry (reservations required, call 1-631-323-2525) from New London, CT to Orient Point, then Route 25 to Greenport-Shelter Island Ferry.
When you arrive on Shelter Island…
From North Ferry:
When you exit the ferry, you will be on Route 114 South. Follow 114 South for estimated 3.5 miles, make right on S Midway Road for another 0.55 miles. On left is Wades Beach.
From South Ferry:
When you exit the ferry, you will be on Route 114 North. Follow Route 114 North approximately 0.75 miles, and make a left onto S Midway Road for 0.55 miles. On left is Wades Beach.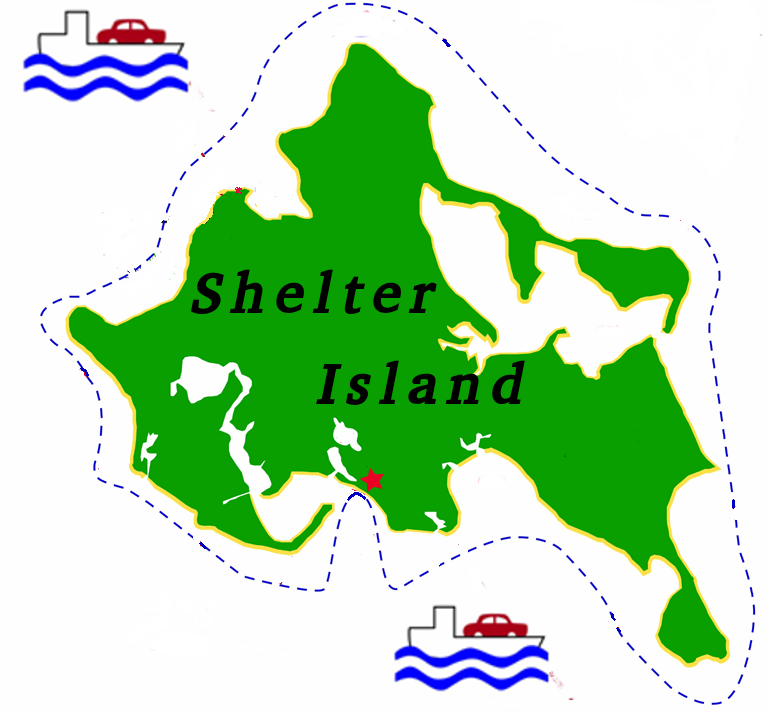 Where:
Shelter Island, NY