32 Sixty Four Paddle Race Series: Race 3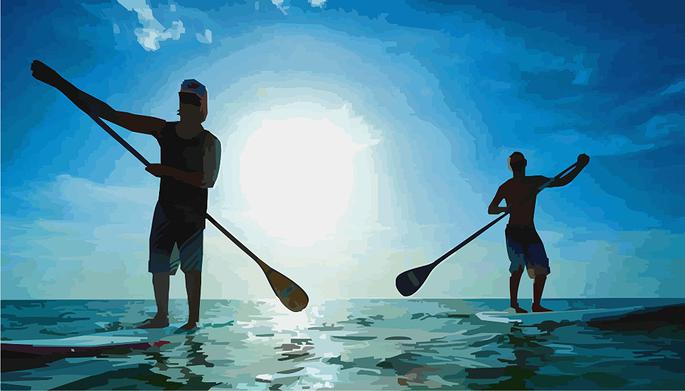 Divisions:
14 foot division
12 foot 6 division
Surfboard division
Prone division
Unlimited division
Division definitions and restrictions:
The 12 foot 6 inch board class is defined as any board equal to or less than 12 foot 6 inch
The 14 foot board class is defined as any board equal to or less than 14 foot but greater than 12 foot 6 inch.
The prone surfer class is defined as any board of any length which is human powered without a paddle in a prone or kneeling position.
The surfboard class is defined as any board that is 12 foot 5 inch or less and does not have a displacement or concave hulls.
The unlimited board class has no restrictions other than it must be human powered ie kayak, canoe, outrigger, multi-hull.
Multi-hulls are allowed only in the unlimited board class. Multi-hulls are defined as any board with more than one hull. A concave             measured at any point of greater than 3 inches will classify a board as a multi-hull.
Rudders are allowed only in the unlimited board class. A rudder is defined as any fin or foil that is able to rotate from a fixed position.
Foils are allowed only in the unlimited board class. Foils are defined as any external attachment that creates hydrodynamic lift.
*Rain date (winds over 15kts.) is the weekend following the scheduled event.
Points:
Points are awarded as follows for each event:
                              Place           Points          Place          Points
                                  1                25                12               10
                                  2                22                13                 9
                                  3                20                14                 8
                                  4                18                15                 7 
                                  5                17                16                 6
                                  6                16                17                 5  
                                  7                15                18                 4 
                                  8                14                19                 3
                                  9                13                20                 2
                                10                12                21                 1
                                11                 11                22 & lower    0
Points Series winner will be the participant with the highest number of accumulated points from their 3 best races in the series.
A participant may change classes once during the series provided they have not participated in more than one race in the original class. No points will be carried over. Participants will need to give 24 hour notice in writing to the race organizers notifying them of a class change.
Participants that are not in the point series will be awarded their place in the race, which could impact the points awarded to the other participants.
DNF will be allocated a finishing rank (and points based on finishing position based on the number of laps completed when they abandoned the race i.e a participant abandoning early in the race will be ranked lower than a participant abandoning later in the race.) A participant abandoning the race MUST report that to the race official at the start / finish line.
DNS scores no points.
Race Bib Collection:
Race bibs will be distributed from 8:00am until 8:40am prior to each event and collected at the end of each event.
Race Start:
Race shall start at the published time.
Start sequence will be defined at the race meeting and be either:
         -Beach start: shall be parallel to the water's edge on a defined line.
         -Water start: shall be facing in a direction that is perpendicular to the first turn buoy in a defined area.
         -Sprint start: Shall be parallel to the water's edge on a defined line.
Any competitor with their body in front of the start line at the official start will be given a two minute time penalty.
Starter will not wait for any tardy paddlers.
Race Finish:
Race finish will be defined at the race meeting and be either:
         -Water finish: when the bow has crossed the line of the finish line area. Competitors must be on their boards for at least three                   seconds and in control with paddle in hand in order to receive complete water finish. Competitors without a paddle or not                     in control must re-cross the finish line to be given a complete finishing result.
         -Beach finish: competitor must cross the finish line with paddle in hand to be given a finishing result.
Paddling on the Course:
Drafting is not allowed. A paddler will be deemed drafting when within 1 meter of the tail or sides of another competitor or any water craft on the race course for more than 10 seconds within a one minute period.
A competitor will be disqualified if they round a buoy, gate or land mark in the wrong direction.
Competitors that take more than five consecutive strokes from their knees will be disqualified, with the exception of the Prone division.
Board leash is required for all participants.
After the Race:
Competitors must leave the course and finish area immediately after they complete their race and must not impede or assist any other competitors.
Race Start Time:
Mandatory skippers' race meeting at 8:45am, race starts at 9:15am.
Race Meeting:
Race meeting is mandatory for all participants. The meeting will be conducted by the Race Director and will cover:
         -explanation of the course, start/finish sequences
         -update on weather and tide conditions
         -safety protocols
This list is private.
Results Select an event to view results.
Note: All live times are unadjusted and unofficial.
No entries have been received yet.
Race Courses:
Race courses are designed to take advantage of Bermuda's ideal paddle board locations. Courses will be divided into Novice, Cruising or Elite and will be based on a lap format to maximize spectator viewing.
        - Elite course (10K'ish)
        - Cruising course (5K'ish)
        - Novice course (2.5K'ish)
Shelly Bay Beach – 2.5K lap (1 lap for Novice course, 2 laps for Cruising course & 4 laps for Elite course)