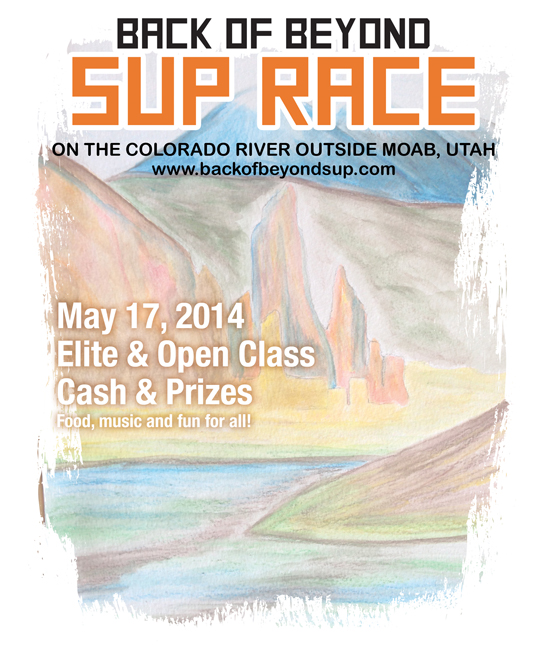 Starting 29 miles from Moab on Highway 128 at historic Dewey Bridge, Back of Beyond SUP Race follows the Colorado River through the spectacular red rock canyons of Southeastern Utah and past some of the world's most breathtaking scenery – through Moab's 'Postcard Alley' and into Utah's own 'back of beyond'.
The race will finish 7 miles down river at Hittle Bottom Campground with music, food and fun for racers and spectators alike.
Open fun class only, Competitive for everyone.

Check out http://backofbeyondsup.com/ for more info
Friday May 16th
-4:00-9:00 pm Packet Pick-up
Saturday May 17 
-Hittle events/sponsor booths/ vendors start at 10 am
-11:30 Racers Lunch
-12:00 Kids Race
-2:30 Open Race starts
-5:00 Awards Ceremony (Hittle Bottom)
-Post Race party(Hittle Bottom)
Sunday May 18
-9:00-11:00 Free yoga and send off in town.

This list is private.
Results Select an event to view results.
Note: All live times are unadjusted and unofficial.
Start:

Dewey Bridge Recreation Site, 29 miles from the junction of HWY 191 on HWY 128
Upstream Start for .5 miles to a buoy, then head down river.
Only racers will be allowed at start. Shuttles will be available between Dewey Bridge and Hittle Bottom.
Finish:
Hittle Bottom Recreation Site, 23 miles from the junction of HWY 191 on HWY 128
River right Buoy, turn around buoy and sprint to shore finish.