Battle on the Blueway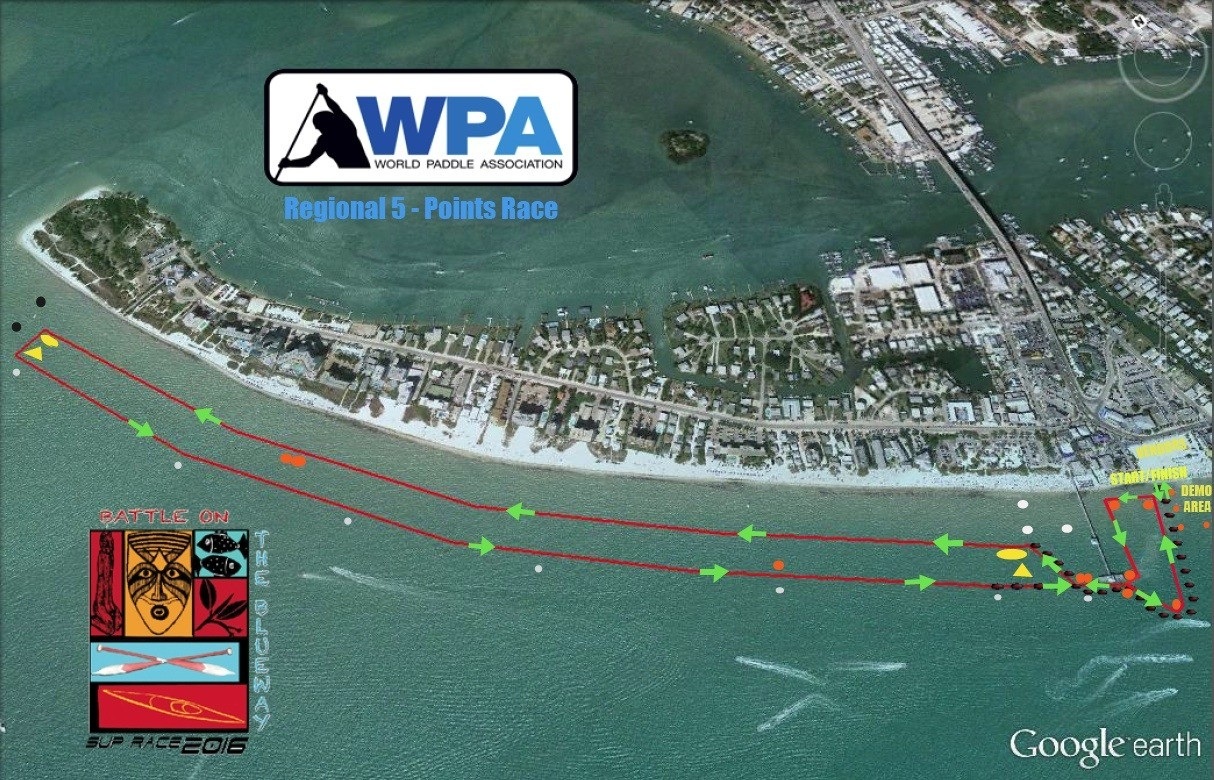 The Battle on the Blueway will be held June 11th and 12th
, on the Calusa Blueway in Fort Myers Beach, FL.  This sanctioned WPA points event with over $10,000 in prize money will feature three distance races (7 mile, 2 mile, and outrigger), sprints ($1,000) purse, a kids' and Special Olympic race, a demo day, vendors displaying paddle merchandise, and non profits displaying nature / history materials and artifacts. This is a family oriented event with a festival atmosphere that brings paddling and Florida's native wildlife and Calusa heritage together. Benefiting Lee County Special Olympics.
June 10th
- 6:30 - 9:30 PM Packet Pickup / Social at Point Ybel Brewing.  
- Racers will receive on free Paddle Hard Pale Ale brewed for race.
-Please pick up your packet, shirt, and swag bag tonight.  We will start on time on Saturday. 
June 11 (Saturday)
- 7:00 AM-7:45 AM Check in
- 8:15 AM Racer's Meeting
- 8:30 AM Ron Jon Pro 7 Mile Race and Open Class - (Kayaks, OC's, surf-skis, prone) Start
Major prize money races include Ron Jon Pro 7 Mile Men's 14 & 12'6" and Women's 12"6". Please see break down of prize money below.

1st - $1400  
2nd - $850
3rd - $500
4th - $250
5th - $100

- 8:35 AM Body Glove 2 Mile Race Start

- 9:00-2:00 PM Demo Day
- 10:30 AM Race moved to 8:30 AM !!!!! 
- Lunch - Boxed lunches from Jason's Deli for racers and volunteers.  Friends and family can purchase food and beverages from the Sunset Beach Tropical Grill which is next to the the race site.
- 12:30 PM - Awards (On-Site)
 * Raffle Prizes Throughout The Day (Benefiting Special Olympics)

6:30 PM - 10 PM After party at  Pete's Time Out- Live music and free drink and discounted food for racers.  Sign ups for sprints and OC - 6 races.
June 12 (Sunday)
- 9:00 AM OC-6 Races - Start from Bowditch Point Park
- 9:15 AM- Sunday Sprints sponsored by Any Lab Test Now  $1,000 purse
                  $500 -1st,  $300-2nd,  $200-3rd
                  4 person Mixed (1:3 or 2:2 ratios) Teams 
                  Free for racers registered in a Saturday event.  In order to keep this race free, we will not be providing lunch.  Please stop by  Sunset Beach Tropical Grill or Pete's Time Out for a great lunch and to support our sponsors.
- 10:30 AM- Calusa Kids Race
- Special Olympic Race immediately after Calusa Kids race.
- 12:00 PM Awards
- Lunch provided for OC-6 teams.
Sponsors:

Best Western Plus Beach Resort
Beaches of Fort Myers & Sanibel 
This list is private.
Results Select an event to view results.
Note: All live times are unadjusted and unofficial.
Main Event Race Layout for Saturday, June 11th:
Ron Jon Pro - 7 Mile, will be 3 laps (After first turn buoy, you will race counter clockwise, left shoulder to buoys at all times)
Body Glove - 2 Mile, almost 1 lap (After first turn buoy, you will race counter clockwise, left shoulder to buoys at all times)
 7 Mile Open - will be 3 laps (After first turn buoy, you will race counter clockwise, left shoulder to buoys at all times)
OC-6 - Race Layout for Sunday, June 12th:
OC-6 Race : 10-Mile Race, will be 3.5 laps (This race will be counter clockwise, left shoulder/Outrigger to buoys at all times)
OC-6 Storage and Launch Area:
Go to San Carlos Maritime Park - 1184 Main St, Fort Myers Beach, FL 33931
Please read below:
*All racers are required to have a PFD and leash on board or wear approved PFD while racing in this event. Kids ages 13 and under are required to wear PFD at all times on the water.
*Due to dangerous weather conditions, the organizers of the Battle on the Blueway, can postpone the race or cancel it at anytime.  
The Battle On The Blueway SUP Race will be held at the following location:
Crescent Beach Family Park Link:  
https://www.google.com/maps/place/Crescent+Beach+Family+Park/@26.45245,-81.954829,15z/data=!4m2!3m1!1s0x0:0x2af1b340ca16119b
Race Site Layout: Sponsor/Vendor Area:
Race Day - 6:30 am - 7am - Unloading Area:
There will be an area to unload your gear off of Estero Blvd. 
(Volunteers will be at these areas to help)
*Parking is across the street and normal rates range from $5-$10 per day.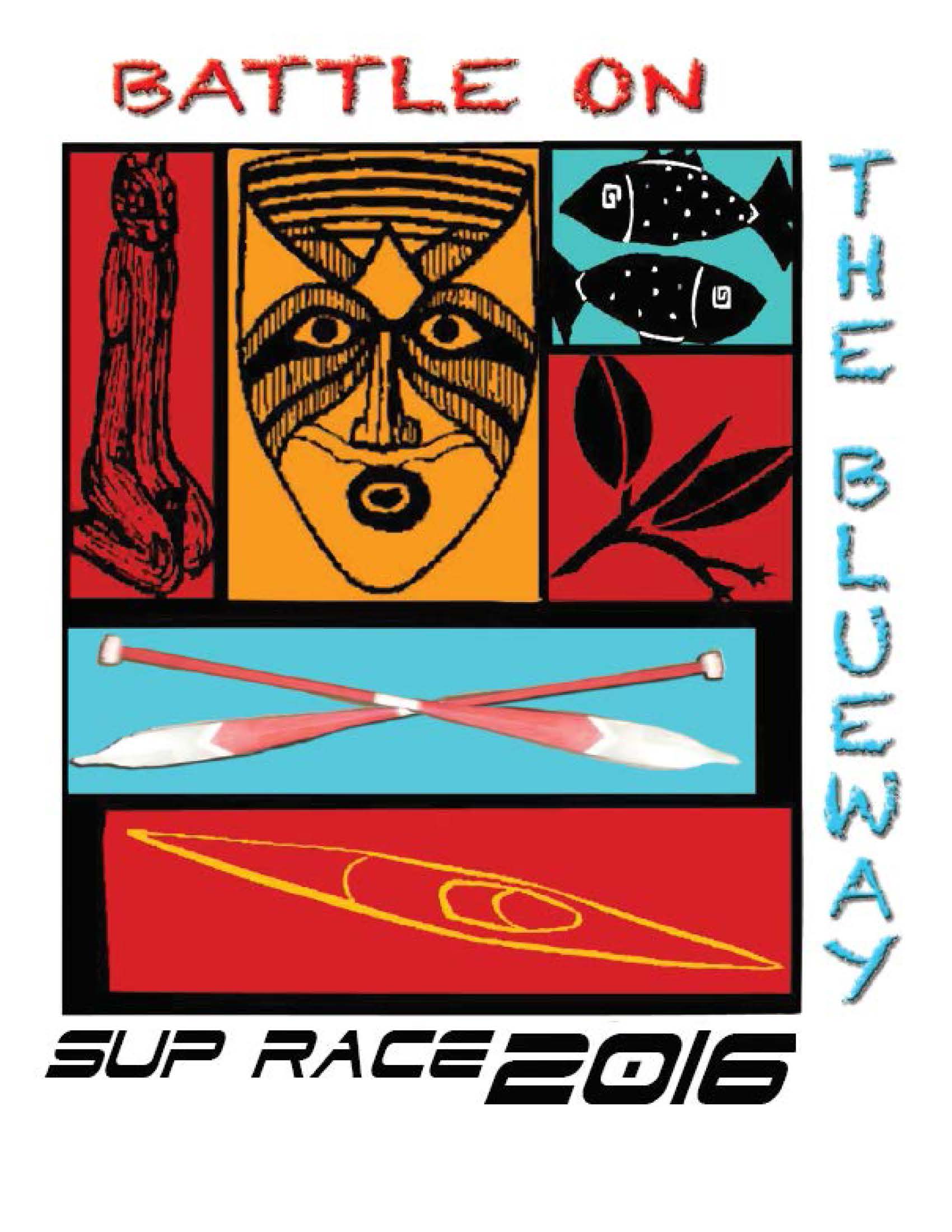 When:
Jun 11 to Jun 12, 2016
Where:
Fort Myers Beach, FL
---