Big Bend Ironman Kayak and Canoe 2015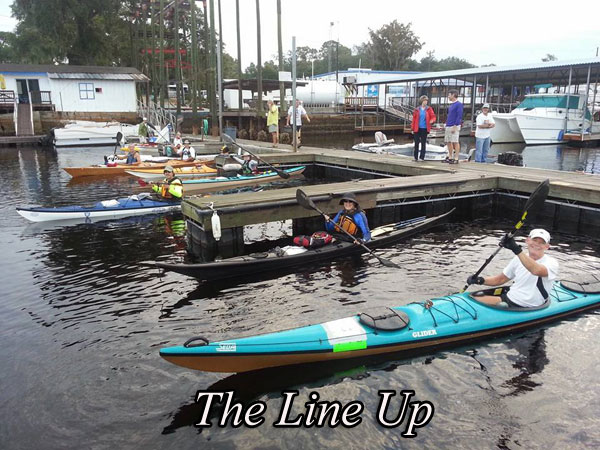 2015 RAce DAte TBD...check back in October!!
IRON

 MAN KAYAK RACE

The Inaugural Big Bend Ironman Kayak & Canoe Race held in Steinhatchee on Nov 2 was, by all accounts, a great success. With 10 racers from across FL, the 19.2 mile race from River Haven Marina, out of the gulf, and returning took the winner, Mr. Brint Adams from Sopchoppy, a mere 3 hours, 39 minutes and 58 seconds to complete. Just the night before at the mandatory racers meeting, the racers all thought their times would be about 5 hours!  Race and class results were:
 
Racing Sea Kayak
1st - Brint Adams, 03:39:58 (overall winner) of Lake Alfred, FL
 
Recreational Sea Kayak
1st – David Morse 03:55:08 (3rd overall)
2nd – Tom King (04:06:17) of Southport, FL
3rd – Kent Mayer (04:17:01) of Crawfordville, FL
4th – Devon Cruson (04:24:24) of Zephyrlhills, FL
 
Tandem Unlimited
Rod Price and Dave Knothe, (2nd overall) at 3 hours, 48 minutes and 14 seconds, both of Orlando, FL
 
Surf Ski
Marilyn Ward (04:21:36) of Palm Harbor, FL
 
Tandem Expedition Canoe
Tom and daughter, Erica, Dyll of Longwood, FL
 
The Big Bend Ironman Kayak & Canoe Race, developed by the Steinhatchee River Chamber of Commerce, was devised out of an idea to create an adventure weekend for visitors in the Steinhatchee River. With scallop season over and the next "big" event being the Fiddler Crab Festival in February, businesses needed a boost. This event, while small this year, is set to be huge next year as it will coincide with the Hidden Coast Paddling Festival. Rotating every three years, this past October it was held in Crystal River bringing 100 paddlers and their families to that area for 3 days. By combining the two events, the race and the leisure paddles, and adding on a few fun runs and a "VIP" challenge, 2014's Big Bend Ironman Kayak & Canoe Race is already set to be a spectacular event.
 
T-shirts are available while they last although they are going fast.  Call the chamber at 352-356-8185 ($15). And Rod Price, of Rod Price Adventures, our race director, was selling his two books as well. His newest book, Racing Around Florida; A 1200 Mile Small Boat Odyssey and Racing to the Yukon, a summation of a life journey of kayaking and canoeing around the world are also available.  Rod is a star on Adventure TV and we could not have found a better partner than Rod with his wealth of knowledge and experience in running races. You can look him up and buy his books at http://rodpriceadventure.com/. You can read about the race and find us on facebook at Steinhatchee River Chamber of Commerce to see pictures and more. The chamber also wants to thank Mike Farmer of Steinhatchee, photographer and course setter, Jim and Susan Jones - channel managers, Tobacco Free Florida, Good Times Motel & Marina, Who Dats restaurant, and Hungry Howies restaurant for their generous support.
 



No entries have been received yet.
Results Select an event to view results.
Note: All live times are unadjusted and unofficial.
No entries have been received yet.