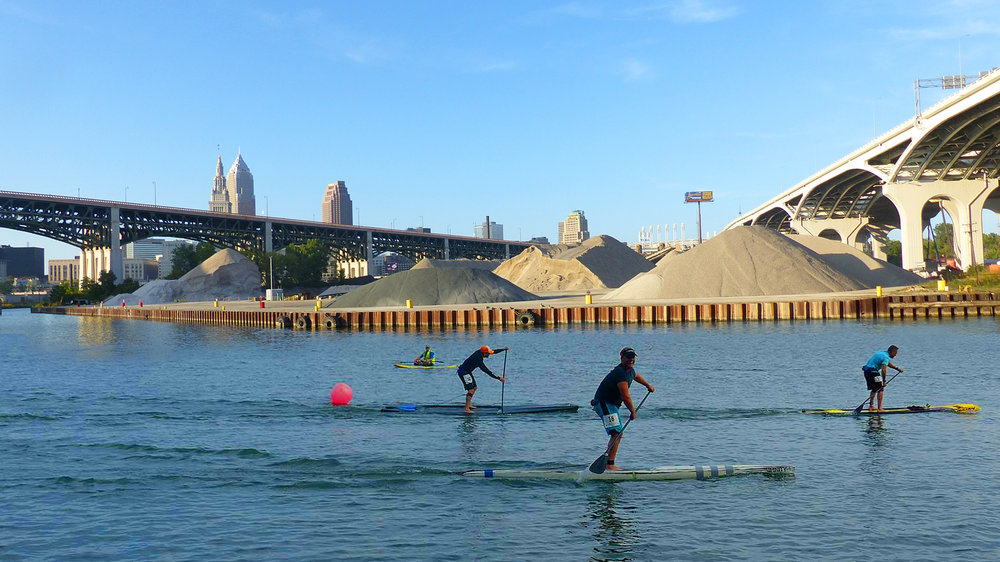 Blazing Paddles is a standup paddle board race and celebration on Cleveland, Ohio's Cuyahoga River, a historic body of water that's risen like a phoenix from its ecological low-point.
There will be 2 & 6 mile races, demos and prizes including top finisher prize money of up to $1700! The 6 mile race is a curvy, scenic urban course with sweeping views of downtown Cleveland will take you under 10 bridges spanning the river before you reach the race's turnaround point – THE location of the infamous Cuyahoga River fire.
In addition to the races, our spectator village will host technique and safety clinics, and demos of paddle products while H2O stakeholders share info on their respective missions. And yes, there will be live music. And beer!

The races are intended to provide a focus on several themes central to
Share the River's
mission:
the importance and demonstrable positive impact of common sense environmental regulations

the value of public investments in clean water infrastructure (like NEORSD's Project Clean Lake).

the positive impact of engaged, long-term recreational use of our nations rivers and waterways

the benefit the above three have on waterfront cities' appeal 1) as a place where people want to work, live and play in and 2) as a tourism destination.

For more information on the race and festival
CLICK HERE
.
Registration:
7 a.m. – 8:30 a.m.
Racers meeting: 8:40 a.m.
6 Mile Race Start: 9 a.m.
2 Mile Race Start: 9:15 a.m.
Event Entries Click on an event to see who entered.
Results Select an event to view results.
Note: All live times are unadjusted and unofficial.