Race has been postponed until May 6th. Registration is now open again till May 3rd
The Explore Kentucky Initiative is proud to announce the creation of Bluegrass River Run presented by Beinwater as a the kick-off race of the 2017 Kentucky Waterman Series season. BRR is a great early season race to recover from the winter. Paddlers will blast off from Kentucky State Park's Fort Boonesborough State Park on a portion of the beautiful palisades section of the Kentucky River that flows through the heart of the Bluegrass region. Starting from the beach below historic Fort Boonesborough founded by the great frontiersman Daniel Boone, the race will follow the river through impressive rock outcroppings of the Kentucky Palisades. Paddlers will be immersed in the ambiance of early spring with beautiful views of river banks in full bloom. Along the way at each turn in the river you'll see many varieties of dogwoods, as well as maples, weeping cherry trees, redbuds and other flowering species. The 6 mile race and float will end at Proud Mary's BBQ in Fayette County and the 19 mile at the historic Valley View Ferry which has been in operation since 1780. We will field a youth division for ages 10 - 16.
Post race we will gather on the sandy beach at Proud Mary's for some great local barbecue, fellowship with games and music, and of course presentation of race awards.

Family friendly Float price is $10. Floaters are able to purchase additional items including:
Dinner

Commemorative wooden token

Dri-fit shirt

Shuttle
All Racers will receive:
Meal at Proud Mary's BBQ (Vegetarian Option available)
Commemorative wood token
Raffle ticket for various prizes.
Dri-fit shirt
Shuttle
Youth floaters/Racers will receive:
Commemorative wooden token
Raffle ticket for various prizes.
Race Cap: 200 Paddlers
Registration Cost:
Adult Solo Race: $50 Before March 31st, April 1- 15: $60, April 16 - 24: $65

Tandem Race Team: $90 before March 31st, April 1 -15: $95, April 16 - 24: $100

Family Friendly Float: $5 Before March 31st, April 1 -15: $10 April 16 - 24: $15

Youth Racer: $15
Special registration rate because of postponement: $50
Transfer/Refund Policy
Entry fees are non-transferable. We offer a partial reimbursement of registration fees if paddlers cannot attend event. Race credit is available.
Race classes will consist of the following:
Race Classes will consist of Kentucky Waterman Series Classes in addition to tandem classes for Youth, Men, Women, and Mixed Teams:
SUP 14
SUP 12'6
High Performance Kayak
Kayak ( Below 17 Ft)
Solo Canoe
Tandem Canoe
Tandem Kayak
Youth: All craft
Awards will be for 1st, 2nd, and 3rd in class!
Accommodations 

We are happy to announce that Quality Inn in Richmond, KY has graciously offered to be the host hotel for the Bluegrass River Run. We have reserved a block of rooms at the reduced rate of $85 for Double Beds and $90 for King Beds. Another cool thing to note is that they have offered to secure racer's craft in their conference center for the duration of their stay!
Call the hotel at 859-623-0063 to reserve and mention Bluegrass River Run to take advantage of this awesome discount.

Friday April 28th 
 7 P.M Pre-race Party at Halls on the River in Clark County. 
Saturday, April 29th 
 7:00 A.M Boat Drop - Off/ Check - In 
 8:30 19 Mile shuttle departs Valley View Ferry 
 9:15 6 Mile Shuttle departs from Proud Mary's BBQ 
 9:30: 19 Mile Racer Meeting 
 10:00: 19 Mile Race Start 
 10:30: 6 Mile Racer's Meeting 11:00
 6 Mile Race Start: 11:15
 6 Mile Family Friendly Float Start : 12:00 - 3 P.M 
Bluegrass River Run Expo, Games, & Music at Proud Mary's BBQ  3:15: Dinner & Awards at Proud Mary's BBQ
Event Entries Click on an event to see who entered.
Results Select an event to view results.
Note: All live times are unadjusted and unofficial.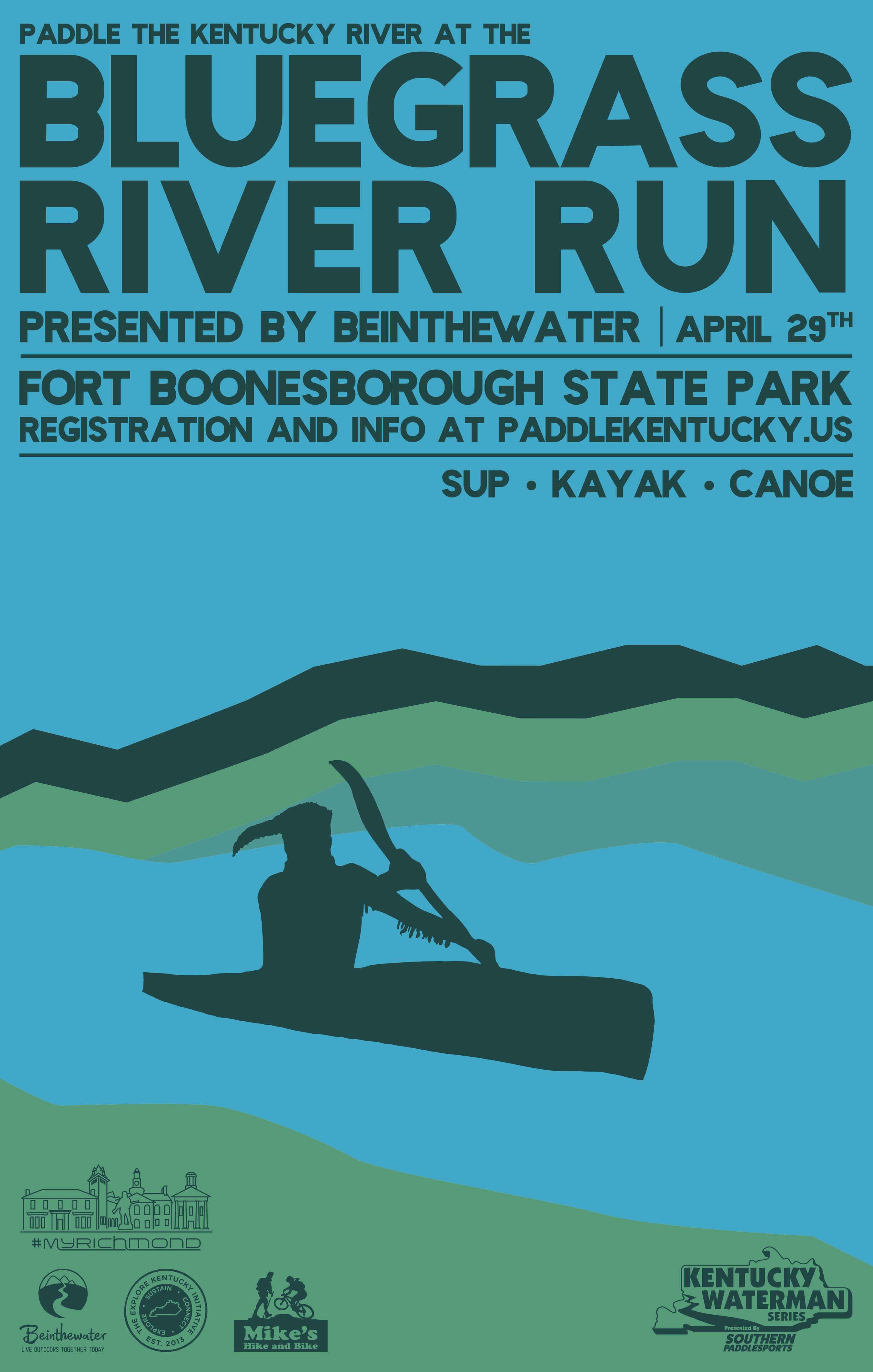 ---