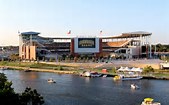 The 1st Annual McLane Stadium Outdoor Expo & On the Water Boat Show is hosting Stand Up Paddle Board & Kayak Races for all age groups on Saturday, July 9, 2016, at the McLane Stadium lagoon. There will also be a Kayak Bass Tournament on the Brazos on the same day. Pre-registration is preferred so that we will know how many to plan for, but participants may register the morning of the event for an additional $5.00 late fee. There will be youth, novice, 5K,10K and women's divisions and where eligible, racers may participate in more than one event. 
SUP & Kayak Races (all divisions) $15.00/event 
Kayak Bass Tournament $40.00 which includes big bass
Cash prizes and trophies will be awarded to the top finishers in each division.  There will be door prize drawings for all participants who pre-register.  Commemorative t-shirts may be ordered for $15.00 each.

Headquarters will be near the McLane Stadium lagoon, Racers should arrive by 9:30 AM and be prepared to participate in the captain's safety meeting at 10:45 AM.  Racing will start shortly thereafter with adult divisions starting first. 
Bass Tournament participants should arrive at McLane Stadium at 6:00 AM.  The captain's safety meeting will begin at 7:00 AM and the tournament on the Brazos will start immediately after the meeting.  Shuttle service will be provided for those fishermen needing transportation back to their autos.
DIVISIONS
Youth Division  1 (Under 13):  Once around the lagoon at McLane Stadium
Youth Division  2 (13-18):  Twice around the lagoon at McLane Stadium
Novice Division:  Three times around the lagoon at McLane Stadium
5K Division
10K Division
Women's Race: Distance To Be Determined
Kayak Fun Race:  Distance To Be Determined
This list is private.
Results Select an event to view results.
Note: All live times are unadjusted and unofficial.
All races will be held in the lagoon at McLane Stadium.
All fishing will be on the lagoon and the Brazos River (they are connected).


---