Des Plaines River Marathon 2015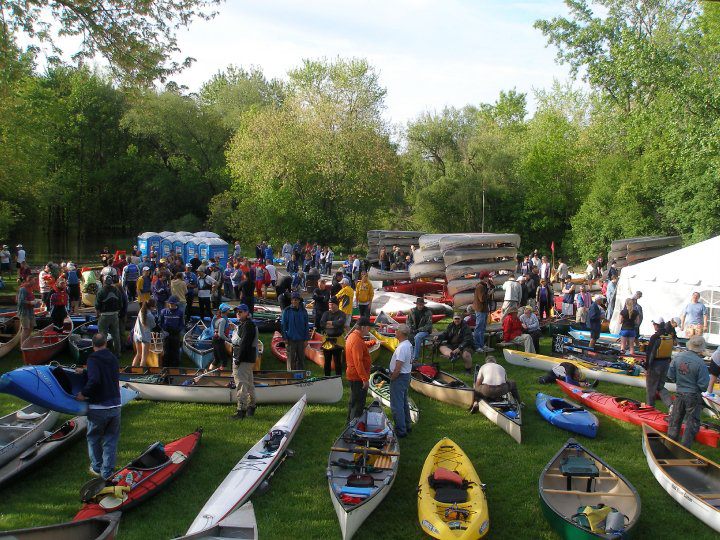 The Des Plaines River Canoe and Kayak Marathon, founded in 1958 by Ralph Frese, is the second oldest continual canoe race in the United States. The race is 18½ miles on the beautiful and historic Des Plaines River. There are numerous classes to accommodate people of all ages and levels, with a halfway take-out option possible for non-competitors. Everyone is welcome to participate. First time participants, repeat paddlers, and serious competitors can all enjoy the excitement, challenge, and camaraderie that this historic event provides.
The Marathon is Co-sponsored by the Des Plaines River Association, the Forest Preserve District of Cook County and the Lake County Forest Preserves.
Welcome 2013!
WE WELCOME YOU
 to a preview of the 56th Des Plaines River Canoe and Kayak Marathon, including this year the addition of 
Stand Up Paddleboard Classes
 for both men and women, and the adoption of 
Medal Class designations
 for those classes with only five or fewer pre-registered craft. 
As before, we remain grateful for the considerable assistance of our co-sponsors, the Forest Preserve District of Cook County and the Lake County Forest Preserves.
 We do wish you abundant enjoyment and success with your preparation and participation in the May 19 Marathon!
- Al Pilgrim & Jack Snarr, Co-Chairmen
CLASS SPECIFICATIONS will now include one Open STAND UP PADDLEBOARD CLASS for men and another for women, enabling SUP participants to compete for awards and recognition as with canoe and kayak classes. SUPs may be of any length, but must be paddled in a standing position with a single blade paddle.
MEDAL CLASSES will be identified at the close of pre-registration on May 12, one week before the Marathon, as those classes with five or fewer craft pre-registered. Medal class craft will be tracked and timed identically to other larger, more competitive classes, but winners for this year will be recognized with a gold medal rather than customary Voyageur trophy. Pre-registrants in Medal Classes will be so notified by the registrar when this becomes evident at the close of pre-registration, and may, if they wish, switch to another class at the registration desk on race day. The addition on race day of craft to a Medal Class will not alter the Medal Class status for this year. Medal or Trophy Classes will be determined each year based on the pre-registration numbers for the class (five or less, or more than five). 

If you anticipate including PASSENGERS in your boat, beyond two full registrants, their fee will be only $5.00 each. We hope thereby to encourage participation by young family members. Craft with greater than two occupants will automatically be assigned to the No Contest Class. Dogs ride free, but may not paddle.
HALFWAY TAKE-OUT OPTION enabling some participants the opportunity to paddle a shorter distance will again be supported by pre-race shuttle service from the take-out site at Rivershire Park in Lincolnshire back to the Start. Cars may be parked in an adjoining lot. A map and further detail on parking and shuttle service will be included in the information emailed to you following registration.
BOAT NUMBERS must be picked up and applied to your craft at the Start of the race, per follow-up email instructions announcing your Start time and providing additional procedural details.
RYERSON DAM was removed prior to the 2011 race and the portage replaced with a mild chute for passage of canoes and kayaks. Dam #1 in Wheeling remains a mandatory portage, unless water level is sufficiently high to rescind this requirement, as in 2010, in which case announcement will be posted at the Start.
WATER TRAIL-KEEPERS SUPPORT For the past three years participants have opted to contribute to the Upper Des Plaines River Ecosystem Partnership, the Illinois Paddlers' Patrol and Openlands, organizations devoted to extending the environmental and recreational potential of the Des Plaines and other Illinois rivers. This year the Marathon organizers have identified the Water TrailKeepers Program as the organization for which we encourage your financial support by adding an optional amount to your registration fee. As a brief introduction, Water TrailKeepers is jointly sponsored by the Illinois Paddling Council and Openlands to organize volunteer teams of in-stream and shoreline volunteers to clear accumulated natural and man-made debris from nearly 350 miles of seven northern Illinois waterways. Indeed, the low-water conditions of 2012 enabled WTK volunteers to locate and remove a prodigious amount of heretofore unseen debris from the upper Des Plaines, including most of the Marathon course. 

Of course, in addition to funds with which to obtain equipment and supplies, the TrailKeepers need volunteer labor. For a description of the program and where and how to assist with removal efforts on a stream convenient to you click here. Both the SignMeUp web registration and the paper registration will facilitate your contribution to this cause!
TWO GRAND MASTER AWARDS will again be given in recognition of continued strong showing relative to peers of all ages in a class. One will go to that solo paddler whose percentile finish in his or her class is highest among all solo competitors over 70 years of age on race day. The second will go to that tandem paddler whose percentile finish is highest among C2 or K2 paddlers over 70, regardless of who his or her partner may be. For 2012 the winners were: Solo – Don Alberda from Mundelein, IL, and Tandem – Fritz Hansen, from Burlington, WI. Having now received this recognition in 2012, Don and Fritz will be removed from 2013 consideration.
AGAIN WE ENCOURAGE YOU to partake of the opportunities at the Finish Area to wind down after completing the race, pick up your patch and t-shirts, enjoy the food and music and view special exhibits and the award and raffle presentations.
This list is private.
Results Select an event to view results.
Note: All live times are unadjusted and unofficial.
No entries have been received yet.
The Course
Map and Course Description
The course begins at Oak Springs Road in Libertyville (road is one way west on race day, enter from St. Mary's Road) and ends at Dam #2 (Kensington Road) in Prospect Heights - approximately 18½ miles downstream. 

Information about Off-Site Parking, Shuttle Buses & Canoe Pick-Up is available on ourParking Page.
Since 2010 there has been an optional mid-course take-out supported at Rivershire Park, approximately 9 Miles from the Start. This may be of particular appeal to participants who for whatever reason wish a shorter, albeit very enjoyable Canoe Marathon racing adventure. Rivershire Park is accessible from Londonderry Lane, west of Riverwoods Road and just north of Ryerson Nature Preserve. (See bottom of Map #1 or map in Mailback accompanying your boat numbers).
Canoes/kayaks start in heats of 8 (by number) every 2 minutes beginning at 8AM. Numbers are assigned at registration time, first come - first served. Register early for a low number.
Dam #1 is a mandatory portage, unless announced otherwise at the start. Portage Dam #1 on the right. Two smaller dams, the Hollister Dam ½ mile above Route 60, and Daniel Wright Woods Dam, 1¼ miles south of Route 60, may be run, depending upon water level, paddling skill, possible boat damage, and loss of time if you dump.
Water depth may vary. Some years the river has been near flood stage and people have been required to wear PFDs. Other years we have had to portage over all the dams. Generally the water level is 4 to 6 feet deep in most parts of the river.
Most of the course is bounded on both sides of the river by wooded forest preserve land or golf courses.
There is a radio checkpoint at each bridge. You may be asked your boat number as you pass. If you need assistance, they can radio for help or try to get a message to your "pit crew".
There are several viewing areas along the way - the most popular being at the former site of Ryerson Dam (a 1/2 mile walk from the parking lot of Ryerson Nature Center) and at Dam #1.
After the race plan to partake in the special commemorative and nature exhibits, food and entertainment at the Finish Area.
A free shuttle is available to bring paddlers (not canoes) back to the start line. Final Departure at 5:00 pm.
Off-Site Parking, Mid-Course Takeout Option, Shuttle Buses & Canoe Pick-Up
See the map below for details.
I. FINISH LINE OFF-SITE PARKING is available at 3 sites beginning at 6 am
LOT A:
 Camp Pine Woods Forest Preserve parking lot (east of Rt. 45 south of Euclid/W. Lake Ave) 
LOT B:
 If needed for overflow (east of river, north of Lake-Euclid Ave.) 
LOT C:
 If needed for overflow (west of river, north of Lake-Euclid Ave.)
II. STARTING LINE PARKING
A:
 The best parking option is to move your car to a Finish Line parking area after unloading your canoe. You can then take the free shuttle back to the Start Line to begin the race. See the shuttle schedule below. 
B:
 Alternatively, after unloading canoes, cars may be parked along the shoulder of Oak Springs Road only west of the river. 
C:
 In addition, free all day parking will be available for approximately 100 cars at the 
Lake Minear Beach Club
. The lot entrance is 1/4 mile west of the river along Oak Springs Road. Cars must be removed from this lot by 5:00 pm, making this a less desirable choice for participants starting later in the morning.
III. MID-COURSE OPTIONAL TAKE-OUT
Parking is available in the lot at Rivershire Park, a short walk from the east bank canoe launch/take-out. This site will be marked with a red flag visible from the river. Pre-race shuttle service back to the Start Area will be provided by the Lake County Forest Preserves at no charge. Deposit canoe and gear at Start Area in advance, then drive to the mid-course parking lot. Shuttles leave at 7:00, 8:00 and 9:00 a.m. for the roughly 20 minute ride back to Oak Spring Road. Time your gear drop-off and shuttle to arrive back at the Start Area at least 45 minutes in advance of your Start Time. Upon reaching the Mid-Course take-out by boat, load boat and gear onto your car, then drive to Finish Area off-site parking (item 1 above) to pick up pre-ordered T-shirts and enjoy the food, displays, entertainment and awards presentation.
IV. SHUTTLE BUSES will also be available free of charge from the finish line to the start line or off-site parking.
A:
 TO START LINE - a free shuttle bus will leave Finish Line Dam # 2 at 6:30 am, 7:00, 7:30, 8:00, 8:30, 9:00 and 9:30 for the Oak Spring Road start line. At 11:30 am and thereafter the bus will leave every 45 minutes until 5:00 pm. 
B:
 TO OFF-SITE PARKING - beginning at 6:15 am buses will run continuously to and from Lots A & B. You may ride the buses both ways (courtesy of the Forest Preserve District of Cook County). Family and friends who wish to greet you at the finish line and enjoy the day with you may also use the off-site lots and free shuttle bus.
V. CANOE PICK UP
A:
 Before retrieving your vehicle, please bring your canoe and equipment to the "canoe corral" located on the east side of Dam #2 parking lot. 
B:
 Enter the Dam #2 parking lot from the temporary entrance on the south end of the parking lot - load your canoes - exit on the north side.
VI. PEDESTRIAN CROSSING of Rt. 45 (River Road)
If you are parked in the residential area west of Dam #2, please cross River Rd. (Rt. 45) only at the entrance or exit to Dam #2 parking lot where there will be Forest Preserve police helping to direct traffic.
VII. PICNICKING - CONCESSION STANDS
You are encouraged to make a day of it at Dam #2 - watch others finish, trade "war stories", check your times, and cheer at the awards ceremony. There will be multiple food concessions and music available this year.