Englewood Beach PaddleFest 2016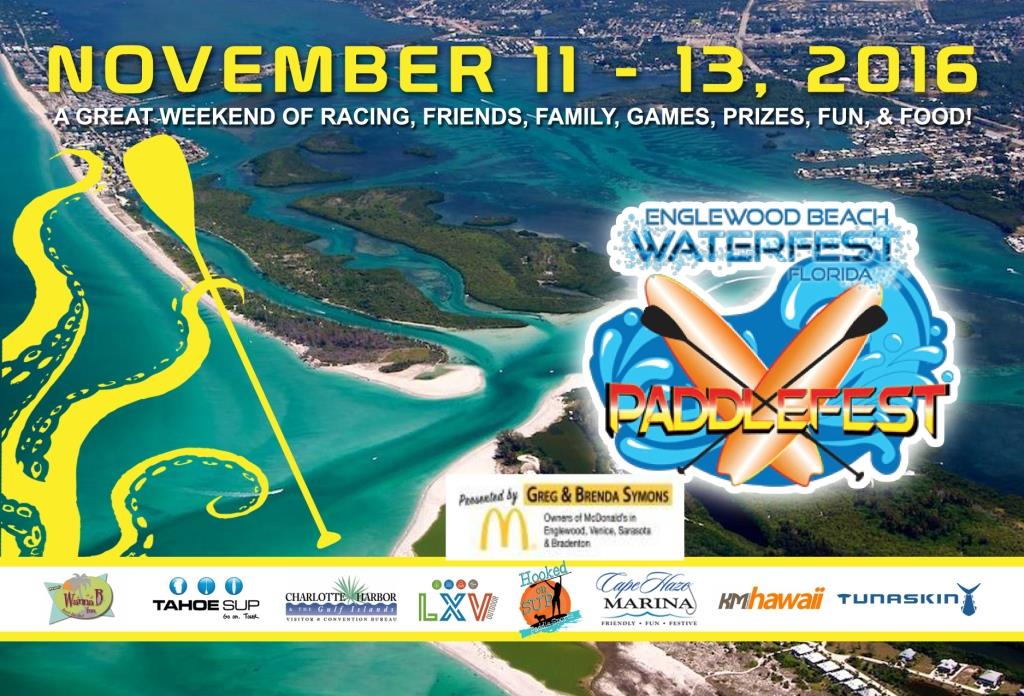 A great weekend of Racing, Friends, Family, Games, Prizes, Fun, & Food!
Englewood Beach/Manasota Key, Florida is one of the last unspoiled and pristine beaches left in Florida and you don't want to miss the opportunity to enjoy the weekend racing, paddling, playing, and discovering nature in this sleepy little beach town. Our first year event in 2015 turned out to be the surprize big turn out race of the season with rave reviews from everyone who attended for everything from the gorgeous race waters of Englewood Beach and Stump Pass, amazing food at pre & post race parties, and killer raffle prizes like a brand new Yolo Board, Quickblade Paddle, and leash package available just for race participants. (Which is happening again this year!) Englewood may be a small town but we like to do our events BIG so you can be sure 2016 is going to be even better than last year! 
And speaking of BIG...check out our SUP'Squatch division this year in both the 6 mile & 3 mile races! These huge inflatable boards are the newest fun way to tackle the water with a team. If you have a Squatch and want to race you are IN! If you need a Squatch, message us!
Hooked On SUP is giving away a brand new inflatable stand up paddle board with Quickblade paddle, and leash and all you have to do to win is sign up and paddle in the 6 Mile Long Race, 3 Mile Open, or 1. 5 Mile Fun Race. 1 raffle ticket per person will be given for each registration and a random drawing will be held of all entries (must actually participate, not just enter) for one lucky winner!!! 
QUADRUPLE YOUR CHANCES OF WINNING THE PADDLE BOARD & QUICKBLADE PADDLE- Register for the race 4 months early (before July 11, 2016) and receive 4 extra raffle tickets when you check in. Sign up 3 months early (before August 11, 2016) and receive 3 extra raffle tickets when you check in. Sign up 2 months early (before September 11, 2016) and receive 2 extra raffle tickets with check in. Sign up 1 month early (before October 11, 2016) and receive 1 extra raffle ticket.
LXV Outdoor/Tahoe PaddleBoards is donating a 2nd inflatable paddleboard to give away in the general raffle! That means TWO paddleboards will be raffled off at this race...amazing chances to win!!!
The fun starts on Friday night 11/11/16 with a pre-race packet pick up, pool party, and shrimp boil at Hooked On SUP at Cape Haze Marina. Movie at the Marina follows dinner so plan on staying to watch "Chasing Gold" a great documentary about our 2015 USA SUP Team's Gold Medal Win in the ISA/World PaddleBoard Games from the heated pool, hot tub, or pool deck on a huge outdoor screen. Free with race registration, extra tickets available for $5 per person in advance or $8 at door. Kids under 10 are free.  
Saturday 11/12/16-Race Day and we have something for everyone!- If we can't talk you into participating in one of our races yet just know that this is a FABULOUS venue for viewing the race participants at almost every point. This is one of the very few race locations where racers can be seen for virtually the entire course by moving from viewing spots along the narrow strip of land inside Stump Pass Beach State Park on the beach side and bay side as you follow along. Or just bring beach chairs or a blanket or towel and get comfy on your favorite piece of sand and cheer as everyone paddles past you. 
Long Race- 6 Miles ($65)- Beach start race and will take place in Gulf waters, paddling through a very challenging ocean pass into the intra-coastal waterway then making a loop and heading back out the pass to the ocean and ending back at the same beach where you started. Currents and boat traffic in the pass are known to be ever changing and unpredictable. Please check out the course in advance and no novice paddlers please!
Open Course- 3 Miles ($55) - This is also a beach start and Gulf water race. Designed for the intermediate to beginner paddler but we recommend you practice paddling in the ocean before this race! This will be an up and back loop course and will NOT go through the pass.
Recreational Fun Race- 1.5 Miles ($45) - For paddlers who want to experience the beauty of Englewood Beach and enjoy a mellow paddle. Also taking place on the Gulf side.
Kids Race- 1/4 Mile ($25)- Also in the Gulf but close to shore for kids up to 11 yrs old. Will be moved to intra-coastal only in the event of conditions unsafe for kids to paddle. 
Amazing Beach Lunch and Awards to follow and if we are lucky we will have some nice surf-able swells like last year for everyone to enjoy post race. 
Board Rentals are available at Hooked On SUP and will be reserved on a first come/first served basis. 941-504-1699, MUST CALL IN ADVANCE FOR RESERVATION and they will go quickly so don't wait! Race Boards- $65  Sup/Surf- $45.  Boards will be delivered to beach morning of race and picked up at beach at end of race. 
*PFD (life jacket) required to be on board or worn by all paddlers 13 yrs of age and older. If 12 yrs or under life jacket must be worn. LEASHES ALSO REQUIRED. Leashes will be available to rent or buy if you don't have one but please don't complain about this requirement or try to slide by without one. You will NOT be allowed to race without a leash & a PFD and you will not get a refund. 

Sunday 11/13 is our Funday and we promise to have you all packed up and ready to roll to wherever home is by 2 pm!
The morning starts with a PADDLE CLINIC WITH COACH MIKE. Coach Michael Metzger is one of the most respected, sought after, and loved stroke coaches in the US and athletes come from all over the world to learn from him at his training facility in the Florida Keys. He has worked with numerous Olympic athletes, partnered for clinics with Danny Ching at Carolina Cup, and trained Bailey Rosen who was the #1 paddler in the Eastern US and went on to paddle the 32 mile Molokai2Oahu race at only 18 yrs old. Coach Mike is a Florida favorite and this clinic is going to fill up FAST so register NOW. 2.5 hrs, limited to 10 people, only $65. Does NOT include paddleboard, if you need a board call Hooked On SUP at 941-504-1699 for a rental. 
 PaddleFit Challenge Games are up immediately following the Coach Mike Clinic (see linked video but think adding a Hooked On SUP Hooker spin to it for way more hilarity and fun). Competitive teams, costumes, and ridiculousness is encouraged. Be ready to get a little sandy and crazy with Human Hamster Balls, Hippity Hop races, and a salt water Slip N Slide guaranteed to make sure you take a little sand of Englewood Beach home with you! 
Englewood is known for what we call "Sandbar Sundays" and we want to show you what all the fun is about! After you've worked up a great appetite we will be serving a full Thanksgiving Day lunch on our famous Stump Pass Sandbar. Every year the Sunday before Thanksgiving Hooked On SUP has a Pilgrim Paddle where we paddle to the sandbar and set up tables, chairs, and a full Thanksgiving feast and invite anyone who paddles, floats, or boats to bring a dish and come enjoy the fun with us. The event has become pretty legendary so this year we decided to hold it a week early so that we can share it with all of you! Free for anyone bringing a dish, or who entered the PaddleFit Games or Coach Mike Clinic Sunday morning, $5 in advance or $8 morning of. Food includes Fried Turkey, Baked Turkey, Baked Ham, Mashed Potatoes, Gravy, Cornbread Dressing, Green Beans, Mac n Cheese, Rolls, Assorted Desserts. That is just what will be supplied by Hooked On SUP and restaurant sponsor and chef of Big Water Fish Market. Others will add by bringing specialty dishes and desserts...it is a true feast of food and friendship just like Thanksgiving is meant to be! To get there paddle the 1 mile south down intra-coastal waterway from host hotel WannaB Inn, launch at Stump Pass Beach State Park and paddle 1 mile south, or reserve a free spot on the Hooked On SUP board barge pontoon boat shuttle in advance by calling 941-504-1699 or emailing hookedonsup@gmail.com. Board and kayak rentals will also be available for delivery to Stump Pass Beach State Park by Hooked On SUP but will go fast so call in advance for reservations. Cost is $25 for paddleboard or single kayak or $40 for double kayaks.
Make a weekend of it and stay at Weston's wannaB inn.  This beautiful "Old Florida" resort is located at the tip of Manasota Key between Lemon Bay and the Gulf of Mexico.  Each unit has a kitchen.  One and two bedroom units are available.  Enjoy this paddling paradise.  
Our beautiful official host hotel  Weston's WannaB Inn is once again offering all rooms at a discount for registered racers but YOU MUST CALL THE HOTEL AND ASK FOR RACE DISCOUNT. Race discount cannot be found on their website and discounted rooms can't be booked online, YOU MUST CALL TO BOOK ROOMS FOR RACE WEEKEND. This is a beautiful hotel directly on the water and there are still rooms available. CALL Now! 941-474-3431.

GREAT NEWS FOR YOU SPRINTER VAN/CAMPING PADDLERS- Cape Haze Marina is offering FREE camping on race weekend!They have loads of open flat grassy space and parking so tent setup will be allowed and small campers and RV's. No electric or water hookup so you will need to be self sufficient but large bathrooms with hot/cold showers and hose water for board wash down available. This is the business location of Hooked on SUP so we will help you out with electric for minor things like phone/laptop charging, etc. Location is 2.5 miles by water and 5 miles by land from the race venue. Great location and great opportunity to make this a fun adventure weekend race!! Call Hooked On SUP at 941-504-1699 to reserve your spot. MUST MAKE A RESERVATION IN ADVANCE!!!

Friday 11/11-
Location: Hooked On SUP at Cape Haze Marina. 6950 Placida Rd. Englewood, FL 34224.
5:30- 8:30 pm- Pre race packet pick up, pool party, shrimp boil dinner and Movie At The Marina.
Saturday 11/12- 
Location: Englewood Beach/Manasota Key 2100 N. Beach Rd. Englewood.
7:00-8:30 am- Racer check in & packet pick up. 
8:45 am- Mandatory race meeting.
9 am- 6 Mile race starts.
9:10 am- 3 Mile race starts.
Kids Clinic with Lina Bowers will start approximately 10:30 am.
11 am- 1.5 Mile & Kids Race start.
12:30- Lunch served with raffles & awards immediately following.
Sunday 11/13-
Location: Englewood Beach/Manasota Key. 2100 N. Beach Rd. Englewood
8:30-10 am- Paddle Clinic with Coach Mike.
10-11:30 am- PaddleFit Challenge Games.
11:30 am-12 pm- Pilgrim Paddle or boat ride to Stump Pass Beach sandbar where lunch will be held.
12 pm - 3 pm- Full Thanksgiving lunch at Stump Pass Beach sandbar. 
Event Entries Click on an event to see who entered.
Results Select an event to view results.
Note: All live times are unadjusted and unofficial.
6 Mile
3 Mile
1.5 Mile
To Hooked On SUP at Cape Haze Marina-(6950 Placida Rd. Englewood)
-
Friday night shrimp boil/pre-race packet pick up/movies at the marina)
- I 75 to Exit 191- River Rd. Go West toward Englewood/Beaches. Turn left on Winchester Blvd. At dead end turn left on Placida Rd. Go approx. 2 miles and marina will be on right. (You will just see large Cape Haze Marina sign, you can't see marina from Placida Road) Turn right at Bay Point Dr. and drive past boat barn until you see the Hooked On SUP paddle shack. Park anywhere and follow signs to pool/cabana area.
To Englewood Beach/Manasota Key- (2100 N Beach Rd. Englewood)- Saturday and Sunday race events - I 75 to Exit 191- River Rd.  Go West toward Englewood/Beaches until you come to Route 776. Turn left. Follow to Beach Rd. Turn right. Approx 1 mile this will take you across the bridge and onto the island of Manasota Key. At the traffic circle go right then make immediate left into Englewood Beach parking lot.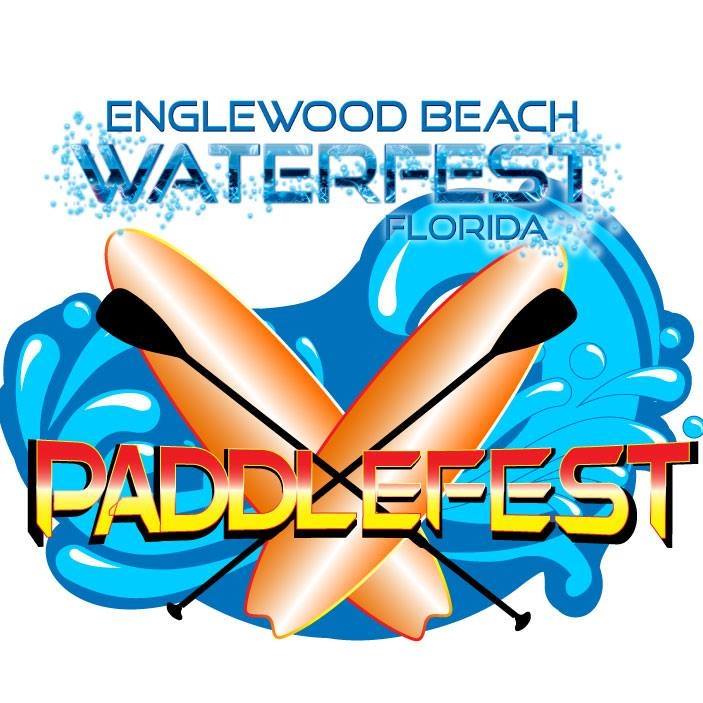 When:
Nov 12 to Nov 13, 2016
---