F
ANfit is a first. It's an intense multi-station total fitness challenge where each participant is measured against a field of peers and top athletes. Connect with our best in a new and inspiring way, as you will go toe-to-toe and receive encouragement from top-level Canadian athletes during FANfit.
Aside from pushing you harder, faster, and further than ever before, your participation boosts our athletes' chances of getting the financial support they need to train more effectively. FANfit is pumped to be operating in support of the Canadian Olympic Foundation – together we are driving performance and support of our Olympians and future Olympians in Canada. Your FANfit donation will help athletes reach their dreams and even the podium… just like the athletes you meet at FANfit who are primed to help you reach your highest potential.

In short – The FANfit Challenge is the very first of its kind: a fitness + fundraising challenge.
FITNESS
Each participant, whether signed up on a team of five or going solo, will test their strength and endurance against five punishing exercise stations; the rowing machine, the run, the agility test (pro agility combine), the sled pull, and the plank. Bond with top Canadian athletes while pushing yourself in a fitness competition that tests you like no other.
FUNDRAISING
The FANfit Challenge is pumped to support the Canadian Olympic Foundation and the Canadian sport system.

Established in 2007, the Canadian Olympic Foundation gives to priority partners that drive high performance athletic achievement for Canada's Olympic podium potentials and for our next generation of Olympic athletes. The Foundation also funds athlete, coaching, and sport awards and scholarships.

By participating in FANfit and fundraising for the Canadian Olympic Foundation, you'll give our athletes and national sport organizations the boost they need – the same encouragement that they'll share with you at FANfit. Ultimately, our goal is to get our Canadian athletes the much-needed financial backing they require to train and compete at the highest level, and dominate on the world stage.
WAVE 1
7:00AM TO 11:00AM
More schedule details coming soon.
WAVE 2
11:00AM TO 3:00PM
More schedule details coming soon.
WAVE 3
3:00PM TO 7PM
More schedule details coming soon.
Event Entries Click on an event to see who entered.
Results Select an event to view results.
Note: All live times are unadjusted and unofficial.


Address: 

26 Thomas Raddall Dr, Halifax, NS B3S 0E2, Canada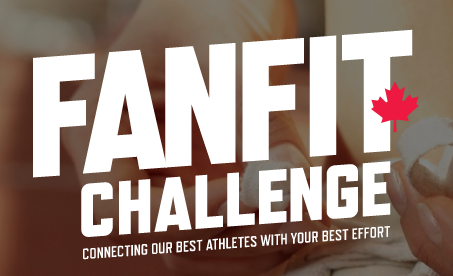 Where:
Clayton Park West, NS