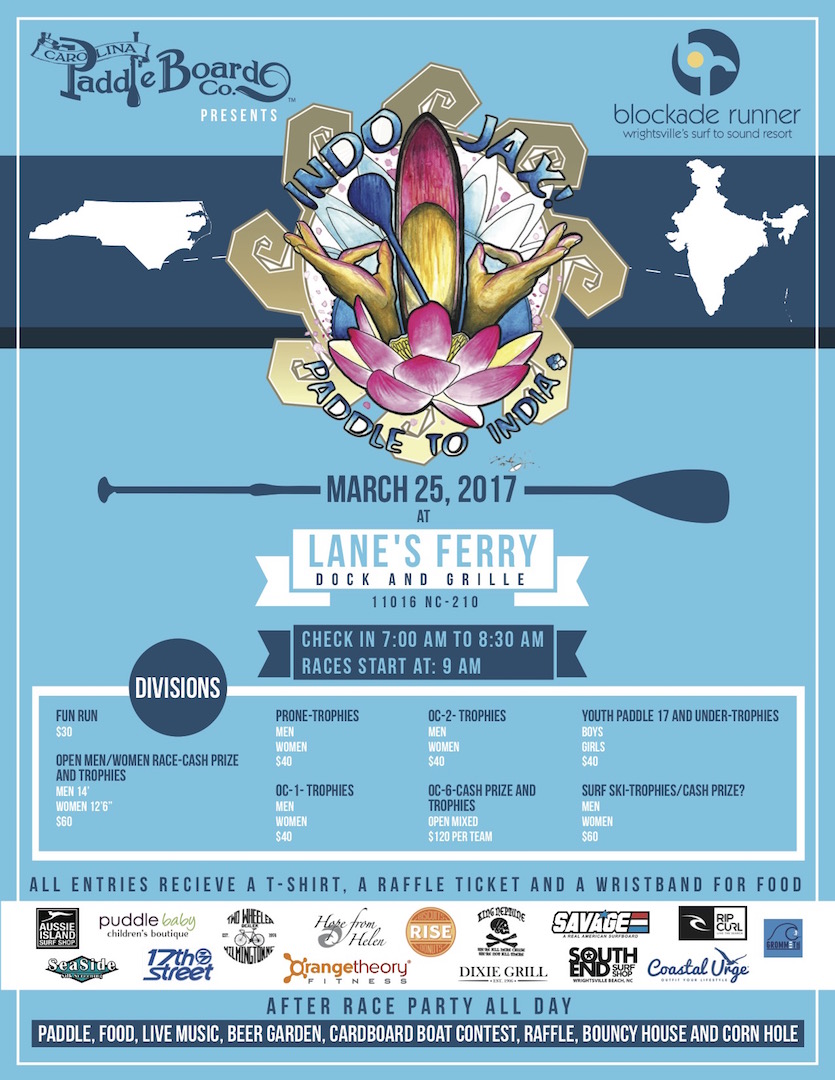 Presented by Carolina Paddleboard Co. The Indo Jax Surf Charities Paddle to India Event is in its 6th year now. What started as a simple fun paddle to raise funds for our surf program in India for orphan girls has turned into a yearly Paddle Event. This year we are going to blow the event up! There will be lots of divisions, races and awesome prizes including cash. We will still hold the fun run, but are adding races in SUP, Outrigger, and Surf Ski. Live music, food, beer garden and a full day of fun on the river. All proceeds go to our surf program for orphan girls in India.
All entries receive a raffle ticket, t-shirt, and food.
Fun Run - $30
Any craft, just for fun on the river
Open Men/Women SUP Race - $60
Cash prizes and trophies. Men 14' & Women 12'6"
Prone - $40
Trophies, Men and Women
OC1 - $40
Trophies, Men and Women
OC2 - $40
Trophies, Men and Women
OC6 - $120
Cash prizes and trophies. Open Mixed. 
Youth Paddle - $40
Trophies, boys and grils 17 and under
Surf Ski - $60
Trophies and potential cash prize. Men & Women
Pre Race Check In at Blockade Runner Friday eve before event available.  Discounted rates for participants by Blockade Runner!
Race Day Check in 7am - 8:30am
Races begin 9am
After Party All Day! 
Right now cash prizes for the Paddle To India event are looking like this...
$1000 cash purse men's open
$1000 cash purse women's open
$600 winner take all for the OC-6 race
??? Surf Ski-depends on funds, but will be something

This will only build as entries and sponsorship $ comes in. this is going to be awesome!!! 
Event Entries Click on an event to see who entered.
Results Select an event to view results.
Note: All live times are unadjusted and unofficial.
Paddling southeast from Redkneck beach, we head towards the Castle Hayne Riviera . The river narrows as we pass through the old railroad trestle and turn east. The river is a continuous turn towards the north. About 3 to 4 miles in we will paddle past the old cement plant, where The Crow was filmed, this will be your last glimpse of civilization for a while. the river will be lined with budding trees and blooming lilies, there will be osprey and maybe an eagle or two. Due to the curving nature of the course there is almost always a protected shore. We will finish under the hwy 210 bridge with the Lanes Ferry Dock & Grill landing on the left, just a short 100 meter sprint to the finish! 9.9 miles of challenge and beauty. 
Overall it really is a beautiful course. It is definitely not your usual paddle race venue so always has everyone stoked on the Cape Fear River environment! It is an easy put in and take out and we will have security overnight pre race so folks can drop off equipment the night before!