JDRF Paddle to Cure Diabetes 2015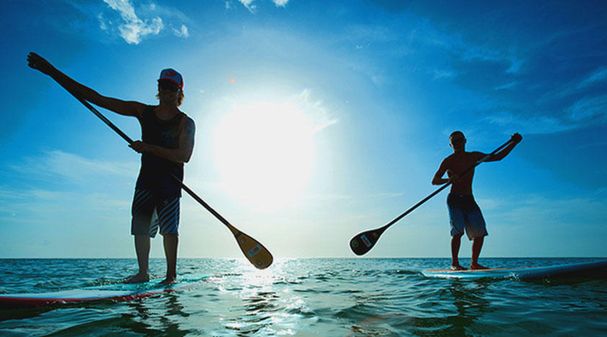 We are sorry to inform you but the 2015 event has been cancelled, we will refund all registered paddlers.
We hope to see you next year!
This fun, family-oriented event will be held on the calm intracoastal waters at Sand Key Beach in Clearwater. There will be a 6 mile race course for avid paddlers, a 2 mile fun course for anyone looking to have fun, and a kids course. You choose how you'd like to participate!
Race categories will include all paddleboards, individual and tandem kayaks, and canoes. There will be fun activities for the entire family - come ready to race, play games, eat food, and more!
This is an excellent opportunity to connect with local families who are affected by type 1 diabetes and to connect with members of the paddle community. There is no age restriction. The best part is all proceeds benefit JDRF!
We're taking steps to help JDRF progressively remove the impact of type 1 diabetes (T1D) from people's lives until no one has to fear developing this disease. By joining Team JDRF and making a donation to JDRF, you'll raise money to help fund critical T1D research and create a world without T1D.
Type 1 diabetes is a life-threatening autoimmune disease in which a person's pancreas stops producing insulin. It strikes both children and adults suddenly and changes life as they know it forever. It cannot be prevented and there is no cure.
JDRF is the only global organization with a strategic research plan to fight T1D. Every dollar JDRF is able to direct toward research comes from donors like you.
The challenge we've set ourselves — to raise money and T1D awareness with JDRF — is modest compared to the daily challenges of life with T1D, which involves a 24/7, unrelenting cycle of blood sugar testing and insulin injections to manage the disease.
We're already hard at work! We hope you consider participating in our event.  If you're unable to partake in the fun, we kindly ask that you support our efforts with a gift.
Thank you for your support!
New for this year, we now have two registration options. When you register:
You may choose to pay a registration fee of $35 to participate.
You may choose to fundraise instead! This option will better benefit JDRF and YOU! If you meet the fundraising minimum of $100 you're registered at no additional cost! PLUS, by choosing to fundraise, you'll get the VIP treatment during the event! Volunteers will help unload your equipment and carry your things to the beach, you'll get free drinks, preferred parking, and more! Sign up now to begin fundraising and be a JDRF VIP!

*Registration includes lunch and an event t-shirt!*
7:30 AM  Check In Opens
8:15 AM  Check In for Race Course and Fun Course Closes
8:30 AM  Pre Race Meeting for Race and Fun Courses
9:00 AM  Race Course Begins 
9:15 AM  Fun Course Begins
10:00 AM  Kids Course Begins
11:45 AM  Awards Reception Begins at Clearwater Community Sailing Center
This list is private.
Results Select an event to view results.
Note: All live times are unadjusted and unofficial.
No entries have been received yet.
The event will be held on the sand at Sand Key Beach on the intracoastal side. Entrance to the park is at the Clearwater Community Sailing Center at 1001 Gulf Blvd in Clearwater.