Martin County Paddlefest SUPRACE 2015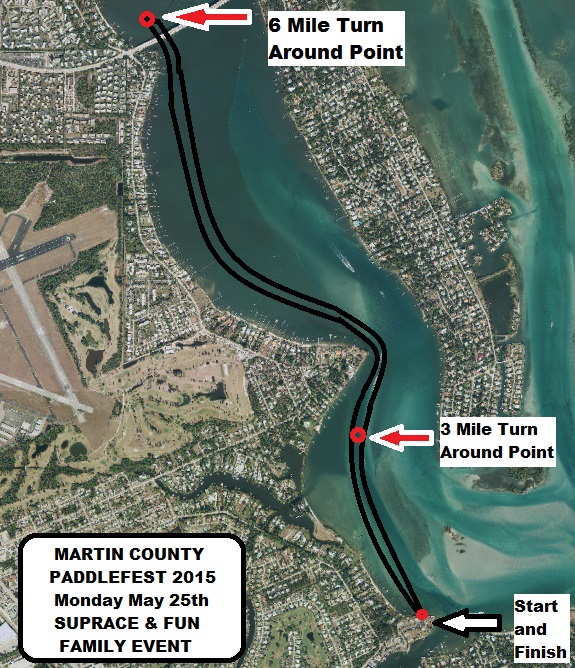 WELCOME TO PADDLEFEST!!!!
Presented by COASTAL PADDLE BOARDING!!!
any questions?  contact us 772-341-8898
SUPRACE
(first 25 registrants will get a small swag bag)

Water Start (please see schedule for time-frame for check-in and race start)
There will be trophy prizes handed out!  Categories will be:
6 Mile: SUP 14' first 3 (mens and womens combined)
6 Mile: SUP 12'6 first 3 in mens and first 3 in womens 
6 Mile: SUP Stock
First 3 get trophys (mens and womens combined)
3 Mile: 12'6 First 3 get trophys (mens and womens combined)
3 Mile: SUP Stock 
First 3 get trophys (mens and womens combined)
NO AGE CATEGORIES
Trophys will not be handed out to a SUP Stock (non race-board) category if it has less than 6 racers. 
Inflatable SUPs will be counted into the SUP Stock category
ALL RACERS: Included with your entry fee is a t-shirt, Paddlefest 2015 entry & food ticket! KIDS 5 AND UNDER HAVE FREE ENTRY INTO PADDLEFEST 2015 (additional food tickets are not available, however food will be available and will be cash & carry)
For the rest of the day:
Come and enjoy a day of Paddle based activities!  Vendors and Music and food and fun! 
JOIN US TO CREATE THE LARGEST GROUP PADDLE WATERWAY CLEANUP ON THE TREASURE COAST!!
Bring your own board or rent a board for this huge event.  
Proceeds from Paddlefest 2015 will go towards various local charities such as Keep Martin Beautiful, Project L.I.F.T., Riverkidz, Dolphin Ecology Project Florida Oceanographic & Environmental Studies Center. .
Help share our love of the water and join us at this event!!!  Family Fun For Everyone!
PROPOSED SCHEDULE
7:30am SUP RACE Registration Opens 
8:30am SUP RACE Registration Closes
8:45am SUP RACE Meeting (Course Review)
8:50am sound check at main stage
9:00am 6 Mile Elite SUP Race Start 
9:05am 3 Mile Rec SUP Race Start 
10:00am Paddlefest 2015 Officially Opens & DJ/MC Danger Ranger says hello to crowd and introduces
Live Music by 16 year old Cassidy
10:15am SUP 15 min Demo in demo pool
10:30am Flying Fish ½ hour Demo in demo pool
11:00am SUP 15 min Demo in demo pool
11:15am 15 minutes kids instruction in demo pool
11:20am 5 min Speech by Keep Martin Beautiful
11:30am SUP Race awards
12:15pm The Lucky Dogs Band starts
12:30pm Surf Central ½ hour pool demo time
 1:00pm ½ hour kids instruction in demo pool
 1:05pm Speech by Indian River Keeper (& invitation for all to join in on group paddle cleanup)
 1:15pm Riverkidz Speech
 1:30pm ECS Boards ½ hr pool demo time
 2:00pm GROUP PADDLE WATERWAY CLEANUP
 2:30pm Kids Scavenger hunt 1 hour warning
 2:45pm SUP Paddle Fitness demo
 3:15pm Flying Fish 15 min demo in pool
 3:30pm Kids scavenger hunt awards & speeches by charities who wish to speak
 3:45pm Surf Central 15min demo in pool
 4:00pm ECS Boards 15min demo in pool
 4:15pm Raffles!!!
 4:45pm Kids 15min instruction in pool
 5:00pm Paddlefest ends
 5:30pm Coastal Paddle Boarding presents used paddle board sale (ends at 7pm)
ALL DAY EVENTS
Check out the Pioneer Screens Enclosure & pick up the kids scavenger hunt paperwork - Kids can turn in their paperwork @ the Florida Oceanographic tent.
Visit the Riverkidz & Environmental Studies Council Kids activities (visit the tents for more info & check out the paddle pool all day for kids to try out)
Visit the Coastal Paddle Boarding Tent for PADDLE BOARDING!
Sign up for the 2pm Waterway Cleanup!!!
Visit the Raffle Booth to get your tickets for amazing raffles, including the Rave Paddle Board & Torch Paddle (winner to be announced during the 4:15pm raffle announcements – you do not need to be present to win – winner will be notified by phone)
Stop by the demo pool to see board demos all day long! Even get the chance to participate!
FOOD & DRINK
Provided by:
Bottoms Up!
Think Greek
Kona Ice
Event Entries Click on an event to see who entered.
Results Select an event to view results.
Note: All live times are unadjusted and unofficial.
6 Mile Course
3 Mile Course
SANDSPRIT PARK
3443 SE St Lucie Blvd
Stuart FL 34997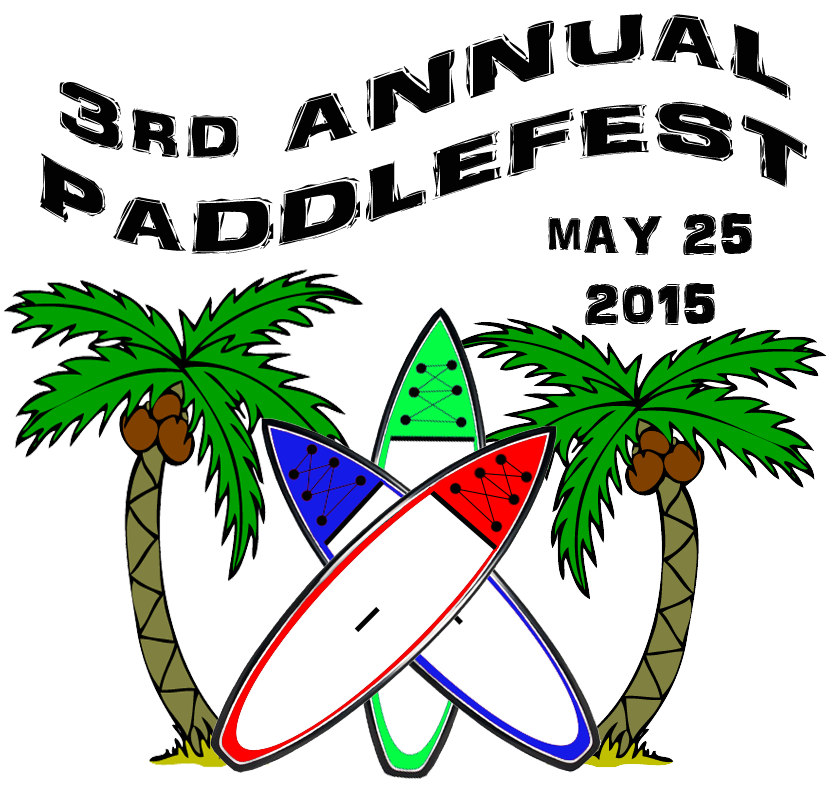 ---