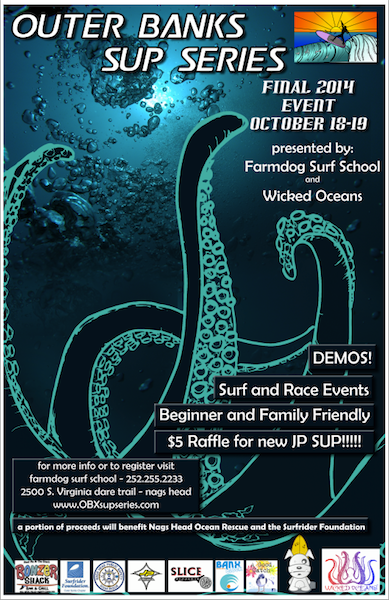 The Survey Results are in
 and the consensus is for another round of short course sprints.  This time we'll make them a little longer with another turn or two.  If the ocean is doable then that's were we'll do them (Abalone Street access).  If its not so nice, then we'll retreat to the sound (Harvey Site adjacent to the Nags Head event site).  We will have separate categories for men and women and race boards and recreational boards.  Again we'll do the 4 person heats, single elimination.
The Wave Events are formatted as follows:
4 person heats (2 advance), single elimination.
Surf brackets will be established the day of the event and will be as random as possible, with no seeding.
Heats are scored for best two waves.
Competitors get a maximum of 8 waves.
Standard interference rules apply.  Dropping in gets you the 'stink eye' award.  Your second best wave gets halved also.
Schedule is based on the forecast.  Keep an eye on our FB page for updates.  
https://www.facebook.com/obxsurfseries

This list is private.
Results Select an event to view results.
Note: All live times are unadjusted and unofficial.
No entries have been received yet.
 Sprints!  Conditions permitting will be held ocean side. On the ocean it will be straight out thru the waves, around a mark 75 yards off the beach and straight back in. Single elimination 4 man heats. If the ocean is not suitable, we'll race in the sound. On the sound the course will be aligned straight up wind and downwind. Straight upwind to the mark, then zig zag back slalom style to the finish. The course will be short (~0.25 to 0.50 mi). Single elimination 4 man heats.
Farmdog Surf School
2500 S Virginia Dare Trail
Nags Head, NC 27959
Phone: 252-255-2233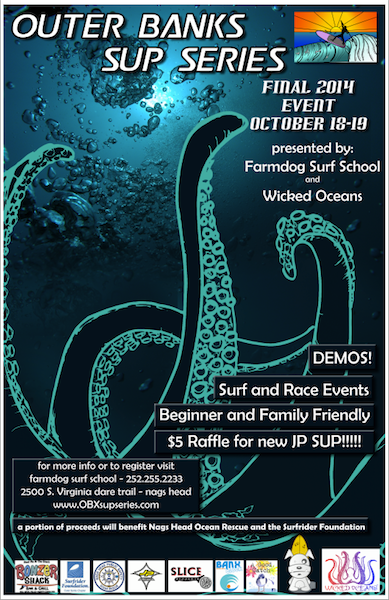 When:
Oct 18 to Oct 19, 2014
Where:
Kill Devil Hills, NC