R1: Hurricane Spring Paddlefest
The Triple Threat 2015 series takes place on three of Utah's state park reservoirs.
• Race 1: Hurricane Spring Paddlefest - April 24, 25 @ Sand Hollow State Park.
• Race 2: Rockport Rendezvous -  August 1 @ Rockport State Park.
• Race 3: Hurricane Fall Paddlefest - November 14 @ Quail Creek State Park.

This year's Hurricane Spring Paddlefest includes a great meal at The Beach grill, Reel Paddling Film Festival on the 24th - an international collection of independent, paddling-oriented short films to entertain, inspire, and broaden your adventurous horizons  (+ one year FREE subscriptions to Rapid, Adventure Kayak, Canoeroots and Kayak Angler magazines) - door prize "raffle" entry, and unlimited participation in all events. Door prizes include Imagine's 8' 2" Snap Surf SUP designed by Dave Kalama, a $1750 value! Other great prizes will be awarded thanks to Riviera SUP, Utah's own homegrown manufacturer Glide SUP, and Torch Paddles, as well as our other event sponsors. Kids race free with every paid adult entry.

Friday, April 24 is early check-in at The Beach at Sand Hollow from 12-9. Bring your decks and wheels for a parking lot land paddle race that evening! Always wanted to try a Hamboard or a Kahuna Creations Bombora with a Big Stick, but didn't have the opportunity? Now's your chance! Please wear a helmet...

Join us later for a night paddle sponsored by Torch Paddles, creators of the first production LED-illuminated recreational paddle on the market. Paddle in the dark no more!

Board demos will also be available Friday, along with paddling clinics. Have your own SUP? Just picked up a kayak? Renting a board or kayak from Dig Paddlesports or The Beach at Sand Hollow? We'll show you how to get the most out of your gear.

Saturday's festivities include distance races, kids' races, and relay sprints, as well as board demos.

If you can paddle it, bring it! We'll MAKE an event for you. Paddle rentals available through Dig Paddlesports and The Beach at Sand Hollow. Reserve yours early!

Camping available via http://bit.ly/SandHollowCampReservation .

Lodging available nearby:
Regular Admission - includes all events, raffle entry for door prizes, T-shirt and meal at The Grill: $35
Limited Admission - all events, raffle entry for door prizes : $20.00
Kids Admission (12 and under): 1 Free Admission with each paying adult, includes raffle for kids' door prizes: $10
Friday April 24: 4:00-9:00
Registration Check-in, packet pick up
at
The Beach at Sand Hollow
Land Paddle Criterion South Ramp Parking Lot - helmet mandatory

Dinner at The Beach Grill inside the State Park - menu to be provided at DigPaddlesports.com

Reel Paddling Film Festival from Rapid Media, inside The Beach Grill from 4:00-9:00pm

Casual afternoon Island Paddle-Out - 2 miles, Crescent Moon Night Paddle after sunset

Paddle Clinics

Saturday April 25: Race Day!
8:30am - 9:30am race sign-in
9:30 - warm-up paddle

Distance Races: 10-11:30 am. Wet start. Wet finish.

SUP 5 mile 12' 6", 14"

SUP 3 mile 12' and under, 12' 6", 14"
SUP 1 mile 12' and under
Kayak - 3, 1 mile
OC1, OC2, OC6, etc. TBD
Canoe single and team - TBD

Kid's race: 11:45 1/2 mile - paddle anything!

12:00-1:00 Lunch
1:00 Luck of the Draw Relay

1:30 SUP Yoga Challenge

2:00 Awards
2:30 - ? Open Paddle Clinics

This list is private.
Results Select an event to view results.
Note: All live times are unadjusted and unofficial.
See our Google map of Sand Hollow Reservoir, with mark-ups, here:
bit.ly/

SandHollowPaddleFest
Course will be determined Friday, April 24, due to ever-changing water levels and beach conditions. Bill, the Amazing Eyeball That Never Sleeps, created a 5' x 4' map that will be staked in the sand at the event.
Take exit
16
from
I-15 N.

Merge onto
State Hwy 9 E/State St.
Travel East 4.6 miles.
Turn Right onto Sand Hollow Parkway.
Travel South for 4.0 miles to Sand Hollow State Park entrance.
100 yards after entrance, turn right onto paved road.
Travel approx. 1 mile to South Ramp Parking area.

Alternate location for Sat. April 25 is Divers' Beach, just across from Desert Pearl Island. Access is from the south end of the main parking lot: At park entrance, drive straight and up a slight incline for approx. .2 mile. Park near the restrooms. From the restrooms, walk toward the island and to the right. A gravel drive goes to a hard-pack parking area. Scout it before heading down, but there should be room to at least park and unload gear onto the sand.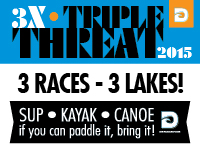 When:
Apr 24 to Apr 25, 2015
---