SOUTH METRO PADDLE EXPERIENCE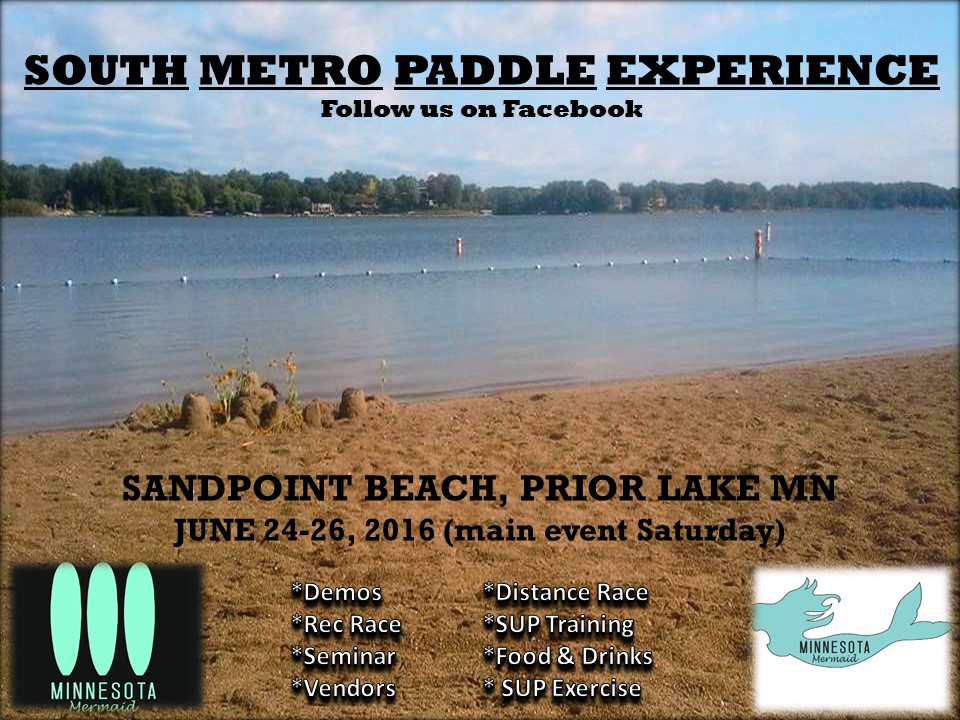 1st ANNUAL SOUTH METRO PADDLE EXPERIENCE
This paddle "Experience" will be full of paddle excitement.  There will be paddleboard demos by many paddleboard vendors, Stand Up Paddle (SUP) fitness & training, paddle races for all ages and skill, food & drink, and so much more.  Come out and join us for the South Metro's first paddle event of its kind.
ALL paddle craft invited to Participate! Paddlers of all levels are welcomed and encouraged to join the Fun!  Even a kid's race!
Our event is open to Stand-Up Paddleboards, Prone/Traditional, Surfski (Single & Double), Canoes, Kayaks, and other Paddle craft. Note: A limited supply of stand up paddleboards are available for rent. First come, first serve. Please contact Minnesota Mermaid @ 612-849-9996, mnmermaid@outlook.com or visit her at www.mnmermaid.com to place your rental board reservation.  Boards rented are All Rounder style boards and no race boards available to rent. 
For everyone's safety we will require all race participants to wear a board leash, as well as the mandatory personal flotation device (PFD). 
EVENT ACTIVITIES
5K Recreational Paddle Race:  This is a low-pressure recreational paddle that is perfect for the beginner paddler to intermediate. There will be many bays to go in and out of. This course will be on the most upper end of Lower Prior Lake.  Racers will be escorted by our safety boats and supported by the Lake Sheriff.  Must be at least 13 years of age to enter.  This is a timed event with podium recognition and awards to the Top Three Male/Female overall and individual class winners for Junior (13-17), 18-49, and Legends (50+).
 
10K Elite SUP Race:  This race is for our experienced SUP paddlers.  This course will cover the majority of Lower Prior Lake.  Besides buoy turns you will have natural lake shore line to follow, and land marks to go around.  Such as points and islands.  You will be challenged by conditions created by boat traffic (kept at a distance by our safety boats) and possible winds.  This will be a scenic paddle as well, so make sure to take in all the beauty that this lake has to offer. Must be at least 18 years of age to enter.  This is a timed event with podium recognition and awards to the Top Three Male/Female overall, and individual class winners for 18-49 and Legends (50+).
Paddleboard Demo's:  The following paddleboard suppliers have confirmed they will be present with some of their boards to demo for free and address your questions regarding their product line represented.  Please bring ID with you and own PFD.  We will list others as they are confirmed. 
Wai Nani Paddle & Surf. Co. – SUP/ATX & Lahui Kai Race
Twin Cities Paddleboard – Pau Hana
Silver Creek Paddle Co. – Red Paddle
Black Oar - iSurf
Scuba Center - SIC
Michael's Cycles – Fat Bikes/Beach Cruisers
SUP Techniques Seminar: We are holding an SUP Techniques Seminar with two of Minnesota's very best paddlers.  Yes, these paddlers are local.  They will share with you their knowledge and experience.  This seminar is for those paddlers who are not brand new, but you certainly don't need to be a racer.  We just ask that you have some familiarity with SUP.  You will be required to provide your own board, but the MN Mermaid can assist with rentals if needed.  Training will consist of, but not limited to stance, stroke mechanics, steering & turning your board, different stoke techniques, etc.  The seminar will be 90 minutes long and registration will be limited.  Please take advantage of this great opportunity and do not wait.
SUP Yoga:  Join BRX Fitness Saturday morning for a FREE yoga class to help you stretch and relax prior to your event.  Boards will not be provided.  Anticipating all boards will be rented out to race participants already.    
SUP 101:  This is a class designed for beginners.  The focus here is to teach you the basics so that you can get out on the water and enjoy your time paddling.  Registration fee includes everything you need for that day's training.  You will be getting in and out of the water on your board, and we cannot guarantee you will stay dry.  Please dress appropriately.     
SUP Bootcamp:  If you are looking to get a good workout then join us for this class.  This class will be hosted by BRX Fitness.  There will be sweating and elevated heart rates.  Perfect for a dip to cool off.  Boards are provided with registration, but a $5 rebate will be given for those bringing their own boards.   
Social Paddle:  Sunday afternoon after the SUP Bootcamp join the MN Mermaid for a relaxing social paddle on Upper Prior Lake and stop off at Charlies on Prior for some food & drink.  This is the perfect opportunity to get familiar with a totally different section of Prior Lake.  Races will be held on Lower Prior and the Social Paddle will be on Upper Prior.  Put in and take out will be at Watzl's Point Beach.  The MN Mermaid will be assisting with shuttling boards to and from Lake Front Park parking, which is free.
Food & Drinks:  More information to come.  Food & Drinks will be provided.
ENTRY FEES
5K & 10K Race Registration Fee:  $45 / $55 day of event

SUP Yoga $FREE (BRX to host as a Sponsor) 

SUP 101 w/ MN Mermaid - $25 (board included)  

SUP Bootcamp - $25  (BRX to host as a Sponsor)

Paddle Seminar $45 (Limited Registration).  Bring your own boards to train on or please coordinate a rental if needed beforehand. 
ADDITIONAL EVENT DETAIL/CONSIDERATIONS
Dogs and cats are not allowed on the beach or in swim areas in the lake at Watzl's Point Beach and Sand Point Beach.
SAND POINT BEACH
Sand Point Beach is one of the most popular city parks in the summer. Located at 14349 Crest Avenue NE, next to the most-used DNR boat access to Prior Lake, Sand Point Beach is a great destination for swimmers, boaters and families. The beach offers two picnic shelters, play equipment, three sand volleyball courts, horseshoe pits, a fishing pier, restrooms, and boat slips.  For more information about boat slips slots at Sand Point Beach for the day, call the Recreation Department at (952) 447-9820.

SCHEDULE OF EVENTS
Friday June 24th, 2016
6:00-7:30 PM - SUP Techniques Seminar hosted by two of Minnesota's best Standup Paddleboard racers.  This event will be held at Sand Point Beach.  You are welcome to stay and enjoy the sunset.
Saturday June 25th, 2016
07:00-08:00 AM – Check-in / Late Registration
07:15 -08:15 AM – SUP Yoga
08:15 AM – Race Meeting (All Racers)
08:30 AM – 10 K Distance Race Line-up (ONLY)
08:40 AM – 10 K Distance Race Start
08:45 AM – 5K Short Race Line-up
08:55 AM – 5K Short Race Start
09:30 AM – Prepare for 5K Race Finishers (40 min – 80 min duration) 
10:00 AM – Prepare for 10K Race Finishers (70 min – 100 min duration) 
11:00 AM – Awards & Recognition
11:15 AM – Raffle & Giveaways
12:00 PM – Event Wrap-Up
Sunday June 26th, 2016
08:00-09:00 AM - SUP 101 and Bootcamp will be held at Watzl's Beach.  The morning will kick off with SUP 101 for beginners hosted by the MN Mermaid Paddleboard Rentals. 
9:00-10:00 AM - SUP Bootcamp class hosted by BRX Fitness.  Those beginners taking the SUP 101 class are welcome to stay.  Boards will be provided if needed as part of the registration.  A $5 refund will be provided on-site for those who bring their own board & paddle.
10:00-2:00 PM - After Bootcamp everyone is welcome to join in for a social paddle down to Charlie's On Prior for food & drinks.  We will take the long way so that you work up a hunger and thirst.  www.charliesonprior.com

Event Entries Click on an event to see who entered.
Results Select an event to view results.
Note: All live times are unadjusted and unofficial.
Please see Face Book event page - South Metro Paddle Experience
LOCATION/PARKING
Sand Point Beach
14349 Crest Avenue Northeast
Prior Lake, MN
SAND POINT PARKING: Parking is limited and fees apply Saturdays, Sundays and holidays from May to September. Parking is also allowed (FREE) on the east side of Crest Ave. from the park entrance to Cedarwood Tr. The parking fee is $5 per car.   Do Not park of the grass and no vehicles without trailers allowed in the boat landing parking lot.
Lake Front Park
5000 Kop Parkway
Prior Lake, MN
WATZL'S POINT BEACH PARKING: Parking is free at Lakefront Park, 5000 Kop Parkway.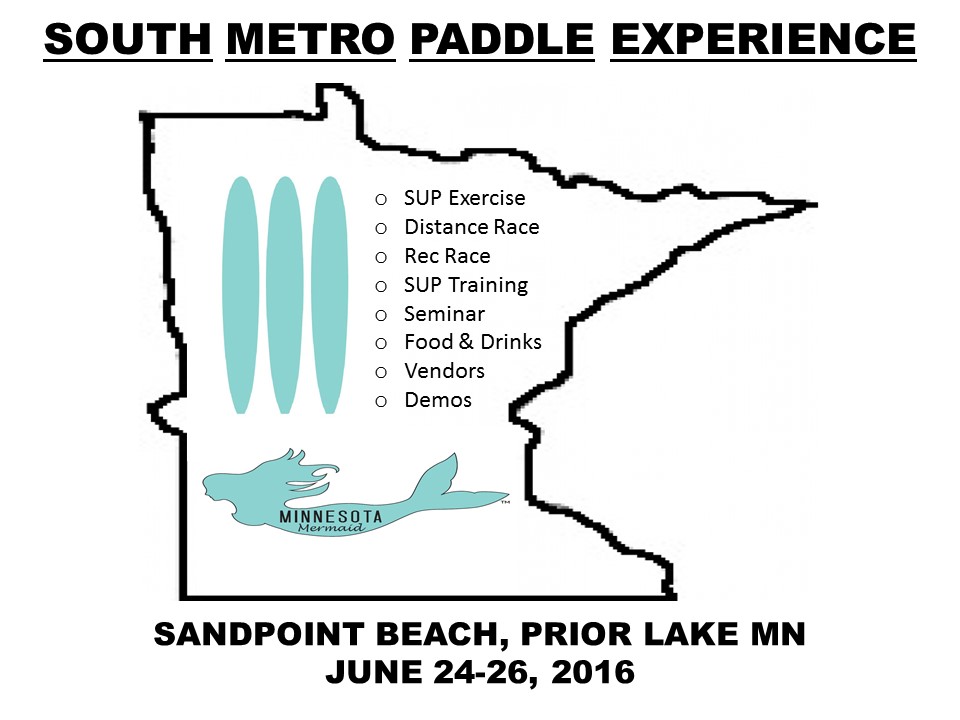 When:
Jun 24 to Jun 26, 2016
---