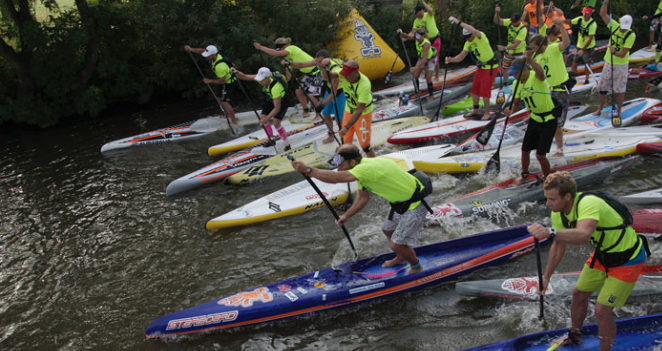 Athletes will experience the ultimate challenge as they paddle 220 kilometers (136 miles) in five days with weather conditions varying from windless, beautiful and sunny to cold, rainy and stormy.
Besides the ultimate challenge the SUP 11-City Tour is also a unique experience. 200 national and international paddlers are expected to get to know Friesland, the northern province of Holland, from the water. Open fields with windmills, cows, and sheep will present itself along the water ways exchanged by eleven historical cities built from 1700 onwards.
2013
4 t/m 8 SUPtember the 5th annual SUP 11-City Tour will be happening! It will be our first 5-year anniversary. I personally expect over 200 participants. The registration is 2pm – 4pm the 3rd of September followed by the 2ndannual prologue (free for everyone to join!) at 5 pm. Everyone is also invited to paddle with us during the Friday Night SUP in Franeker (6 September) and Saturday evening SUP (7 September) in Dokkum.This year we will ad the team "tour" division and the weekend stage.
Let's see who are the winners this year and how we can sum up the year 2013 when the coming edition has taken place. We are excited and almost can't wait to find out! Until then… we're digging hard to present you an unforgettable edition while enjoying the process and getting ready!
http://www.youtube.com/user/SUP11CityTour
Participants paddle the original waterways, where the ice skaters started conquering this historical tour in event form since 2009 on frozen waters.Stamping posts
The SUP 11-City Tour keeps most 'elevencity traditions' in tact like the 'stamping posts'. When you collect all stamps in each of the historical – authentic Eleven Cities, you will receive your SUP 11-City 'cross' – your medal of honor. When you miss a stamp from a city it will seem as you missed a city and therefore not completed the entire 220 kilometers. Since it is hard to get a stamp on land supping a 14 foot board (average board length in this event), we offer you ring a bell and mention your participant number.
SUP Clinics every day (Free of charge/"Gratis")
At the end of each day (September 4-8) there are SUP clinics organized and supported by our SUP sponsors at the end of each day stage. Everyone is invited to try SUP for the first time or test the latest models around. We also invite schools to offer the youth this new, healthy, cool, balancing, outdoors, green water sport as an alternative sports lesson. When you are interested to buy a SUP board, this is the perfect opportunity to ask information from the SUP industry 'on the spot'. Also it is a privilege to try different SUP boards that are 'ready to go' while watching the pros and amateurs cross the finish line.
This list is private.
Results Select an event to view results.
Note: All live times are unadjusted and unofficial.
No entries have been received yet.
Accommodation
Participants can book accommodation via organization SUP 11-City Tour on ships that follow the tour each day. The ships will be docked close to the finish line each day with showers, toilets and a social hang out zone where athletes can join and relive and share stories of their ultimate challenges from the day.
Lodging for 6 nights (September 3 – 9) and breakfast for 5 mornings (each morning of the event day 4-8 September) cost € 350 pp. The sooner you book the better.
Ships need to be booked in advance.
You can book your accommodation when you enter via our ONLINE entry form.
Logistics
By train from Schiphol airport (AMS) to Leeuwarden Central station*
The 2.5 to 3 hour train ride costs about €27 pp (one way). Trains drive between 6.00am until about 0.00. Count on switching trains once or twice (ask train staff)
By Taxi (2.5 hours) from Schiphol airport (AMS) to Leeuwarden event side* (organized by organization SUP 11-City Tour)
Taxi busses can be sent a few times a, starting September 4. Taxi busses can drive 8 people at once. Costs to send the taxi are € 175. Let us know whether you like this option and the organization will communicate with other participants to bring taxi costs to a minimum. (When taxi drives 8 pp, costs are €22pp). Let us know if you travel with your board.
*Leeuwarden is the start – and finish city of the SUP 11-City Tour.
Rental car
When you need a rental car you can email Bas Autoverhuur:  info@basautoverhuur.nl
Leeuwarden
Camping Taniaburg
Vierhuisterweg 72, 8919 AH Leeuwarden
058 266 2246 ?
email: vierhuis@tiscali.nl
Sloten
Camping de Jerden
Familie Seinstra
Lytse Jerden 1
8556 XC Sloten (Friesland)
Tel: 0514-531389
GSM: 06-46004724
E-mail: info@campingdejerden.nl
Internet: www.campingdejerden.nl
Workum
It Soal
Suderséleane 29
8711 GX Workum
Nederland
tel nr: +31-515-541443
fax nr: +31-515-543640
email: camping@itsoal.com
Franeker
Recreatiepark Bloemketerp
Burg. J. Dijkstraweg 3
8801 PG FRANEKER
Tel: 0517 – 39 50 99
Fax: 0517 – 39 51 50
Mail: info@bloemketerp.nl
Dokkum
Camping Harddraverspark
Harddraversdijk 1a
9101 XA Dokkum
T: 0519-294 445
M: 06-50 60 63 90
E: info@campingdokkum.nl
When:
Sep 3 to Sep 8, 2014