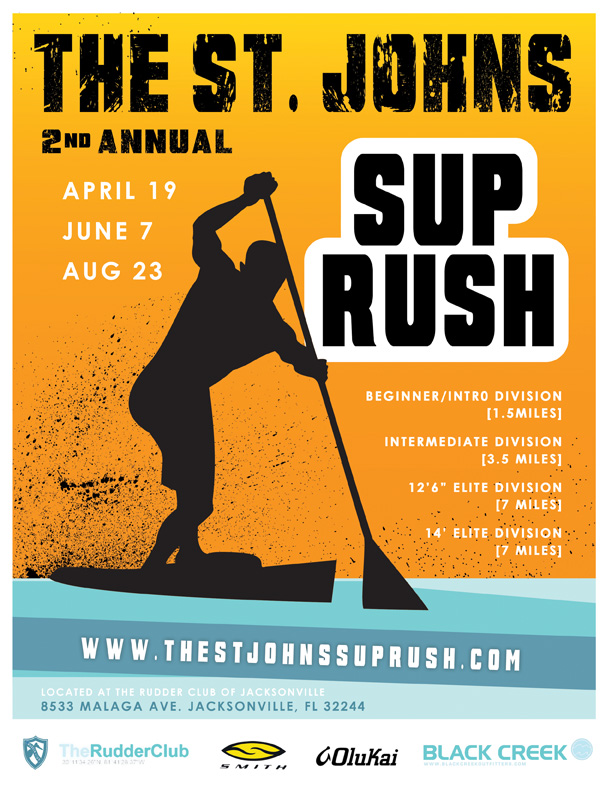 The Second Annual St John's SUP Rush Race Series at The Rudder Club of Jacksonville is the brainchild of The Rudder Club of Jacksonville and Black Creek Outfitters. Put together to inspire, challenge and connect the stand up paddle community of North Florida. With divisions for first time racers and elite paddlers, the races will be fun for paddlers of all strength and skill. 
Come on out and enjoy the river and the competition in beautiful North Florida!
THE RUSH KICK OFF
The event kicks off at 7:30AM and racers can begin to check in at 7:45 at the Captains Meeting. This is where final instructions for the race day will be given. The start and gun sounds at 8:30AM for the first group of racers. We ask that you show up early so that you will be prepared in time for your division heat.
RACE DIVISIONS
The St. Johns SUP Rush is broken up into three separate divisions. These divisions consist of Beginner/Intro, Intermediate, and Masters. They are split into three divisions, so that everyone can have an enjoyable and fun time on the water. You may only register for one division for each race date. Below is a description on each of these divisions:
Beginner/Intro Division: 

Start Time:

 8:40AM


Description:

 This Course will be an Out and Back course from the committee boat to an intermediate Mark. The Course will total approximately 3/4 mile out and back for a total of 1.5 miles. This course will stay close to the western shore of the St John's River. Ideal for a first race for all ages. You can use any stand up paddle board you want!
 

Intermediate Division:

Start Time:

 8:35AM


Description:

 A 3.5 mile paddle for those who are already paddlers and want a challenge! This course will go north towards NAS JAX, then head east to the middle of the river where the racers will navigate 3 buoys. Here they will use their board handling skills as well as the endurance of the racers, before heading west to finish at the Rudder Club Dock. You can use any SUP board shape or size!
 

Masters Division:

Start Time:

 8:30AM


Description:

 This race is for the more elite paddler as it covers a total of 7 miles. There are two classes, which are the 12'6" class and the 14' class (displacement hulls shapes only). Check out the map as there are some turns involved. It is the same course as the intermediate course except you make 2 laps, instead of just one. This course allows spectators to watch your progress from near and afar!
This list is private.
Results Select an event to view results.
Note: All live times are unadjusted and unofficial.
The race is held at the Rudder Club of Jacksonville, which is located just North of the Henry H Buckman Bridge. This bridge is part of Interstate 295 in south Jacksonville.
Driving Directions: From Interstate 95 take the Interstate 295 N (Exit 337) this exit will lead you West. After about 5 miles you will be crossing the Buckman Bridge. After you cross the river take Exit 10 to merge onto US-17 North Roosevelt Blvd. Turn right onto Baracoa St. Continue onto Barcelona Ave. Continue onto Collins Road. Turn Right onto Malaga Ave. and the destination will be on the left. 
WHERE DO I PARK?
We ask that you park right on the outside of the fence at the Rudder Club. There are signs that state where non-member parking is available. From there walk right on in!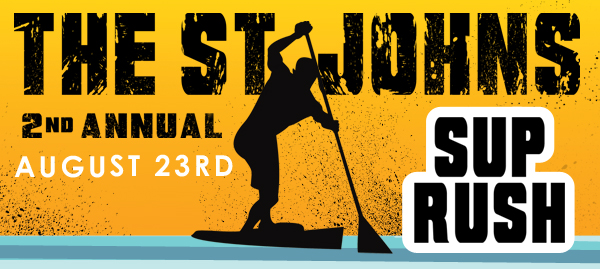 ---