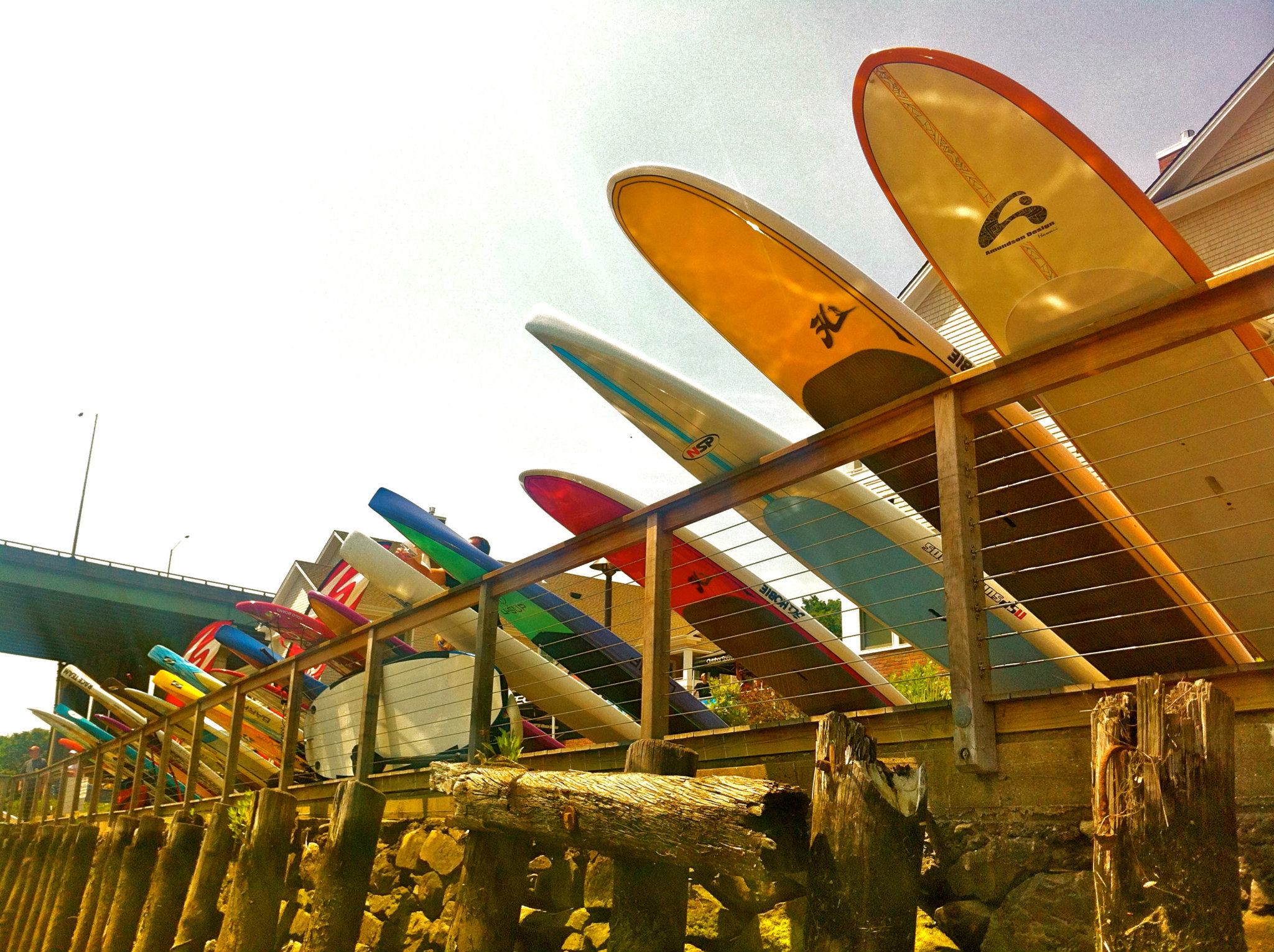 What's it all about? 
Earlier this year
 we read an article on Distressed Mullet about Nate Waldera, a 6 tour Veteran that paddles long distance to raise money for causes he personally has benefited from and that he believes strongly in – Companions for Heroes (Nate received his dog Bo from this organization, you'll meet Bo at this event) and Nation of Patriots.  He is our inspiration for this event, and has a remarkable story.  100% of funds raised will be donated to Companions for Heroes.  We hope that you can participate, donate, or sponsor this event, and spread the word to Veterans, who we feel will benefit simply be being on near the water.
STAND UP FOR VETERANS - Event Details Saturday September 17th 8am registration opens at Downunder, 575 Riverside Avenue, parking info can be found at www.downunderct.com – contact us page. When you arrive you may drop off your board and then go and park (large commuter parking lot under the I95 bridge). When you return, come to registration to complete waivers and get your paddler/racer number, shirt etc. Kayaks are welcome. Refreshments will be provided and participants will receive an event shirt. 

Schedule
9am Pre Race Meeting




9:30am - 6m racers depart – upriver to the Westport Bridge, twice. Buoys and kayakers will guide racers




9:45am - 3m racers depart – upriver to the Westport Bridge and back to the dock




10am - recreational paddlers depart – 1 hour fun paddle downriver to the Clipper B, and back to the dock




11:30am lunch donated by local restaurants 




12pm awards




1pm How to SUP with Your Pup. Author of the book by this name, Maria Schultz, will lead a 1.5 hour program in which she assists you with getting your dog out on the water, where we enjoy a high tide paddle. $50 – donation to causes (also free to Veterans). 



Register for this by calling Downunder Westport 203-956-6217, or online at http://www.downunderct.com/online-reservations/ 

Event Entries Click on an event to see who entered.
Results Select an event to view results.
Note: All live times are unadjusted and unofficial.
6 mile course: $50
Upriver to the Westport bridge, back to a buoy in front of the Downunder dock, back to the bridge, finishes at the Downunder dock. - 
3 mile course: $40
Upriver to the Westport bridge and back to the Downunder dock -
1 mile course: $25
Downriver to the Chipper B yacht – marked with a buoy and back to the dock – this is a fun paddle, not necessarily a race 
Pricing (free to Veterans)
575 Riverside Avenue
Westport, CT

When:
Jul 24 to Jul 25, 2015
---