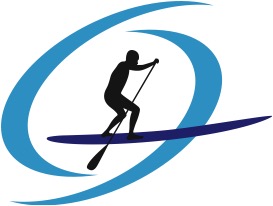 The Marathon - a 3 mile race around Lake Wildwood. It will begin in front of the life guard stand at the South beach.  The race will start at 6pm and racers will travel north up the east side of the lake and will stay to the right of the no-wake buoys.  The course will circle around the lake and then back down the west side to the finish line.  Prizes will be awarded to the first place finishers in their age bracket.
The Sprint - this is a triangular course for speed.  The race will start at 2pm and racers will paddle straight west across the lake and left (or south) down the west side of the lake staying to the right of the buoys.  First one across the finish line in their age bracket wins.
The Relay - will be similar to the sprint course except each team will have four members and each member must complete one full lap transferring paddlers at the finish line.  Each team must use the same paddle board and paddle.  There are no age groups.  Winner take all!!!
Registration starts at 12:00
The sunset Marathon race begins at 6pm
The Sprint begins at 2:00
The Relay begins at 3:00
Event Entries Click on an event to see who entered.
Results Select an event to view results.
Note: All live times are unadjusted and unofficial.
LakeWildwood is just outside the small farming town of Varna Illinois.  Approximately 25 minutes north/east of Peoria and only 15 minutes west of Hwy 39. Take the Henry Exit and turn right. Travel 6.5 miles and turn left onto 89.  Travel approximately 3 miles and turn right onto Lake Wildwood Dr. and follow the signs.