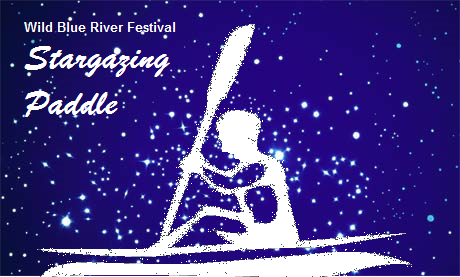 Don't miss this unique event!  The Town of Halifax is partnering with Staunton River State Park to bring you a chance to see the stars under a truly dark sky.  Staunton River State Park, located just twenty minutes from the Town of Halifax was recently designated the 25th Dark Sky Park in the world by the International Dark Sky Authority.  The Banister Stargazng Paddle kicks off the 2015 Wild Blue River Festival.  We will meet at the Banister Lake Landing, just one mile from the Town of Halifax on Friday evening (September 18th) at 6 pm. We will paddle upstream as the sun sets over the lake.  When the planets begin to appear we will join together, lean back, and watch the stars and Milky Way appear.  Learn about our planets and constellations. 
Paddlers need to bring a boat (9 canoes are available from SRSP to use for free.  Please reserve when you register.), personal floatation device, flashlight (for use in emergencies), snack, and water.
Registration is required for this event.  The cost is $25 per paddler, and includes a free glow in the dark Wild Blue River Festival T-Shirt.  Additional t-shirts and Banister hats may also be purchased at checkout.

Meet at the Lake Landing at 6pm.  Be sure to get there ahead of time to get your boats and gear ready.

No entries have been received yet.
Results Select an event to view results.
Note: All live times are unadjusted and unofficial.
No entries have been received yet.
From the intersection of US 501 and SR 360 in Halifax, follow US 501 North 0.4 miles to just outside the Town of Halifax. A boat landing is maintained on the south end of the bridge.