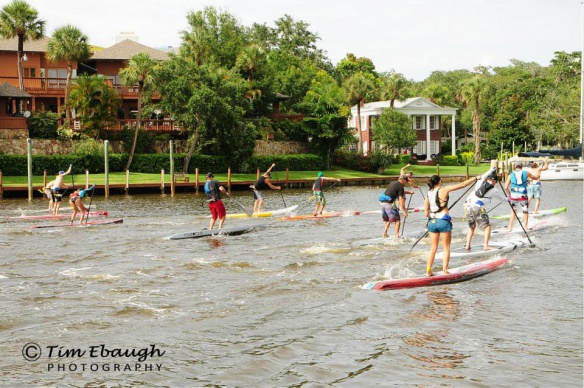 SUP N GO SUMMER RACE SERIES

We are pleased to announce the SUP N GO SUMMER RACE SERIES for 2013. There will be BIC One Design Races and Open Division Races. The races will be Saturday afternoons at 5:00 PM July 26, August 310, and September 27. Great for all levels of paddlers. Bring your family and friends and have a fun time on the water.
We're excited to bring Stand Up Paddleboard Racing to the Eau Gallie River in Melbourne.
The series is designed to offer courses fun and light for those new to SUP and also a slightly more difficult course for those looking to advance their skill/fitness level.
RACE OPTIONS
BIC ONE DESIGN RACE
12' 6" BIC Wing SUP Boards Elimination style 1/2 Mile Races.
The BIC One Design Races are fun races for everyone! BIC Boards has produced a sweet 12'6" Wing. Outside Magazines Gear of the Year award went to this board! This is a great, stable board for those looking to get into racing and for those who've been at it for a while but want to see how they fare on a level playing field. Everyone racing the BIC One Design Races will be on the same board and using the same Epic Gear paddle so it's all about the athlete!
All BIC One Design Races will be 1/2 mile, single elimination races. The number of racers per heat will depend on the total number of racers but there will be a maximum of 6 racers per heat. Races will be scored on finish place and gender.
Authorized equipment that will be used and included with registration are the 12'6" Wing SUP board, leash, paddle, jersey and pfd.
Check out http://www.bicsuponedesign.com/ for more info on the BIC One Design SUP races!
Everyone that registers in a BIC series race will be entered in a drawing to win a 12'6" Wing at the end of the season.
All participants also become eligible to participate in the BIC SUP One Design World Championships, slated for December 4-5th, 2013 in San Juan, Puerto Rico.
OPEN DIVISION RACES
1 Mile & 3 Mile Races
Recreational, 12'6", 14' classes.
The 1 and 3 mile races will be run at the same time and will be scored based on the top 3 finishers in each race, based on gender and age. Whether divisions based on boards (recreational or race) are awarded will be determined based on the number in each race. Awards will be the top 3 overall in each distance, in each age division.
These courses begin in a protected lagoon off the Indian River. The 1 mile short course will stay in the Eau Gallie River providing for some of the most protected water possible.
Racers participating in the 3 mile long course will also start in the protected lagoon, but they will venture out in the Intracoastal Waterway. This three mile course will give racers a bit of everything ... up current, down current, up wind and down wind. This course is one of our regular training runs and is really fun. The three mile distance is designed to provide some challenge, but is still very doable for those that have not raced before.
Series Championship
Points will be earned for both participation and placement and will be cumulative over the series.
Each participant will be officially timed, with results posted online to track your personal progression & earn bragging rights!
Every time you enter a race, your name goes into a prize drawing for the season finale party…the more times you enter, the better chance you have at winning awesome prizes from our sponsors
Earn points based upon your placement in each race. The paddler with the most points at the end of the season wins a prize!
Further Information
www.Paddlingparadise.com
www.bicsuponedesign.com
www.facebook.com/PaddlingParadise
Category Pricing
BIC One Design $25.00 Board included
Open Race $25.00
BIC One Design & Open Race $40.00
Registration Fees increase on July 27th to $30 for a single event and $50 for two events.
Rental Board for the 1 mile or 3 mile race is an extra $20.00
Contact Dansmith@paddlingparadise.com for more information.
This list is private.
Results Select an event to view results.
Note: All live times are unadjusted and unofficial.
No entries have been received yet.
Place: BALLARD PARK 924 THOMAS BARBOUR DR MELBOURNE FL 32935