Surf Race To Victory SUPCross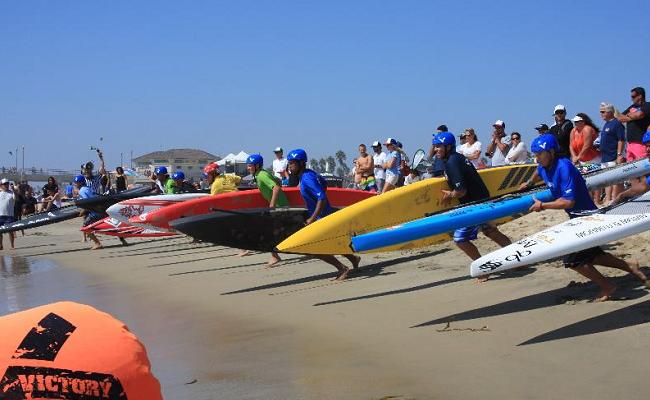 It's the 3rd annual and the penultimate race in the Michelob Ultra SUP and Prone Paddleboard tour that has been going on throughout the summer.
Surf Race to Victory event will test the competitors all around waterman ability, grit and determination.  Successful racers must combine paddling and surfing skills on technical courses. 
We're the only SUP event to require helmets (don't worry racers, those are provided!) as you battle it out in and out of the waves on SUP raceboards (12'6 and under).
The exciting SUPCross format features competitors sporting helmets, jerseys, and big fast SUP boards.  Starting from the sand before a "V" shaped course, SUP racers charge through the surf and round outside buoys twice before catching waves back to the finish.  The exciting knockout format is run in heats with top finishing racers advancing into each next round.  Non-advancing racers are given a second chance to qualify to the main event through repechage heats.
"We are excited about the Surf Race to Victory SUPCross Series and expanding our popular format to the growing SUP racing community". "The series is a great fit for our KoreDry technical garments, which are popular with water athletes everywhere".

The race series will highlight the technical aspects of SUP racing, as conditions will be major factor in every race.  The format is really fun for both competitors and spectators who can watch the races from the beach or pier.  Describing last year's action, elite SUP racer, Brandi Baksic, stated,  "the racing was awesome to watch because many elite paddlers were getting worked in the surf.  It was definitely the most fun racing event of the season". 
SIGN UP: http://www.imsignup.com/app/
Cash Prizes
Men
1st - $1300
2nd - $1000
3rd - $600
4th - $400
Total - $3400
Women
1st - $800
2nd - $500
3rd - $300
Total - $1300
Our inaugural event featured many top international racers.  Anthony Vela (Los Angeles) took the win after a close battle with Australian Jamie Mitchell.  In the final, both racers caught the same wave and Vela won the foot race to the finish capturing the $1500 first place prize.  Jake Jensen (Australia) finished third, Fernando Stalla (Mexico) finished fourth and famed big wave surfer, Chuck Patterson (Dana Point), captured fifth place. In the women's division, Candice Appleby (San Clemente) took the win, Brandi Baksic (San Clemente) finished second and Gillian Gibree (San Diego) rounded out the podium in third place.rAs always, this year's final awards ceremony will be held at Duke's restaurant, right off the beach at the foot of the pier.
  Last year's champion, Anthony Vela, commented "I was stoked the whole day, not just to win but to see everyone having such a good time racing in the surf".
Event cost: Men's and Women's Pro: $100
($125 for on-site registration)
so sign up early at http://www.imsignup.com/app/
On-site registration begins at 9AM (make sure to show up early to get a good parking spot, and between registration and race star we will have a surf expression session and warm up)
11AM: Heats start
Board class: 12'6 and under
This list is private.
Results Select an event to view results.
Note: All live times are unadjusted and unofficial.
Huntington Beach Pier
Main St.
Huntington Beach, CA 92648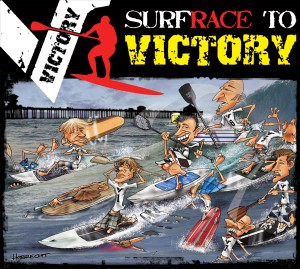 Where:
Huntington Beach, CA