The Cold Hands Paddle 2018

RACE: The Cold Hands Paddle draws paddlers from all over Southern California who brave the ocean waters off Cabrillo Beach, in San Pedro, CA  to race what some call The Official Start to the Paddling Season!


Come for the race, stay for the raffle and awards ceremony! Free to participate! All ages welcome!
COURSE: An awesome (some say not even cold!) 4 mile course starting in front of the Cabrillo Beach Bathhouse, around the famous lighthouse, and finishing inside the breakwall at Cabrillo Beach. See our Race Map for details.
DIVISIONS:  All races welcome; only paddleboards and SUPs will be awarded.
Dory boats, surf skis, kayaks, and OC1s are welcome to participate as well.   Awarded divisions may change based on level of participation on the day of the race.
AWARDS:
PRONE- Men's, Women's and Juniors: Stock and Unlimited
SUP- Men's, Women's and Juniors: Stock and Unlimited


REGISTRATION: No fee to race! Register online to save time! Famous Cold Hands Paddle t-shirts are available on race day for $20. Only 120 will be printed. We will sell out!
RAFFLE: Buy raffle tickets on the day of the race! All proceeds of the raffle benefit the Sarcoma Alliance and the fight for cancer patients.To find out more information or to donate, click here: OCEAN OF HOPE

$5 or 5 tickets for $20
SPONSORS: Thank you for the continued support from The Cabrillo Beach Boosters, Joe Bark Paddleboards, Harbor Physical Therapy, BGSD Surfboards, Ocean of Hope, Port Town Brewing Company, Drunk Monk Bier, LA City and LA County Lifeguards.
SAFETY: For SUP's and OC's please make sure to bring your own USCG approved floatation device.  Also, should the weather or surf conditions get rough, for the safety of participants the race course may be altered or postponed. PRE-RACE SAFETY MEETING ON LAWN AREA at 8:30am sharp.

PARKING: Plenty of parking, though it may cost a few bucks. Show up ready to race! See our Race Maps for directions and satellite photos. Check out our Photo Gallery! 
RACE HISTORY: What started out as a friendly wager between two Los Angeles City Lifeguards in February of 2002, has turned into the Cold Hands Paddle. Every year since 2003, the Cold Hands Paddle is set in the heart of the Southern Californian winter at the beginning of March when you never know what Mother Nature will have in store. See the current Cabrillo Beach Surf Report and water temperature!
The 2018 Cold Hands Paddle will be held on 3/4/2018 at 8:30!
Registration starts at 7:30am at the Cabrillo Beach Bathhouse. It's FREE to participate, donate if you would like to help a great cause!
4 mile course starting in front of the Cabrillo Beach Bathhouse, around the famous lighthouse and finishing inside the breakwall at the inner Cabrillo Beach.
7:30am registration and ticket sales open
8:30am pre-race course safety meeting @bathhouse lawn
Start Race:  Immediately following Safety Brief
11:00am awards and raffle
Event Entries Click on an event to see who entered.
Results Select an event to view results.
Note: All live times are unadjusted and unofficial.
4 mile course from outside Cabrillo Beach to inside Cabrillo Beach.  Beach start; beach finish.

3800 Stephen M. White Drive San Pedro, CA 90731

Los Angeles City Lifeguard Headquarters at Cabrillo Beach: 310-548-2909.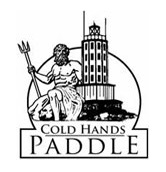 ---