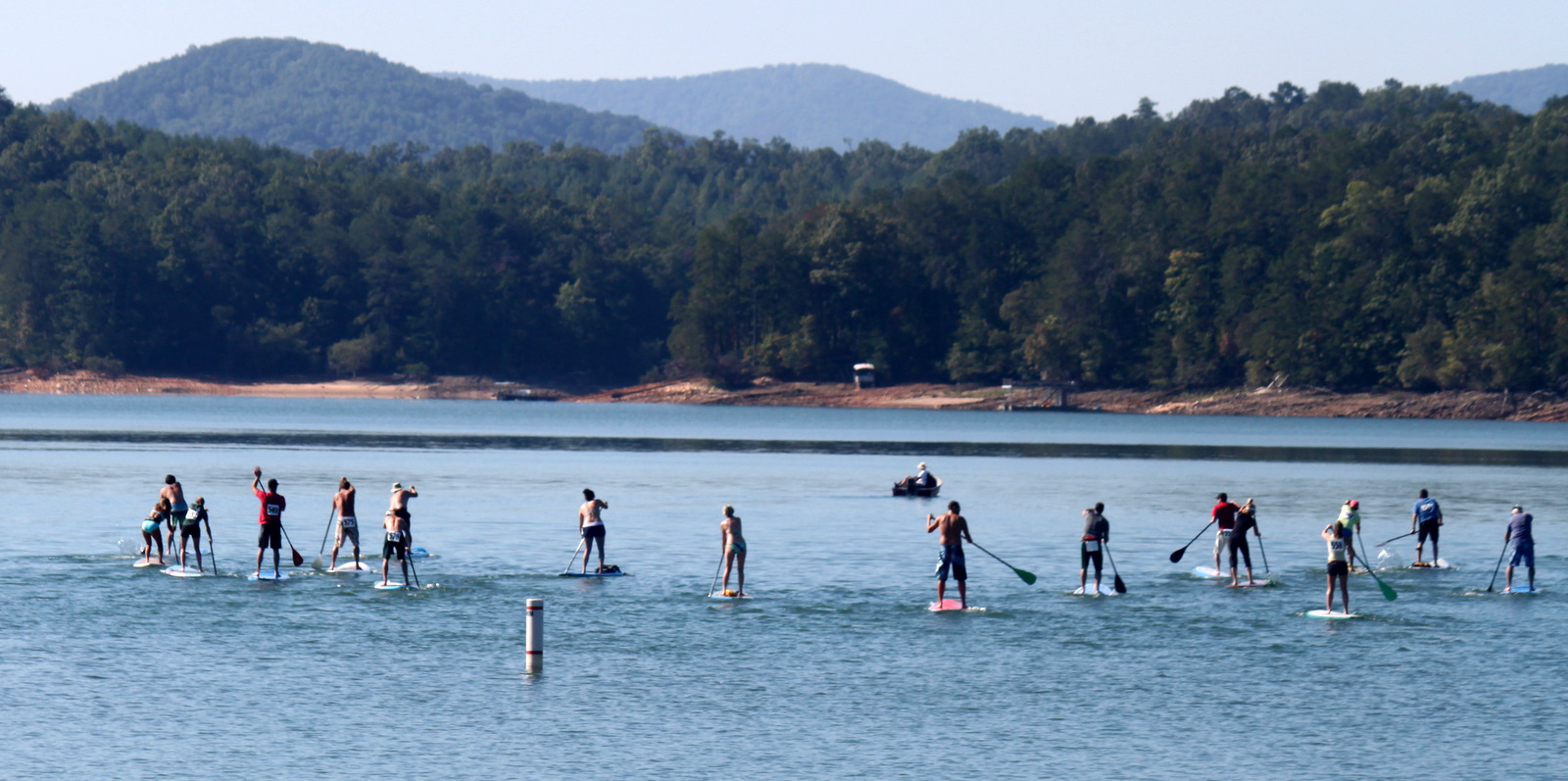 Racers will have two options:
1.  Buster Britton Memorial SUP Tri (sprint distance) :1 mile SUP/12 mile Bike/3mile Run
You must be a member of USAT to participate in the SUP Tri.  You can purchase a one-day or annual membership at registration.  To register for the SUP Tri, click 
Here.

2.  SUP Race- 3 miles (3 laps) Registration is on PaddleGuru
FRIDAY, DAY BEFORE RACE
Held in conjunction with Triathlon

5:00 pm - 7:00 pm:  Registration & packet pick-up Oak Mountain State Park: Park Administration Office Area
6:00 pm: Race Overview in the Transition Area; Followed by Beginner Q & A Session
Pre-Registered?
 Must present PHOTO ID
 & SUP class.
Registering at Race site?
 Must present PHOTO ID and confirm SUP class.
The racer must be present to pick up their packet. You cannot get a friend to pick up your packet- sorry!
SATURDAY, RACE DAY:
Start Time:  TBA
10:30 am:  Awards ceremony following designated last finisher.
Post Race Activities:
Stay around for great food and drink, expo, and the awards ceremony with lots of cool prize drawings.
*The park entrance fee is $3 per person, but Friday is waived for racers that show a copy of their pre-race info email.
This list is private.
Results Select an event to view results.
Note: All live times are unadjusted and unofficial.
No entries have been received yet.
Location
:  
Oak Mountain State Park
877 Findlay Dr
Pelham, AL 35124
Alabama State Parks

The Buster Britton Triathlon is held at Oak Mountain State Park in Pelham, Alabama. It is located about fifteen miles south of Birmingham, AL. Take exit 246 off of I-65. Look for signs for Oak Mt. State Park. Turn on State Park Road off of Hwy 119 just off the Interstate exit. Look for the Amoco and Pizza Hut on State Park Road. Follow signs into the park. Take State Park Road to the first stop sign and turn left. Turn right a couple of miles past the main entrance on Terrace Drive.  The Race Site is located on Terrace Drive just passed the Main Park Office, on the right, less than a mile from the main park road.
Oak Mountain State Park Day Use Admission Fees:
Adults (12 & up): $3 on weekends & holidays
Seniors (age 62+): $1
Children (6 - 11): $1
Children 5 & under: No charge
Note about Saturday Arrival
: You will need to pay the park entrance fee on Saturday morning. To get all racers into the race site as quickly as possible, please have correct change out and ready when you get to the pay gate. This will help us reduce the pre-race anxiety, get you parked, and ready to race on time at 
7:30 am
. THANKS! The BACK gate to the park will not be open race morning, so please come to the main park entrance. 
The $89 rate includes: 
Early breakfast for athletes starting at 

6 AM

Location less than a mile away from race site
Double and king non-smoking rooms available
Bike rags available for dirty bikes  (and wipe down SUPs)

Bike Link & Cahaba Cycles- both are just a few miles away
 The state park also has cabins and camping.