Treasure Island Classic - Outirrger Canoe - OC6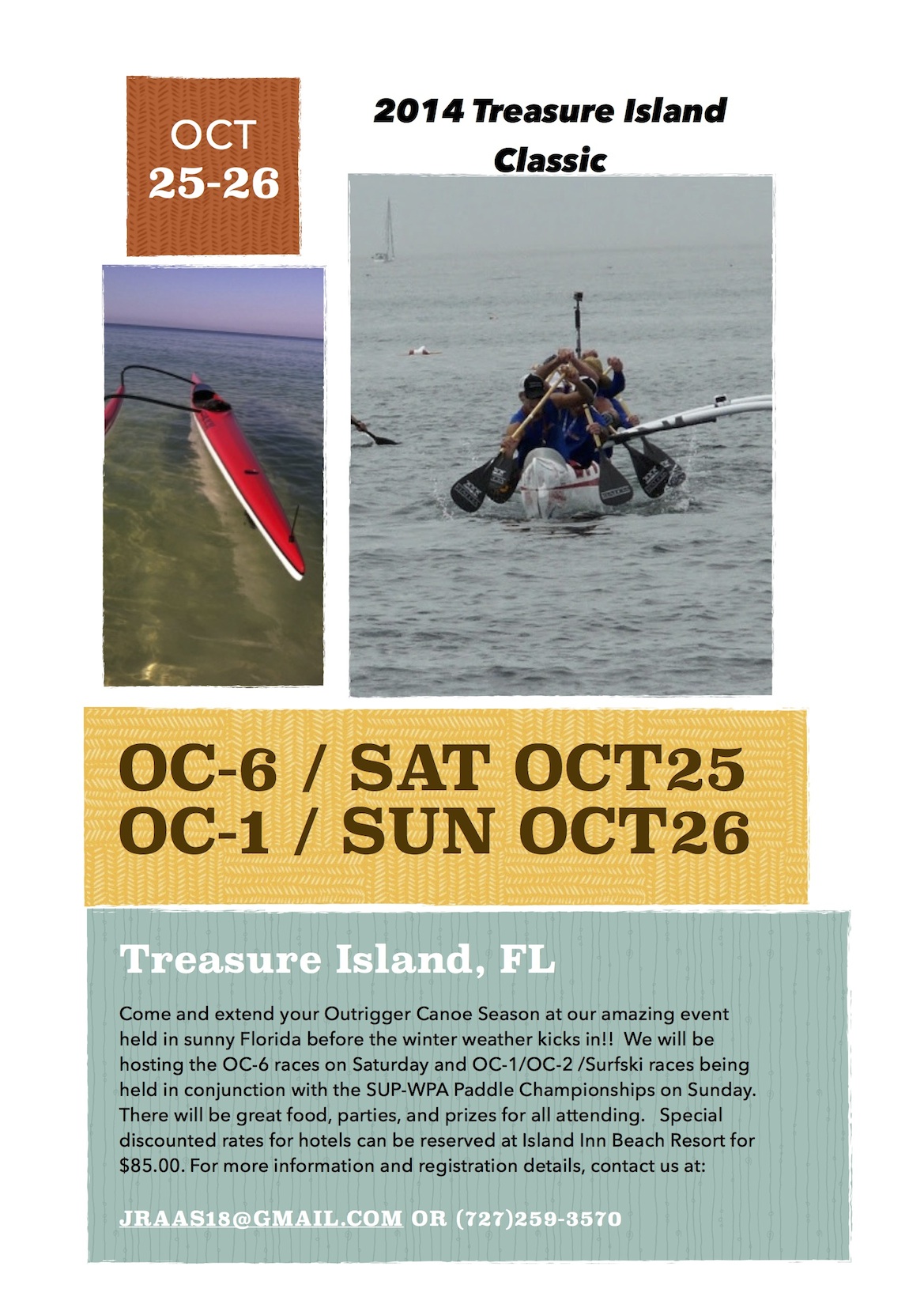 Located off the beautiful beach of St. Petersburg, the Treasure Island Classic is one of the largest 6-Person Outrigger Canoe races on eastern coastline.  Local clubs from Florida along with a few clubs from outside states and Canada will be taking part in the race.   The race starts directly in front of the race village at the Island Inn and then heads offshore to complete a total of 12 miles of paddling.  Each paddler will be there representing their club and giving it their all to bring home the win.  There will be a great party after the event!!  The single and double person outrigger canoe races will be held the following day in conjunction with the WPA National Championships at the Sirata Beach Resort which is about one mile south of the Island Inn race location.  

October 25th
OC-6 Race (6 Person Outrigger Canoe)
Final Registration: 8:30am
Captains Meeting: 9:30am
Mens and Womens Start: 10:30am
Mixed Race Start Time: TBC
Registration Fee: $25.00

October 26th (Single and Double Outrigger Canoe and Surfski)
Follow the below link to register for this event. 
Be Sure to Register for the Distance Race - entry Fee is $60 for Singles and $120 for Doubles
https://paddleguru.com/races/2014WPAPaddleChampionships/register


Event Entries Click on an event to see who entered.
Results Select an event to view results.
Note: All live times are unadjusted and unofficial.
Island Inn Beach Resort
9980 Gulf Blvd.
Treasure Island, FL 33706


Where:
Treasure Island, FL