Triple Crown of the Upper Keys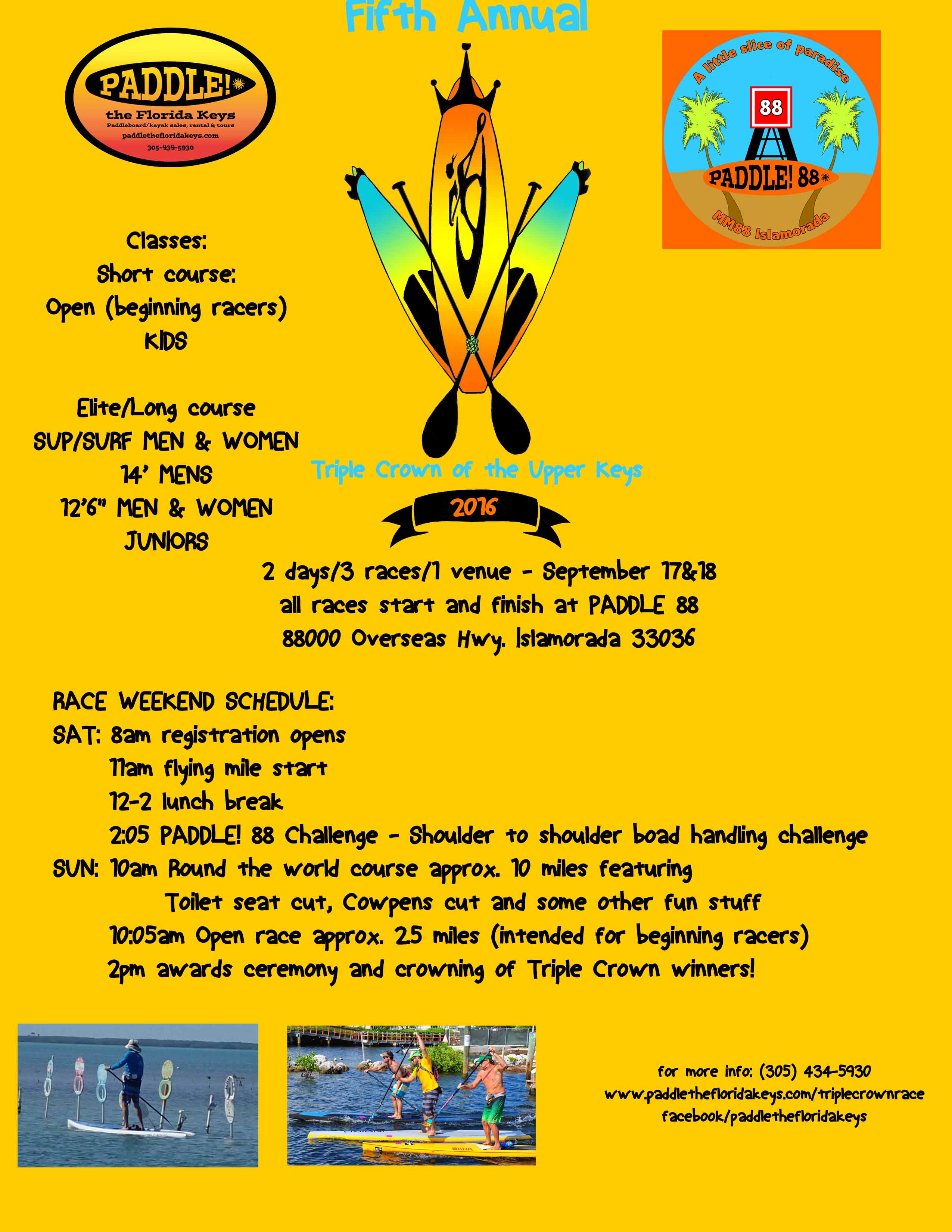 Race Details!
Welcome to the 2016 Triple Crown of the Upper Keys
 Whether you are and experienced SUP racer or new to the sport, you'll have a lot of fun here and we are glad you are joining us!
 A few reminders before you pack to head down here: The USCG requires you to have a PFD and a whistle on board, and kids ages 13 and under are required to wear one. Remember that this is the Keys, so think sun protection and hydration. 
Round 1 & 2 of this race will be on Saturday, Sept. 17th at PADDLE 88 88000 Overseas Highway Islamorada
 Round 3 will be on Sunday September 18th at PADDLE 88
Registration starts at 8 am, for the 11:00am start.  NOTE:  the first race is a mass start 1 mile sprint.  Kids race and other events to follow.  The adult races will not be on a closed course, so you might encounter powerboat traffic.
Race divisions and categories are: (based upon last year's participation)
 OPEN – beginning racers (any board) – flying mile and PADDLE 88 BoardX  Challenge on Saturday and short distance race 2 – 3 miles on Sunday.
 Elite – experienced racers - flying mile and PADDLE 88 BoardX Challenge on Saturday and long distance race approx. 12 miles on Sunday (the new around the world course)
SUP Surfboard 12'2" max
12'6" Men and women
14' Men
Juniors (13-16) on a 12'6" and under on the short course only*
Kids (12 Under) on their own course. 
 5 racers required for a category.   We will split any category that gets more than 12 racers.  However after the first round, we will keep the classes throughout the series in order to score for the overall series winners.  Promoter may also consolidate classes at their discretion.
 Awards and prizes will be given to the top three racers in each category. 
Event outlines:
 All events will start and finish at PADDLE 88 Beach.  There is limited onsite storage for both Friday and Saturday nights.
 Saturday rounds 1 & 2
 Round 1 - Flying mile – 11:00 AM start. Mass paddle out to the start and the finish line will be back at the beach.   NO DRAFTING FOR THIS EVENT!  This will be run by class.  Classes to be run in the following order:  14' Men, 12'6" women', 12'6" Men, Open Class Men, Open Class Women, Other
12:00 – 2:00 Lunch and demo time.
Round 2 - PADDLE 88 BoardX Challenge – 2:00 start. This will be a short race but with lots of twists and turns to challenge your board handling skills.  Part obstacle and part sprint with a lot of buoy turns thrown in for good measure.  We will run the classes separately for this event.  This event will be held on Yolo Hammerhead boards that PADDLE! will supply. Contact and close racing will be exciting for all.
5:30 pm Round 1&2 awards ceremony
Saturday night party on the beach.  Bring your drums, or other instruments and a beach chair and hang out on PADDLE 88 Beach.  Have dinner right at the restaurant.
 Sunday – around the world course.   With a 10:00am start, we will be doing a course which will be appox. 10 miles long.  Open Class racers will be doing a 3 mile course.
Trophies and crowning will take place immediately following lunch break.  Awards for Round 3 race as well as crowning of the overall champions.
 SUP racing is a strenuous activity. You alone are responsible for your safety, so if you have any medical concerns, please check with your healthcare provider before attending. This is an ocean environment, and any condition that causes you to faint or loose muscle control can quickly result in you drowning. Please wear a PFD if you have any concerns. 
The promoters of this event are committed to supporting participation of individuals with disabilities in all of our classes, tours, and events, and we will make every effort to make this an accessible event. If you require accommodations, please let us know what we can do to make participation possible for you.
 Pricing:
Sprint, and paddle 88 Challenge  25 each race day 35 each
Distance race - Short distance 50 race day 60 - Long Distance 75 race day $85
Point system for race:
 Each round will be scored separately.  The racer with the least points in his/her class will be the overall winner.  The points will be awarded as follows:
1st place – 1 point
2nd place – 2 points
3rd place – 3 points
all other participants will receive 4 points for participation
In the event of a tie, the person who has the best finish at the final will be awarded the overall trophy.
 Only racers who do all 3 races will be considered for the overall award and wear the crown of Triple Crown champion.
 This is a fun family style event, however issues may arise.  The event promoter has total authority over the event and their decisions are final and must be respected.  Please realize that they have given of much of their time to provide a safe and fun event and if you don't like the way things are being run then you are welcome to do your own event and do it the way you think is best.
Event Entries Click on an event to see who entered.
Results Select an event to view results.
Note: All live times are unadjusted and unofficial.
This is the proposed route.  Subject to change based on conditions.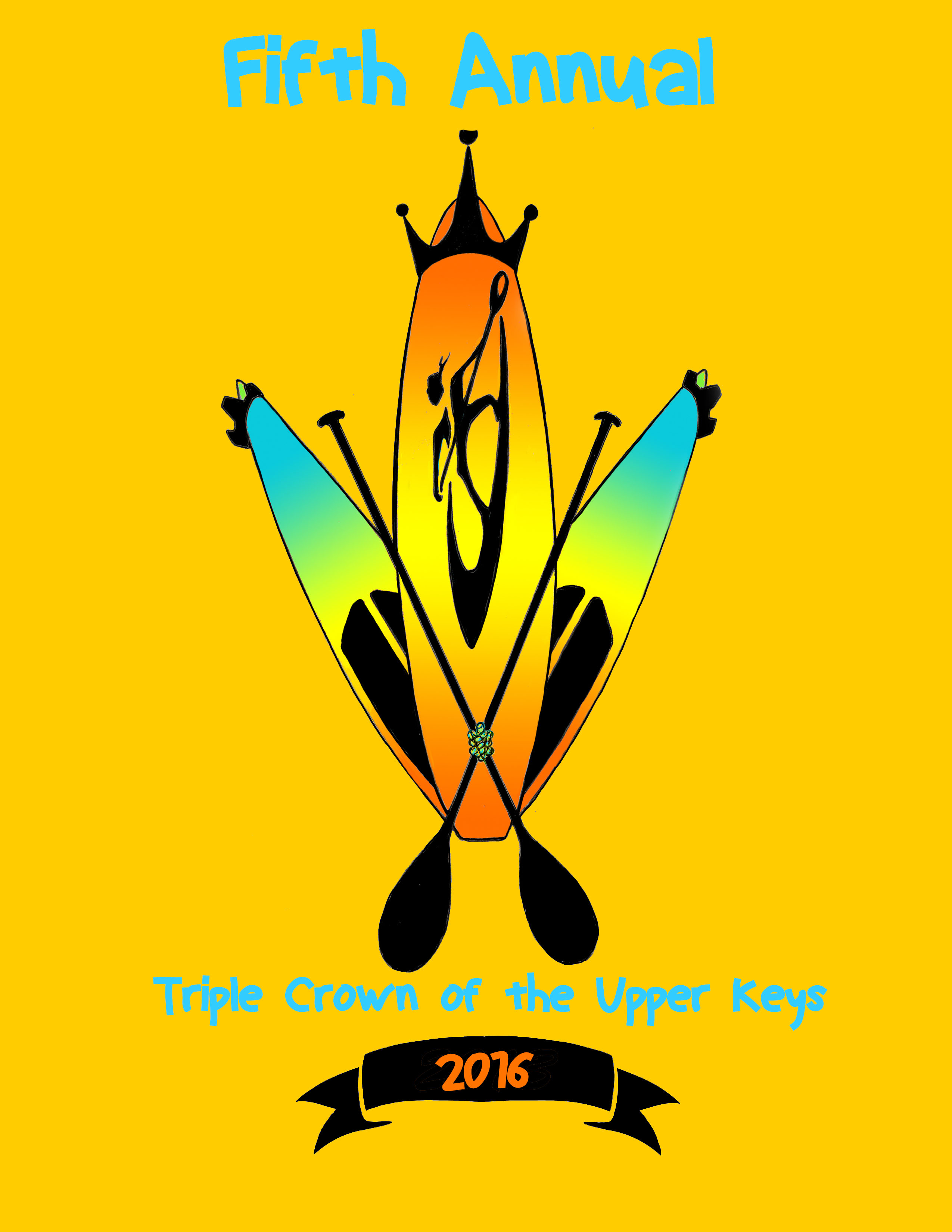 When:
Sep 17 to Sep 18, 2016