Up North Standup Paddleboard Classic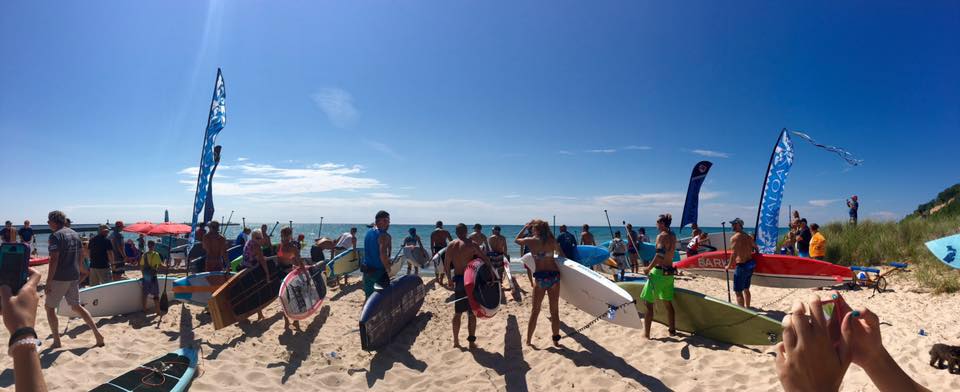 Come paddle on some of the most pristine lakes in Michigan. Starting with a flat water race on Crystal Lake in the Morning and then a Down Wind Duel on Lake Michigan in the afternoon!



CRYSTAL LAKE SUP 6 mile/3mile/1.5 mile CHALLENGE
The day's events will start with the Crystal Lake SUP Challenge which will consist of an Elite 6 mile(2 LAPS), Recreational 3 mile(1 LAP), Junior Rec (age13-16) 3 mile, and a FREE kids race (age 7-12) 1.5 mile(1/2 LAP) 
All races are a Diamond Configuration Buoy Race. Children can do either the Junior Rec or the kids race, not both, and need to register for the race of their choosing. All races are held under WPA rules and will have an Open Water Start and Finish. All Racers must have a leash attached to his/her board to participate.
Crystal Lake is located near Lake Michigan in Benzie County about 25 miles (40 km) southwest of Traverse City and about 2 miles (3 km) northeast of Frankfort. It measures approximately 2.5 by 8 miles (4 by 13 km), and has a maximum depth of 165 feet (50 m). Crystal Lake is adjacent to the southern reaches of the Sleeping Bear Dunes National Lakeshore.  
LAKE MICHIGAN 4.6 mile DOWNWIND DUEL
Come paddle off the shores of one of the most scenic areas of Lake Michigan, voted the "Most Beautiful place in America" by Good Morning America.
The Downwind Duel is a 4.6 mile paddle, which will start at Point Betsie Lighthouse beach and finish on Frankfort Beach (or Frankfort to Point Betsie depending on the wind). Racers will pass by some of the beautiful sand dune bluffs that northwest Michigan is known for. This race will have a Beach Start and Finish. 
Exceptions may be made for younger racers on an individual basis.  Please email race organizer for information
All Racers must have a leash and PFD on board to participate.
Lake Michigan is the only one of the Great Lakes wholly within the borders of the United States; the others are shared with Canada. It has a surface area of 22,400 square miles (58,000 km2), making it the largest lake entirely within one country by surface area.  Hydrologically it forms a single body of water with Lake Huron, the whole being called Lake Michigan–Huron; the two sides are connected through the Straits of Mackinac. 
Check out our website at Upnorthsup.com (
javascript:nicTemp();
) for the 2017 schedule of events to be posted!  This will include Packet pickup and seminars on Friday night, July 14th as well as the schedule of times for Saturday July 15th.
Event Entries Click on an event to see who entered.
Results Select an event to view results.
Note: All live times are unadjusted and unofficial.
The UP NORTH SUP CLASSIC Events Directors and staff reserve the right to make any adjustments to the race if issues arise concerning the involvement of athletes in any part of the race.
CRYSTAL LAKE SUP 6mile/3mile/1.5 mile CHALLENGE
Mens and Womens Recreation Divisions: SUP Surfboard Class, and touring board class (max board length 12'6) 
Junior class Division, ages 13-16. 
Men's & Woman's
 Elite Divisions:12'6″ SUP Class(Women) and 14′ SUP Class (Men)
Ages 14 and up.
Open water start for all paddle-boarders. Elite racer will start at approximately 9:00AM followed by the Rec and Jr. racers at 9:10AM. The course will run on a counter clockwise lap. For the Rec race 1 Lap is 3 miles, for the Elite Race it will be 2 laps for 6 miles. There will be UP NORTH SUP CLASSIC officials as well as the Benzie County Sheriff's Marine Division patrolling the course. The winds in the mornings are usually calm and the swell small. This is a great course for beginners through elite.
Free CRYSTAL LAKE SUP CHALLENGE (Kids) Race Course. 
Open
 Age Class: 7-12. 
1st, 2nd, and 3rd place will be awarded trophies/prizes.
Open water start for all paddlers at 12:30PM. The CRYSTAL LAKE SUP CHALLENGE course will be run as a partial lap of the full course and will cover roughly a 1.5 miles. There will be UP NORTH SUP CLASSIC officials as well as the Benzie County Sheriff's Marine Division will be patrolling the course. This is a great course for Kid's and will allow excellent spectating for the parents from shore.
No Adults Leading in Kids Race, Adults must be anchored.
LAKE MICHIGAN 4.6 mile DOWNWIND DUEL
Men's & Woman's
 Open Division: Age Limit: (17 & under requires legal guardian signature and UP NORTH SUP CLASSIC event approval)
1st and 2nd place will be awarded prizes and trophies. There will be UP NORTH SUP CLASSIC officials patrolling the race from the water and the beach.
Beach Start at Pt. Betsie Beach. Downwind Duel course is a straight shot along the shoreline to Frankfort Beach. The finish is a sprint up the beach between the two finish event flags. Participants must cross the finish line with their paddle.
ADDRESS
214 South Benzie Blvd.
Beulah MI 49617 (Crystal Lake Adventure Sports)
Race Locations:
Crystal Lake SUP Challenge:Beulah Beach (Lake Street) Beulah, MI, 49617
Lake Michigan Downwind Duel: Pt. Betsie 3701 Point Betsie Rd Frankfort, MI 49635 or Frankfort Beach  206 Main St. Frankfort MI 49635