Wet Wednesday at DPYC Paddle Center- Aug 19th 2015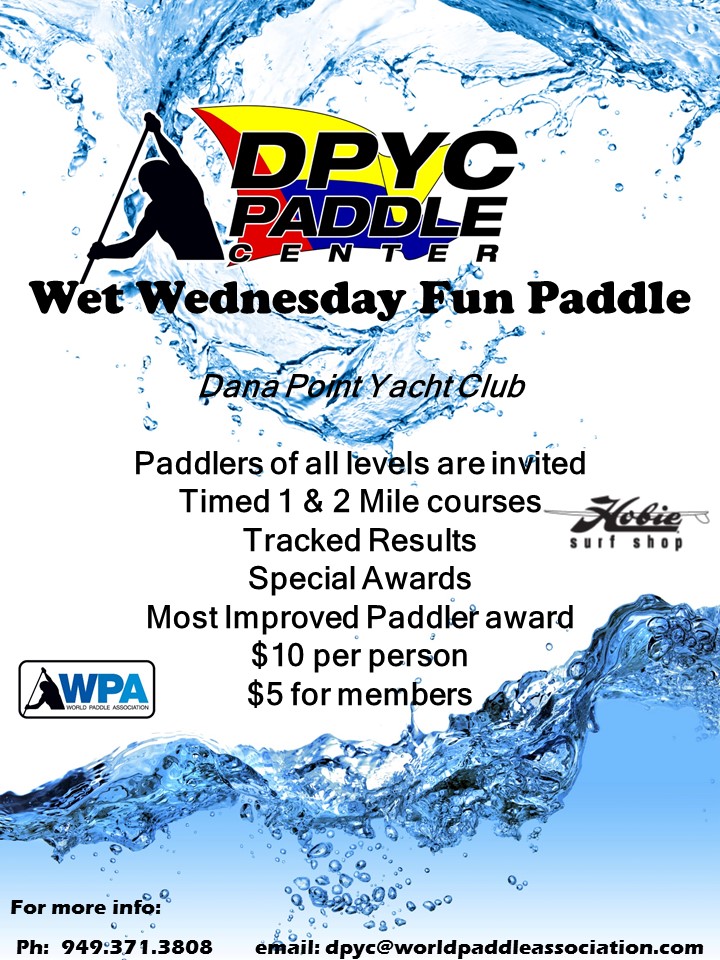 Welcome to the DPYC Paddle Center Wet Wednesday Fun Paddle with races to start at 6pm.  Paddlers of all levels are invited to paddle in our bi-monthly timed fun paddle that will start and finish at the Dana Point Yacht Club.  This is great for new paddlers who are thinking about paddling in a race and want to get a feel of race like conditions while the more advanced paddler can use this for training and to better prior week's times.  Wet Wednesday is also a great excuse to get out on the water and have some fun paddling.
There will be two courses to choose from, a 1 mile or 2 mile course that will be same distance each week.  This will allow each paddler to measure their improvement from week to week.  We will record all of the times and post the results after each week.  All paddlers are welcome to join us in the Dana Point Yacht Club following the fun paddle to enjoy delicious food and have some well-earned refreshments. 
The cost of the Fun Paddle is $10 for non-members and $5 for DPYC members.  No fee for those who are enrolled in a training program at DPYC Paddle Center.  Food and refreshments are an additional charge.  We will also have an optional $1 donation for "Take the kitty" which will be awarded to the most improved paddler each week.
Wet Wednesday at DPYC Paddle Center
Fun Paddle Schedule:
5-5:45pm - Registration

6pm - 2 Mile course start

6:02pm - 1 Mile course start

7:30pm - Awards
Participants, family and friends are invited to enjoy dinner and drinks during and after the fun paddle.  Wednesday night is Prime Rib night at DPYC along with many other great food choices from Chef Felipe.  There is also a kids menu for the little ones.  The Mac n Cheese is fantastic!
This list is private.
Results Select an event to view results.
Note: All live times are unadjusted and unofficial.