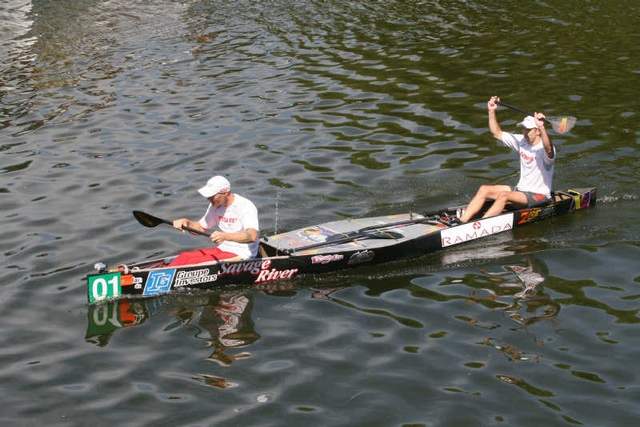 WISCONSIN RIVER CANOE RACE
Muscoda Wisconsin
July 11 , 2015
Throughout its history, the Wisconsin River Canoe & Kayak Race has hosted some of the nation's finest paddlers. It remains the largest, best attended canoe & kayak race in Wisconsin. If you do only one canoe or kayak race this summer, this is the one to enter!
The action gets started on Saturday evening with the "Saturday Night Special" C1 & K1 race; about 4 miles of up-stream/downstream fun starting and ending in Victoria Park, Muscoda.
Sunday is all-downstream racing ending at Victoria Riverside Park in Muscoda. Participants can choose one of three courses: the 21 mile course starts at Wisconsin Riverside Resort in Spring Green. The 15 mile course starts at Otter Creek Landing at Lone Rock. Folks in recreational canoes & kayaks or Stand Up Paddleboards start at the Pine River/Buena Vista Landing in Gotham (8-mile course).
This stretch of the Wisconsin River is known to paddlers for its beautiful scenery and numerous places to camp. The fast current, shallow water, and shifting sandbars challenge every paddler's river reading skills and paddling technique.
For more information, see wicanoeracing.com or contact Kevin LeRoy at (608/712-0980) or kleroycanoe@gmail.com.
Schedule
Saturday
3:45 pm – 4:45 pm Registration & Check In Available for all races at Victoria Park in Muscoda
5:00 Race Start -- "Saturday Night Special" C1 / K1, Muscoda
Sunday
8:45 am – 9:45 am Registration open at Wisconsin Riverside Resort, Spring Green for 21 mile course
9:15 am – 10:15 am Registration open at Gotham landing for 8 mile race and Otter Creek landing for 15 mile race
10:00 am Race Start – 21 mile course at Wisconsin Riverside Resort, Spring Green
10:30 am Race Start – 8 mile & 15 mile courses, Gotham and Otter Creek
11:00 am – 2:00 pm – Lions Club food stand open; burgers, brats, soda, beer, in Muscoda
1:30 pm (Approximately) – Awards, in Muscoda
Event Entries Click on an event to see who entered.
Results Select an event to view results.
Note: All live times are unadjusted and unofficial.
When:
Jul 11 to Jul 12, 2015