the ultimate SUP challenge

Event Details
The Ultimate SUP Challenge is the first event of it's kind in Canada with both whitewater and flatwater racing taking place on the Ottawa River.   
$2500 Cash Prize for the overall combined winners of Whitewater and Flatwater 8km    
Visit the website for more information at   www.theultimatesupchallenge.net
 In support of Lupus Ontario
Schedule
July 18:
Whitewater Clinics-Time TBA-Pushbutton Rapids
5-7 PM Registration/Check In-Owl Rafting Headquarters
5-7 PM Vendor Village Setup-Owl Rafting Headquarters
July 19:
8-9 AM Check In-Owl Rafting Headquarters
10:30 Whitewater Racing Start-Pushbutton Rapids
July 20:
Flatwater Racing: All activities on Sunday will be at Owl Rafting HQ
9:00 Racers Meeting 5km and 10km
9:30 Elite 10km Race Start
11:00 Open 5km Race Start
12:00 Kids Race
12:30 Relay Racing Start
2:00 Awards
This list is private.
Results Select an event to view results.
Note: All live times are unadjusted and unofficial.
No entries have been received yet.
WhiteWater Race Format
Race Format:  The whitewater event will be a timed event.  Each competitor will race individually on the course against the clock there will be a 1 minute interval between racers.  The event will have 3 heats, with the fastest 50% of the racers advancing to the next heat.  Each heat will get more difficult with additional maneuvers and or start positions on the river.  There is only one open division for the Whitewater race.  
PFD, Helmet and Shoes Required
Board Length: 10.6' Max (inflatable and soft top boards strongly recommended)
Single Bladed Paddles only
ZERO Stroke Rule, if you fall, or decide to go onto your knees the 1st stroke while not standing results in a DQ.
Flatwater Race Format
Race Format Elite:  Length-8 km approx 5.5 miles.  Beach start format.  Finish will be "On water" and times will be captured when paddlers head and shoulder cross the finish line (diving off of your board will result in a DQ).  Race Format Open: Length-4km approx 2.5 miles.  Out and back with one buoy turn.

Overall Rules
Leash Required, pfd required (wearable or inflatable pfds allowed) 
Board Length: 12.6 (mens and womens divisions) or 14' max length (men only)
Single Bladed Paddles only
Fixed fins only (no foot rudder or steering systems)
2 Stroke rule (starting, after a fall, or at a buoy turn) more than 2 strokes while on knees, butt or prone paddling will result in a DQ.
Location and Course link:
https://mapsengine.google.com/map/edit?mid=z8Zg03QET6r8.kgDv7JncrzS0
D
irections
 Owl Rafting Camping and Food Packages: 
Camping:  $25.00 per person/night INCLUDES Dinner
Children 12 and under $15.00
 Cabins: sleep 6 in two double beds and 2 single bunks $60.00/night for Sunday through Thursday Bring your own bedding $90.00 per night for Friday and Saturday
Breakfast $15.00 (a complimentary Light breakfast will be served to registered athletes, fruit, coffee, tea, bagels.  
Lunch $15.00 per person
Dinner $20 (cabin renters, athletes, and volunteers receive a $5 discount)
Reservations: 1-800-461-RAFT (7238)
River Run Camping and Food Packages: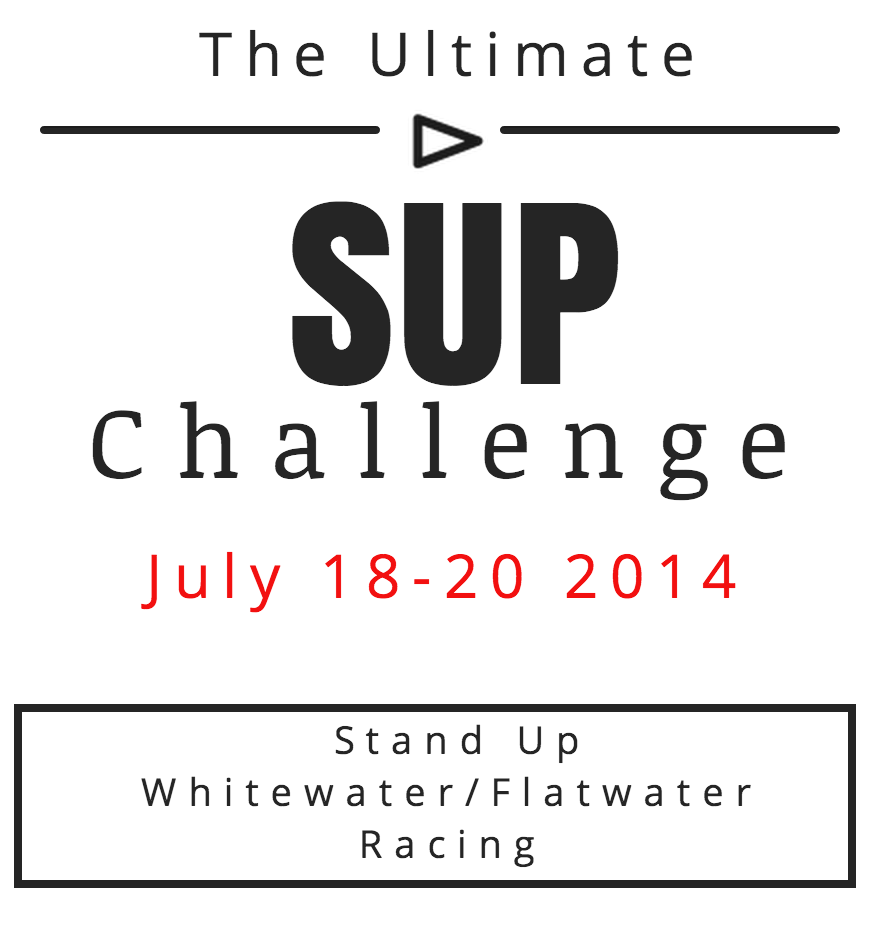 When:
Jul 18 to Jul 20, 2014