13th Annual Surftech Jay Race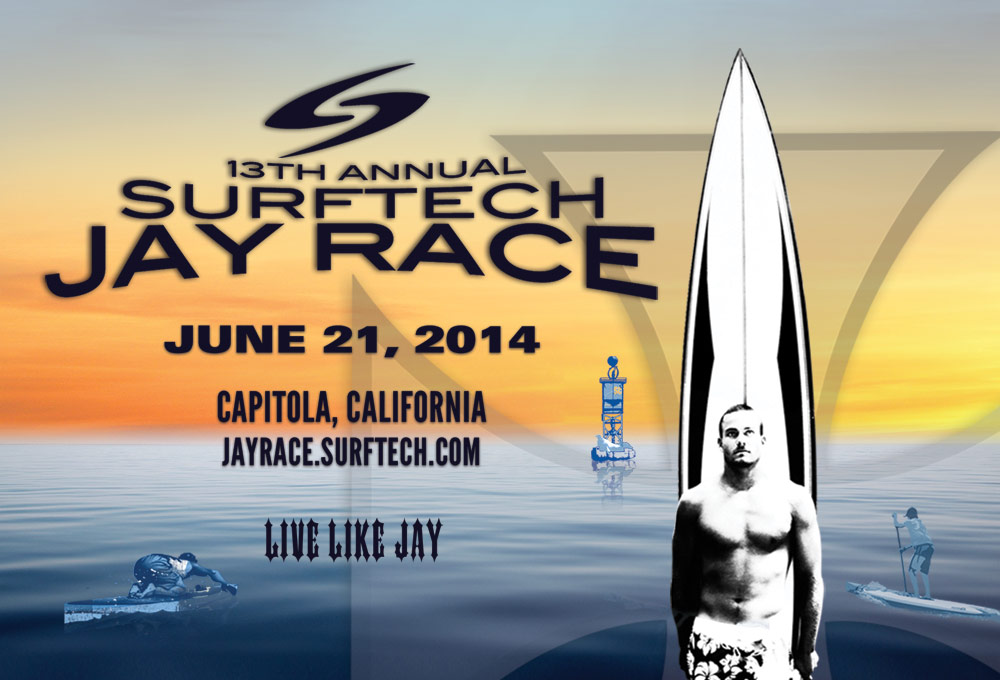 13th ANNUAL SURFTECH JAY RACE
This is the 13th anniversary of the Jay Race! It keeps getting better every year! We gather to remember Jay Moriarity and paddle our hearts out in his honor! All proceeds will go to Santa Cruz County Junior Lifeguard Programs to purchase paddleboards and to provide scholarships in Jay's name.
Participants get a goodie bag including; t-shirt, race jersey (long course only), Peet's coffee, Clif Bars and other swag. Of course there is the challenging course, family-friendly atmosphere, raging after-party and raffle featuring surfboards, Paddleboards, Wetsuits and more!
Check out the 2013 Jay Race highlight video -
12th Annual Surftech Jay Race Video
RACE DAY REGISTRATION

6:00 am registration opens for both the Long and Short Course races.
RACE DAY ENTRY FEES ON 6/21/14
12 mile long course is $80.00
2 mile short course is $40.00
Waterman Challenge $60.00
Kids 'Mini Jay Race' obstacle course is free.
JAY CEREMONY

8:00 am we will have a ceremony to honor the great Santa Cruz Waterman Jay Moriarity.
12-MILE LONG COURSE (Paddleboards)
8:30 am beach start
12-MILE LONG COURSE (Stand-ups)
8:40 am beach Start
2-MILE SHORT COURSE

8:50 am beach start for all paddleboarders and stand-ups. It is an out-and-back course. There will be plenty of Lifeguards patrolling the course. The winds are usually calm and the swell small. This is a great course for beginners.
KIDS "MINI JAY RACE" OBSTACLE COURSE presented BY SEVEN SEAS INDUSTRIES

11:00 am Kids races will begin around 11:00 am. We will provide kids age 12 and under with Nipper or Soft paddleboards to use.
WATERMAN CHALLENGE
1:00 pm The Waterman Challenge will start at 1:00 pm after the kids "Mini Jay Race" is over and everyone has had time to eat lunch.
JAY RACE AFTER PARTY

6:00 pm Jay Race After-Party and Awards Ceremony at the Crows Nest!! Live Music with free food, beer and wine provided by the Crow's Nest and Headlands Brewing Co. for all competitors at the Jay Race after party on the beach behind the Crows Nest.
Age restrictions for the 12 mile paddle:
If you are 15 years old or under, you must paddle the entire distance with another responsible adult (buddy paddle). However if you are 15 and under and have completed this race in the past, the race committee will decide if you can paddle solo.
Event Entries Click on an event to see who entered.
Results Select an event to view results.
Note: All live times are unadjusted and unofficial.
Capitola Beach
201 Esplanade
Capitola, CA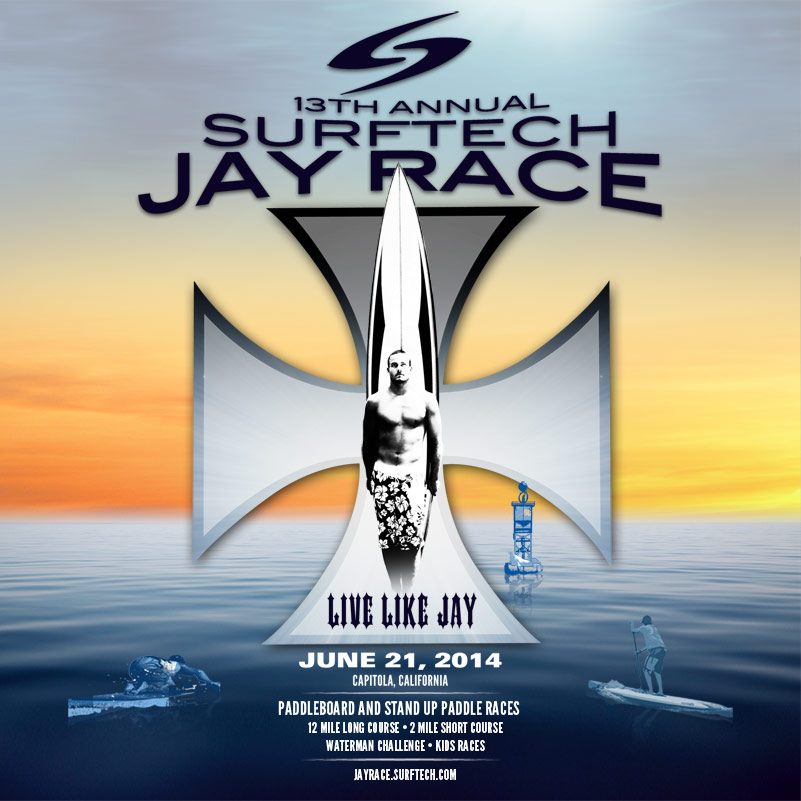 ---