2014 Big River Regional

The Big River Regional is a SUP and open kayak race on the Mississippi taking place on 8/30/14. The event will be approximately 13 miles on the largest river in America, the mighty Mississippi.
The race is a regional championship and covers the southeast areas including Alabama, Georgia, Florida, Louisiana, Mississippi, Tennessee, and Texas. Come out to represent your state and compete for the crown or just test yourself on the river.
​
The race will start in downtown Baton Rouge at the corner of Florida St and N. River Rd on the Mississippi River Levee and end at the L'auberge Casino Hotel. 
If you are (Self Supported) and need your car at the finish you can drop off your Board and Gear the night prior to the race between 6:00pm and 9:00pm or as early as 5:15am. Just make sure to be at L'auberge Casino for the Shuttle that leaves to return to the start at 6:15am.  There will be a racer checkin, required gear check and required safety meeting prior to the race.
​
​There will be a mass start at 8 am and we will stagger the faster vessels to the front. Once the race starts WPA rules will be in effect so please read them so that you are not disqualified. 
​
​We want safety to be a top priority at the Big River Regional and being that this river can be very powerful and contain large vessels that can create ocean like swells. We will require that all contestants have a leash and life jacket on at all times. We will provide six safety boats to patrol the race and have one checkpoint that must be passed to qualify for a finish. The Coast Guard will insure that river traffic by barges reduce their speed to slow bell while the race is passing to create less excitement during the race. 
6:00pm-9:00pm Packet Pickup/Registration at Hotel Indigo and Board/Boat Drop

After you Pickup your Packet and Drop your Vessel grab a drink and dinner in Hotel Indigo's King Bar & Bistro and meet all the racers!
Saturday, August 30th
5:30am - Subaru Shuttles begin pickup at the FINISH L'auberge Casino for those that want to leave their car at the Finish. (No Boat/Board or participant transportation to start after the race!)
Shuttle Schedule Estimates
Pickups  -  Dropoffs
 5:30am      5:50am
 6:10am      6:30am
 6:50am      7:10am
6:00am-7:15am - MANDATORY Check-in Mississippi River Front!

7:15am - MANDATORY Gear Check!!! (Failure to have gear will results in disqualification with no refund!)

7:20am - MANDATORY Safety Meeting!!!

7:30am - Introduction, Prayer and Star Spangled Banner

7:40am - Racers in the water to warm up

8:00am - Mass Start with the faster vessels to the front

10:00am - Finish Festival begins with Food, Music, drinks and fun!

10:30am - Live Music by SOUL JUKEBOXX kicks off!

12:15pm - Hobie Kayak is Raffled off!!!

12:30pm - Awards and Winners are crowned!

12:45pm - YOLO Board is Raffled off!!!
After Race Fun
7:00pm  - After recovering from the race meet all the Racers at the Stadium Sports Bar & Grill in L'auberge Casino.  We will eat, drink and watch some college football; especially the LSU Tigers!  Don't forget your (One Free Appetizer Coupon) in your Swag Bag!
After ENJOY all the L'auberge Casino has to offer...gambling, great steak house, awesome night club, shopping, coffee shop and
10:00am - Paddle at the LSU Lakes

11:30am - Brunch and Lunch at Brew Ha Ha Cafe, Coffee and CakeBall Shop!
Event Entries Click on an event to see who entered.
Results Select an event to view results.
Note: All live times are unadjusted and unofficial.
The race will begin behind the Hilton of Baton Rouge.  Contestants will be able to walk their boards to to the Levee for the safety meeting prior to the race.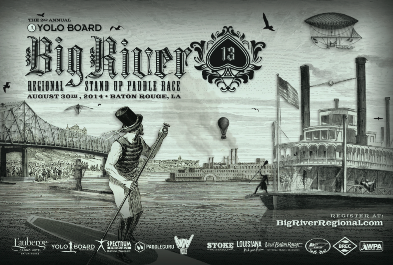 ---