2016 Icebreaker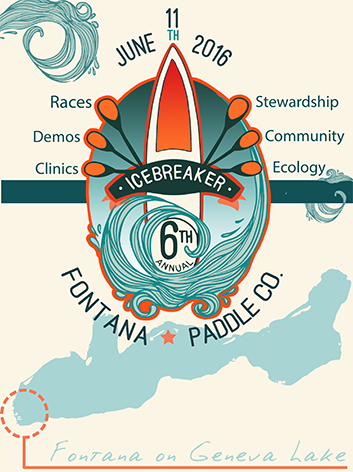 Full Day Of Family Fun!
Friday Night KICKOFF!
Join us for a few Clinics and a night paddle
SATURDAY MORNING 7am to 9am on the Beach
The day starts on the Fontana Beach with a Swim, Run, Stand Up Paddle, & Kayak Team Relay.  
The Stand Up For Safety Relay will include: 
A mystery challenge
Portage
Running ( or walking)
Swim ~ SUP ~ Kayak
45 min course.  
Prizes will be awarded fastest single entry (yes if want to strut your stuff)  and fastest team.  Teams can consist of 2 to 6 people.  Each element has two laps so there are 6 legs in this relay.
Clinic Time Change - 10am Saturday

Paddling for Performance and Fitness  - REGISTRATION IS REQUIRED
Join Matt Lennert from BlkBox Surf for a performance paddle clinic and Tune-up.  This 2-hour session will include a technique discussion on the beach then an on-water tune-up and analysis of your stroke.  This clinic is for anyone interested in paddling straighter, faster and more efficiently while maximizing the fitness benefits of SUP.  
Outdoor Wisconsin Leadership School
Adventure Scramble at Holiday Home Camp    8:00am to 12:00ish
What:  Family Friendly, Adventure Scramble Fundraiser for Holiday Home Camp and Outdoor Wisconsin Leadership School, in cooperation with the Williams Bay Business Assoiciation and Fontana Paddle Company.
Who:  Teams of 2+, families encouraged. 
When:  8:00 AM to approximately 12:00
Time Estimates per team:  Bike: 20 to 30 mins, Climb & Zip: 45 - 60 min, Hike: 30 - 45 min, Kayak 30 -45 min
Where: Climb and Zip at Holiday Home Camp
            Hike and Geocache along the Lakeshore Path
            Kayak between Fontana Paddle Company and Holiday Home Camp
            Bike (optional) on N. Lakeshore Drive
How:  Teams will earn points by completing the different adventure components and using Q/R codes (or another electronic method) to check into the different checkpoint along the way.  Checkpoints could contain trivia about Williams Bay ore he Geneva Lake area, riddles, and/or coupons for local businesses. 
MAP COMING SOON! 
9:30am to 5:00pm on the Lakefront
Hands on Clinics and Demos by:
Amundson, Aquglide, Bic, BlkBox, Dolsey, Live Watersports, Loon, Malone, Naish, Ocean Kayak, Old Town, Pro-Lite, Surftech, Malone and More! 
RACES
2 mile short open race for all ages SURF, 12'6, 14', Unlimited.
5 mile long competitive race for 14', 12'6, Surf shape.
Community 
Community Booths on:
Ecology 
Education ~ Water Safety Patrol
The Geneva Lake Water Safety Patrol will be on hand to conduct Boating Safety clinics and to allow the public to board their patrol boat for an up close look.
The Water Safety Patrol has been serving the community since 1920, providing lifeguard services, boat patrol and educational programs.  Visit them at the dock to learn more about this non-profit organization, and gain some knowledge about Boat Safety rules and regulations of which you may not have been aware.  Ask questions of the crew members and learn how to become safer around the water.
You can also find out what's involved in becoming a crew member of the Water Safety Patrol, so be sure to stop down at the dock and check it out.
Lake Stewardship  ~ Presented by Students of George Williams
 Nautic Star    Crownline    Gekko    
7am Registration for Beach Relay
7:15am Safety Brief
7:30am Start
9:30am Awards at Lakefront
10:00am to 5:00pm  Demos, Clinics, Speakers
10:00am Performance Paddling Clinic
11:30 Registration Cut Off for all races
11:45 Safety Brief
12:00 Long Race Start
12:15 Short Race Start
2:30 Awards Ceremony
3:00 Kids and Pup fun race
Event Entries Click on an event to see who entered.
Results Select an event to view results.
Note: All live times are unadjusted and unofficial.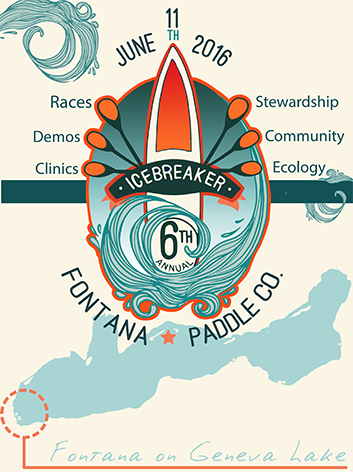 Where:
Fontana-On-Geneva Lake, WI