Becky Stuart Memorial 2017 - Official Registration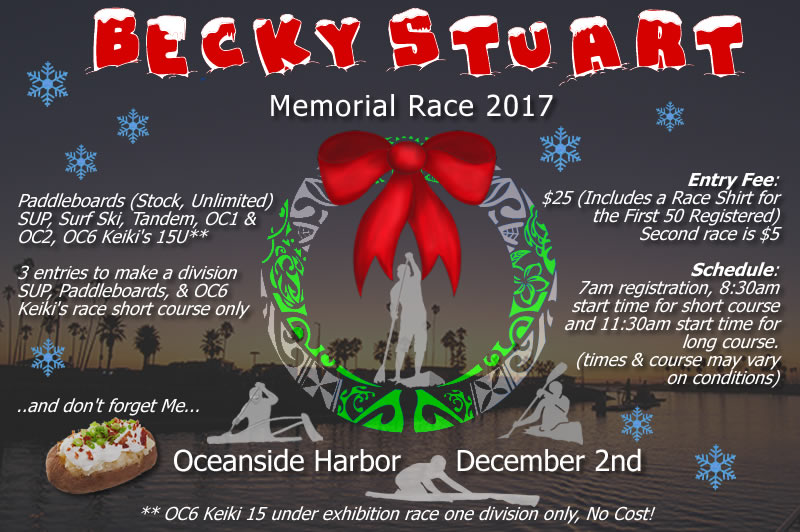 Race Day Agenda
Check-in & Registration 7:00 AM
Course* & Race instruction 8:00 AM
Short Course start time 8:30 AM
Lunch begins at 11:00 AM
Long Course start time 11:30 AM
Awards follow soon after the last paddler finishes.
When you arrive please do not block the boat ramps. Limited Paid parking at $15 a day, Strongly suggest using free parking, see map below. When you pull up to the race site unload and storage you vessel on the sand as indicated by the map below while you park. 
Rules & Instructions,
P.F.D. (personal floatation device) are required to be on the vessel while racing. Children under 10 are required to wear the P.F.D.
When entering or exiting the harbor water ways please stay to the right and be courteous of other boater.
Do Not block the harbor entrance when waiting to start the race. You will be directed where you can float while waiting.
Do Not block the harbor water way or boat ramp when you finish the race. Please either pull up to the courtesy dock or exit.
All racers must be marked with their assigned number. Racer must call out their number when crossing finish line.
Race Start: Short Course - OC1, OC2, Skies will start first, 5 min later SUP & Prone will start and 5 min later OC6 Keiki. Long Course - everyone will start at the same time. JUMPING THE START WILL RESULT IN A 5 MIN. PENALTY.
Escort or Safety Boats will be on the water for you SAFETY. They are NOT there to rescue your vessel. In the event of an emergency your safety takes priority.
It is expected that you will come to the aid of a fellow paddlers in trouble. IT'S ONLY A RACE. If point totals are an issues, The Race Committee will offer solutions. SAFETY IS A PRIORITY.
Racers are required to attend the pre-race meeting. It is the paddlers responsibility to know the race course and turn all markers, failure will result in a 5 min penalty per marker.
Thank you for your cooperation and have a safe race.
Event Entries Click on an event to see who entered.
Results Select an event to view results.
Note: All live times are unadjusted and unofficial.
As noted above there will be a minimum of (3) safety boats plus a 4th photo boat. Course is subject to change due to conditions.


If weather prevent the race from happening a full refund will be issued back to all registered paddlers.

Whether your North or South from Oceanside simply take Interstate 5 towards Oceanside and exit Harbor Drive. Go west and stay to the left all the way around to the boat ramp. If you get lost stop and ask someone, "Hey, Where's the Boat Ramp". It's a small harbor so you're good.