Bora Bora 2015 Ironmana KTX Liquid Life Festival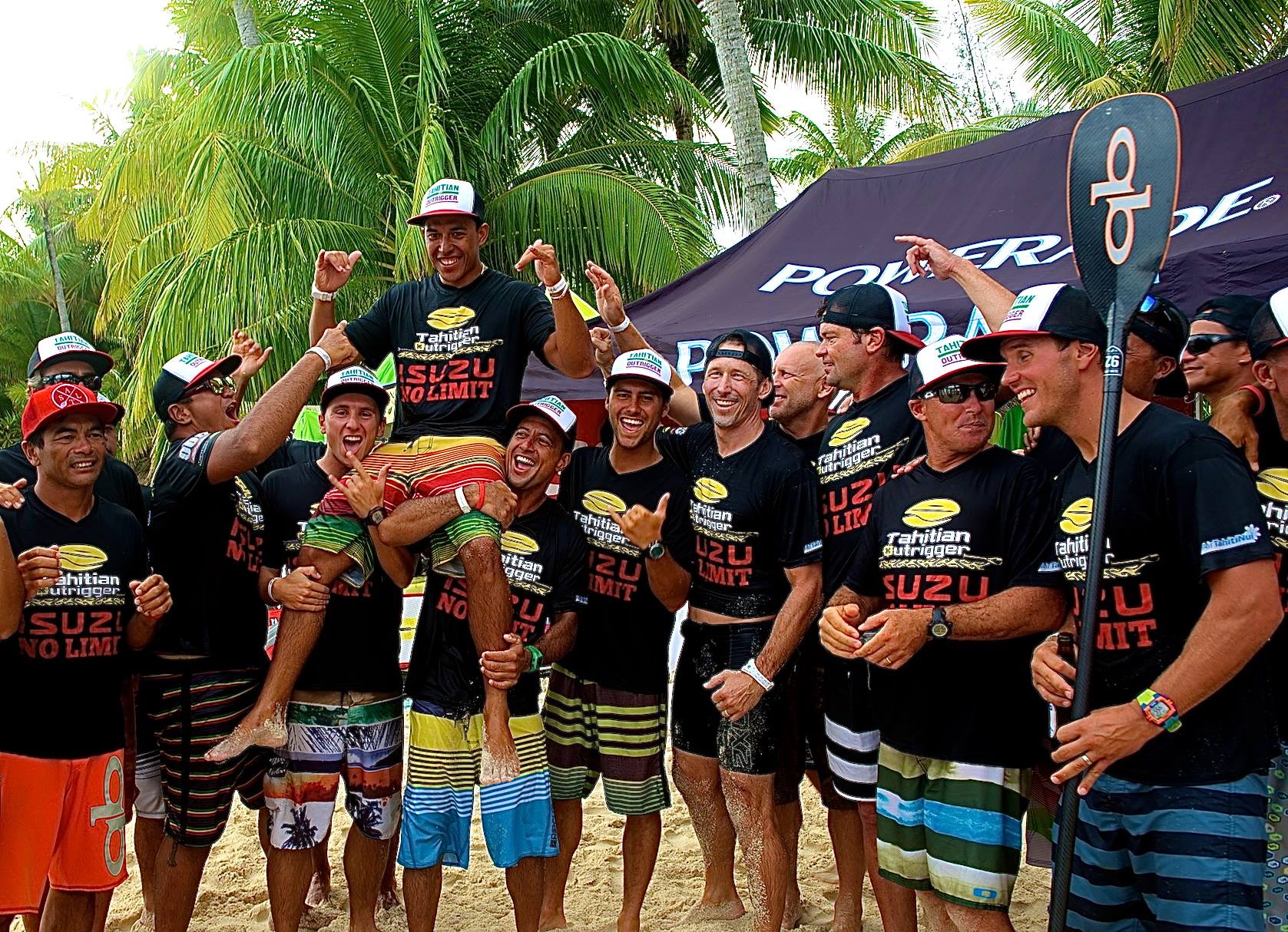 IRONMANA Bora Bora: the TOUGHEST WATERMAN EVENT... in PARADISE!

We make it easy and affordable to participate
EXPECT NOTHING BE READY FOR EVERYTHING "stephan Lambert"
Every year in December the Bora Bora Liquid Festival IRONMANA celebrate the waterman spirit in the pearl of the Pacific ocean. From all around the world, active travelers, families or pro athletes get together in the warm crystal water for sharing and participating in grueling or fun solo or relay fun races and parties.
You can choose the races you want to do or you can just do them all and be a WATERMAN.
Every year new course and new races format so you are always doing it for the first time
It's no secret that Tahitians enjoy some of the most epic swimming/paddling scenery in the world. Stephan LAMBERT, the man behind this event, mix the most beautiful lagoon on earth with 4 epic days of clinics, live music, dinner buffet, parties and races combining short and long distance in OPEN WATER SWIM, SUP, PRONE PADDLE BOARD, VA'A OUTRIGGER CANOE, SURFSKI…
This event rewards those looking for a personal journey in an incredible scenic, yet very demanding event but also family friendly as you can choose to take it hard or cool.
Some familiar names from California and Hawaii fly in for the event, including Alex Kostich (world master open water swimmer), Jenny Kalmbach (pro SUP paddler), Morgan Hoesterey (free rider), Jay Wild (pro SUP paddler), Riggs Napoleon (pro SUP surfer), Brenan Rose (pro SUP surfer). 
They start compete each year against an army of locals and by the end of the journey finish to compete against the only opponent worth it : ONESELF.
This year marks the 14th consecutive year for the festival, which is scheduled to take place from 
December 3rd to December 6th, 2014
.
APTITUDE AND MOTIVATION ARE NOTHING WITHOUT ATTITUDE

THE RACES:

The format consists of a series of daily races ,mix  of long-distance and sprint events (combined ranking points or times produce the overall results) and the grand finale is a 40 km  solo or team relay SUP race circumnavigating Bora Bora island.
Get all information on these by checking the Facebook page of this event : 
https://www.facebook.com/pages/BORA-BORA-KXT-IRONMANA
 or 
https://www.facebook.com/kainalu.xt
What people say about the KXT Bora Bora IRONMANA:
"The swim in Bora Bora is definitely the most unusual," Kostich explains. "It involved laps around a private island last year, with a climb up a ladder out of the water to a path bisecting the island. We were required to run through the island and dive off the pier on the opposite side and continue swimming."
"There were many events planned during the festival from some that were highly competitive to others just for fun.  I had a great time in the V1 (rudderless canoe) race. The SUP races were crazy, action and fun!" (Riggs Napoleon)
When asked to give three words to describe his experience at the Bora Bora KXT Ironmana Liquid Festival in, Tahiti, Brennan Rose responded: "I have never paddled so far. I have never been so tired. I have never been so strong. I have never been so hungry. I have never been so burnt. I have never paddled that many islands. I have never meet so many amazing people. I have never been so happy. I have never felt so alive. I have never felt so blessed. I have never."
"Tahitians are phenomenal paddlers, it's in their blood and paddling is such an important part of their culture so I knew the competition would be tough," Kalmbach says. "I was stoked to be able to paddle with the guys and girls over there. I got some good tips for downwind paddling, which will come in handy this season!
This list is private.
Results Select an event to view results.
Note: All live times are unadjusted and unofficial.
THE LOCATION: BORA BORA ISLAND & the SOFITEL MARARA BORA BORA BEACH RESORT****

BORA BORA ISLAND:
"The Pearl of the Pacific", as Captain Cook baptised her bears the magic of the most beautiful Polynesian islands. This ancient stretched volcano shows its two peaks, Mounts Pahia and Otemanu, whose green colors stand out against the jade, turquoise and sapphire shades of the lagoon.

Known to be the most beautiful in the world, the lagoon, linked to the ocean by the Teavanui pass, is a natural swimming pool which offers a large variety of aquatic activities such as diving, sailing, jet skiing, snorkelling or even cruising on glass bottomed canoes.
click here to know more about bora bora island
The resort: SOFITEL MARARA BORA BORA RESORT****
The event will take place again at this famous resort, races will start and end at this hotel. And we've negociate excellent fares for all participants! This resort is the most convienent to participate at this event, and it'll offer you the opportunity to bring your loved one with you, to share romantic moments at this amazing place.

This resort is nestled on a private white sand beach, on the edge of the most beautiful lagoon in the world. The Sofitel Bora Bora Marara Beach Resort is surrounded by an exceptional environment. With a total of 55 bungalows, this address offers an intimate atmosphere...
click here to know more about the SOFITEL BORA BORA MARARA BEACH RESORT****


Discover our IRONMANA vacation packages:
Our vacation packages below are fully customizable whether you need to extend your stay on Bora Bora or visit others islands, contact one of our Travel Consultants for custom quotes.
All our vacation packages include the IRON MANA EVENT PASS:
1- your registration at Bora Bora Liquid Festival from Wednesday 3rd to Saturday 6th December (including registration to all races)
2- your registration to the Stand up Yoga and Zumba sessions during the liquid festival Bora Bora
3- your event t-shirt, cap and swimming cap IRONMANA 2014 
4- admission at the Live music Canoe Sailing BBQ party on Wednesday 3rd December Maikai Marina Restaurant (including BBQ diner and transfers from the Sofitel Marara Beach Resort)
5- admission at the Ironrastamana Pizza Fare Manuia DJ party on Thursday 4th December (dinner included)
6- evening Buffet Carbo Dinner at the Sofitel Marara Beach Resort on Friday 5th December
7- admission on the double canoe escort SUP race around the island of Bora Bora, Saturday 6th December
7- Polynesian buffet dinner at the Sofitel Marara on Saturday 6th December 
8- admission at the After dark evening party and live concert with dj on Saturday 6th December