Cow Harbor PaddleFest 2015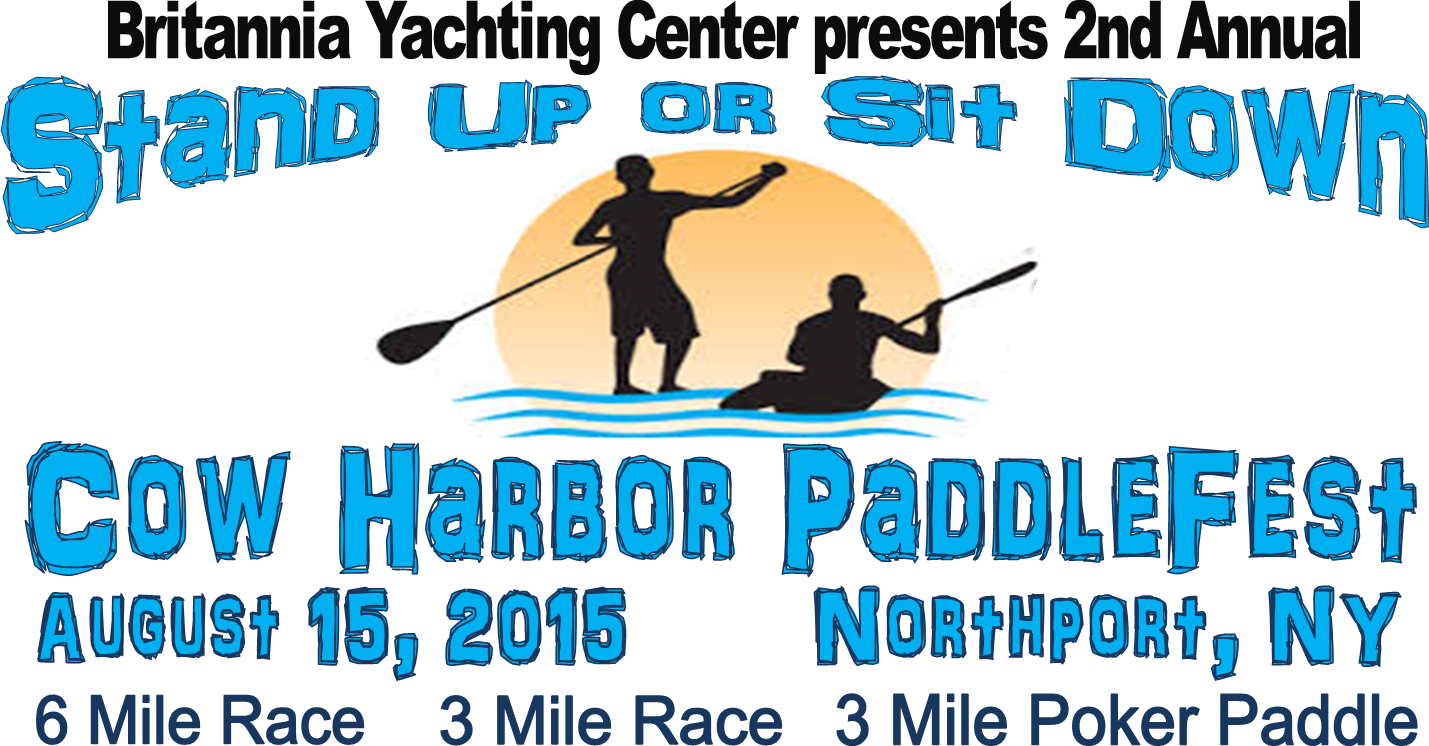 Cow Harbor PaddleFest has 
something for everyone from the elite racers to the family and friends cheering from the shore.  In addition to the paddling activities, there will be stand up paddle board and kayak representatives, demonstrations, vendors, music and food.


Register Today! No other event like it between NYC and Riverhead! 

Option 1-  6 mile competitive race for kayaks and stand up paddle boards.  If using a tandem kayak, both participants need to register individually. Prizes!!
Option 2-  3 mile competitive race for kayaks and stand up paddle boards.  If using a tandem kayak, both participants need to register individually.  Prizes!!
Option 3- 3 mile recreational Poker Paddle. While paddling at your own pace stop at 5 designated poker boats to retrieve your chips from a floating inner tube. When you finish paddling turn your chips in to receive your poker hand. Best hand wins a prize. Just want to paddle the 3 miles with friends and not participate, not a problem. We just want you to have a good time. If using a tandem kayak, both participants need to register individually.

Share and like us on Facebook!

Check out our website cowharborpaddlefest.org

 Can't wait to see you there - keep paddling!!
Race Day Schedule
7:30-8:30am - Registration
8:45am- Mandatory Paddler Meeting
9:15am - Staggered Start by Event
11:00 to 2:00 pm – After Party, Awards and hang out
Paddle Craft Divisions
· Stand Up Paddle Boards
· Kayaks
Race Preparation

·     Apparel: Sun Hat, Polarized Sun Glasses, UV Shirt, Board Shorts / Paddle Shorts, Wind Breaker, Water Shoes, Bilge pump for kayaks, Hoodie / Warm up Jacket, Sun Screen
·     Craft Supplies: Personal Floatation Devices for each Member (Required), bilge pump for kayaks, dry bag, paddles.  All stand up paddlers must wear a leash and have a PFD on Board.
Awards/Prizes–will be awarded to the first place finishers in each age category for each respective class.
SAFETY
Water Support - We have focused our water safety on key areas: paddlers' physical condition, recreational power boat traffic and weather conditions.  To help with these areas we have asked the following groups, United States Coast Guard, Coast Guard Auxiliary, local Harbor masters, Bay Constable and Northport Fire Department Water and Rescue to assist us in making this a safe race.  We plan to have water safety boats with flags for paddlers as well as roving patrol boats.
Paddler Meeting- There will be a meeting before the start of the race which will go over the race course, rules and safety procedures.  Also a discussion on weather conditions, currents, and problem areas around the course.
Accountability- Any participant that bails out before completing the race, must contact the Cow Harbor PaddleFest committee immediately by informing a designated Committee Boat on your course. Furthermore, all racers that complete their race commitment must check in with the Race committee timer at the finish.
Rules
· The Cow Harbor PaddleFest Committee reserves the right to refuse entry and participation to anyone at anytime for any reason.
· Expel or disqualify any individual or boat for lack of required equipment, unsafe operation, and/or disregard for event rules or unsportsmanlike behavior.
· Disqualify any individual or boat who has gained an advantage by drafting any boat outside 500 feet, ignoring someone in distress, or causing damage to another craft.
· All racers must have a PFD on their craft for each member.
Event Entries Click on an event to see who entered.
Results Select an event to view results.
Note: All live times are unadjusted and unofficial.
Cow Harbor PaddleFest will be at Steers Beach, Northport, NY  11768. 
It is located next to the Town of Hungtinton Ashroken Beach.  
Can't wait to see you there! In the mean time keep paddling!