East Coast Ocean Surfski Championship 2018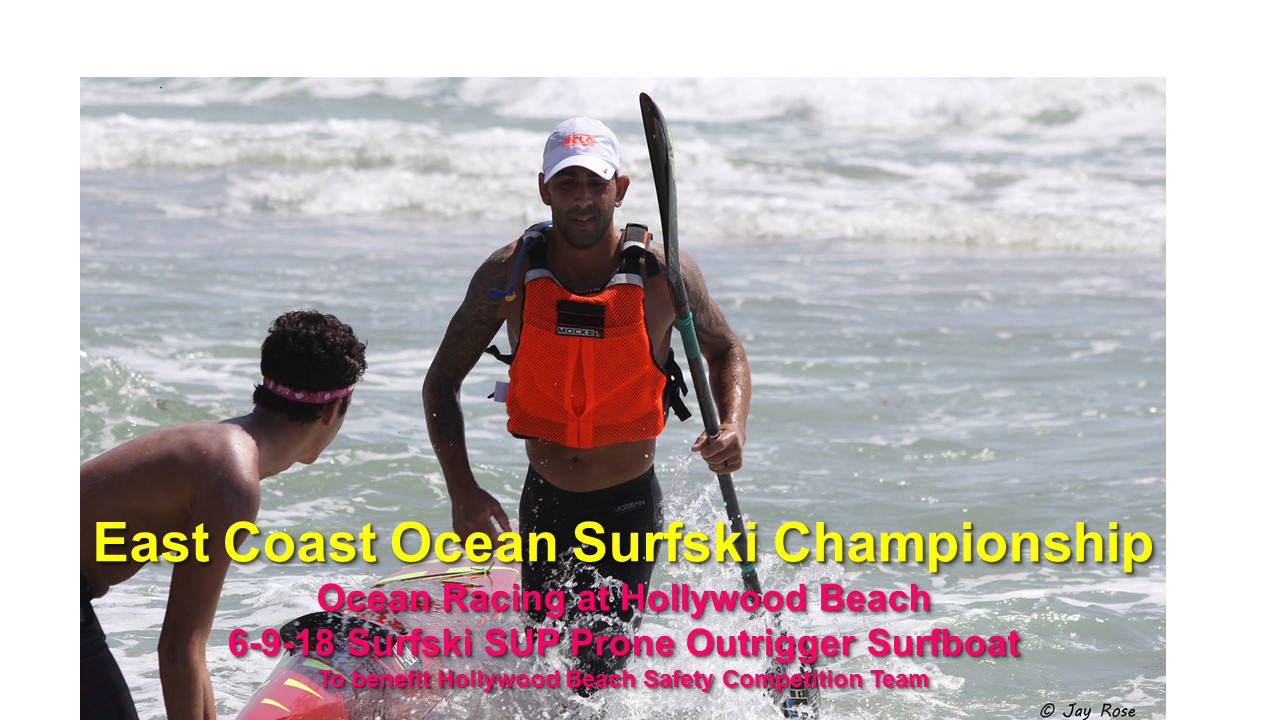 16th East Coast Ocean Surfski Championship is open to Surfski, SUP, Prone Paddleboard, Outrigger Canoe and Surfboat over 6 and 12 mile ocean courses.  The race courses are visible from Hollywood Beach and along the inside line, friends and family members may cheer on their racers.  Proceeds of the event go to the Hollywood Beach Safety Competition Teams.  We are honored to host this historic event!
All starts will be wet with paddlers/crew on their craft.  The finish will be dry where the racers will paddle to the beach, dismount and run/jog/walk/crawl with their paddle a short distance to the finish line.  Boat caddies will gently move craft to the beach to insure a clean finish area.
Safety of the paddlers is a prime concern.  Leashes and Vests are required for all paddlers with the exception of lifeguard paddled Spec Surfskis.
Several manufacturers and experts will be on the beach offering demos and basic instruction along with event sponsors showcasing their products.
Racers will receive event Rash guards - Refreshments at the finish line for racers
Hot Spots and Raffle
Vaaka Paddle Cadence Hot Spots: First Surfski 18-29 Man and Woman will receive a Vaaka Sensor.  1st OC1 Man and Woman will receive a Vaaka Sensor.

First Woman over 50 to Hot Spot by Bruce Gipson/VentureSport
First Man over 50 to Hot Spot by Bruce Gipson/VentureSport
First Junior Man 17U to Hot Spot by Jeff Stephens/Paddle Attic
First Junior Woman 17U to Hot Spot by Maureen Stephens/Paddle Attic
First Man 18 - 29 to Hot Spot By Jeff Stephens/Paddle Attic
First Woman 18-29 to Hot Spot by Maureen Stephens/Paddle Attic
First Lifeguard Spec Ski to Hot Spot Epic Gift Certificate by Brian Houston Epic Kayaks
Prone Board High Performance Coaching Session by Cynthia Aguilar/CAguilar
First Surfski Woman to Hot Spot, V-Bar Rack by Scott Miller/Manta Ray Paddle Sports

First Surfski to Hot Spot - Overall by Hollywood Wave Riders
First Woman and First Man to Hot Spot, Boat Repair Certificates by Paddlesports of Naples

Our Supporters: 
JOLYN SOUTH FLORIDA: southflorida@jolynclothing.com
Paddlesports of Naples,  http://www.paddlesportsofnaples.com/ Nelo Braca Sport Stellar
Venturesport, Inc. http://venturesport.com/  Fenn Knysna Carbonology Pratt Z&J Gara
Paddle Attic, http://www.thepaddleattic.com  Stellar Z&J Mocke
Epic http://www.epickickayaks.com Epic Kayaks, Surfskis and Paddles
Jupiter Surfski,  https://oceanpaddlecompany.com Nelo, Think, Vaikobi, Mocke
CAguilar Custom Prone Boards by Indigo http://www.indigo-sup.com/
BodyArmor Sports Drinks https://www.drinkbodyarmor.com/

Red Bull https://www.redbull.com/us-en/
Vaaka Paddle Cadence https://www.vaakacadence.com/

Starts is wet with crews on their craft
All craft start is 9:00AM
Course Closes at 12:30PM All craft must finish by this time.
Award Ceremony as close to 1:00PM as possible
Equipment Demos will continue after the race ends.
Check-in opens at 7:00AM. 

Note concerning inclement weather:
Should there be lightening over the course, the Chief of Beach Safety may postpone the race start.  Being June, we do not expect hazardous conditions.  However, we have an alternate location if the sea state is determined as dangerous for small craft.  The decision to use the alternate location will be made 24 hours prior to race start.
Event Entries Click on an event to see who entered.
Results Select an event to view results.
Note: All live times are unadjusted and unofficial.
COURSE DESCRIPTION:
Competitors will start on the shoreline at Harry Berry Park in Hollywood. At the start they will proceed to a buoy approximately one mile offshore (buoy #1) where they will turn left around the buoy and head northwest. After three miles they will find a buoy approximately 100 yards offshore (buoy #2). Competitors will then turn left around this buoy and head south toward the start where they will encounter a buoy approximately 100 yards from shore (buoy #3). Competitors participating in the 6 mile race will turn right at this buoy and head for shore and the finish line. Competitors participating in the 12 mile race will turn left at this buoy and head east to buoy #1 for their second lap.  The position of buoy #1 will be optimized for downwind paddling and finalized prior to race start at a meeting of last years category winners and the chief of beach safety.
The Start/Finish line and paddler check in are at Harry Berry Park

301 Azalea Terrace, Hollywood, FL 33019.  Parking passes available at check in for racers.  Metered parking is available with easy beach access.

  Spectator parking is available in public and private garages/street parking along the length of the race course.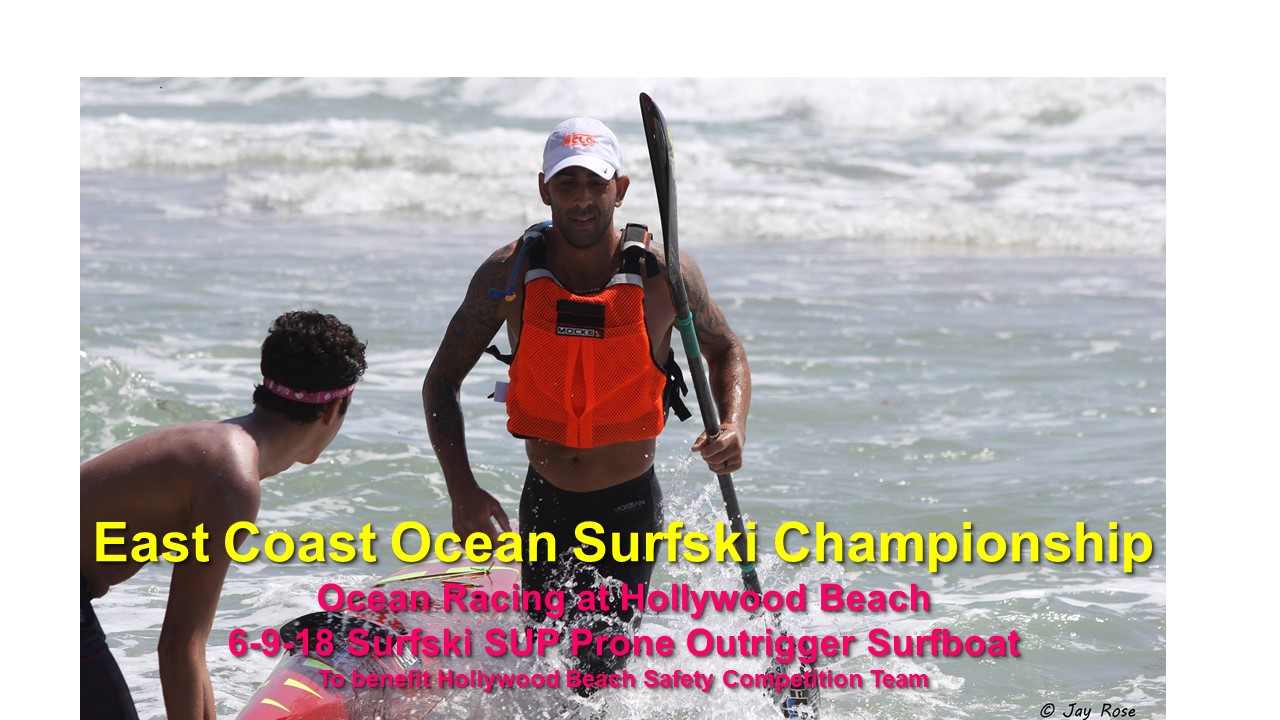 ---