Face Off at the Fort 2016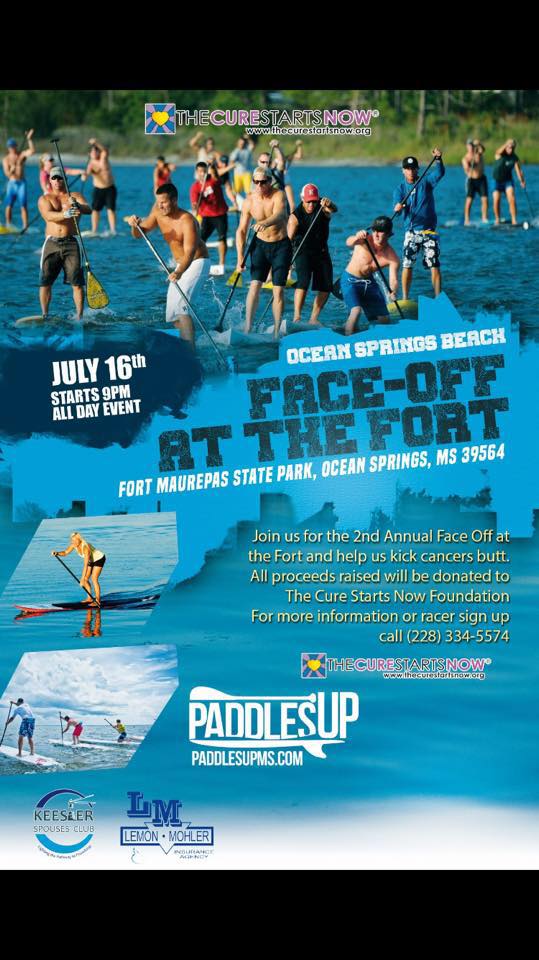 The 2nd Annual Face Off at the Fort SUP Race will be held at the historical landmark, Fort Maurepas Park, located in Ocean S
prings, MS on July 16, 2016. 
Board Drop Off/ Registration 7:30-8:30a.m.
Start Time aprx. 9 am.

Race Divisions

1 Mile Rec
-men
-women
-under 12

3 Mile
-Men's Surfstyle
-Women's Surfstyle
-Men's 12'6"
-Women's 12'6"
-Women's Kayak 16 and over
-Women's Kayak under 16

6 mile
-men's surfstlye
-women's surfstyle
-men's 12'6"
-women's 12'6"
-men's 14'
-women's 14'
-Women's Kayak 16 and over
-Women's Kayak under 16

All proceeds of race will be donated to "The Cure Starts Now" Foundation.The Cure Starts Now Foundation fights for the cure for children with brainstem glioma and cancer survivors everywhere. 
We will be having a raffle and are giving away all kinds of awesome things including A 3 DAY TRIP TO DESTIN TO STAY AT THE ISLANDER RESORT ON HOLIDAY ISLE!!!
PRE RACE PARTY TBA
Saturday July 16 8 am: Racers arrive and get signed in/ board drop off/ park
Race will begin approximately at 9 am.
Lunch and awards to follow.
Event Entries Click on an event to see who entered.
Results Select an event to view results.
Note: All live times are unadjusted and unofficial.