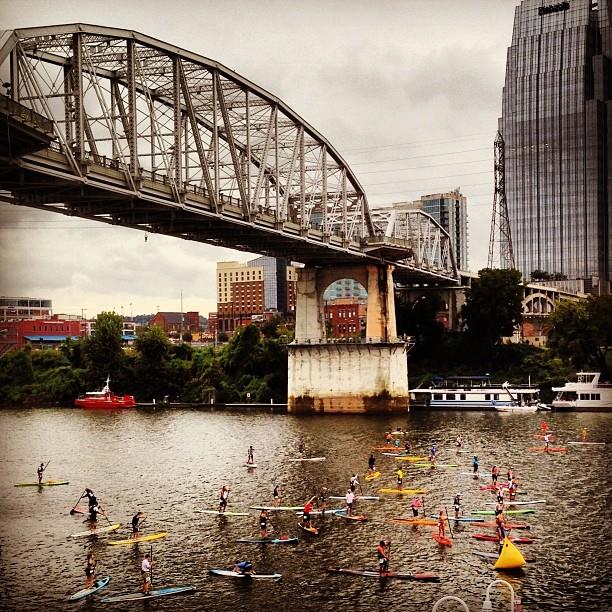 2-Mile Race (1 lap)

6-mile Race (3 laps)
Please Email Kayla Boys if you have any additional Questions!
Thursday, July 24th 2014
            4pm-7pm SUP Night at Mountain High Outfitters (MHO).
            -Meet the Race Directors.  Race meeting @ 6pm
            -Enjoy light food, wine and music
            -Enjoy discounted shopping
          - Guests:   Prissy TomBoy Athletics & Brooke Widmer, Indo board demo
Directions to MHO: 1556 W. McEwen Drive, Suite 132, Franklin, TN 37067
615. 465.6447
Friday, July 25th 2014
4pm-7pm Packet Pick-up @ Riverfront Park 
4-7pm SUP w/Jothy & attend his book signing: Who Says You Can't  (amputee athlete)
Directions: Cumberland River – Riverfront Park, 100  1st Ave. N, Nashville, TN 37201 
Directions:   https://www.google.com/maps/place/Riverfront+Park/@36.169279,-       86.777848,17z/data=!3m1!4b1!4m2!3m1!1s0x88646656c18cbbf1:0x7bebbed8074d476f

Saturday, July 26, 2014
            7am Day of registration/packet pick-up begins, closes @ 8am
            8am Mandatory pre-race meeting
            8:15am National anthem by Jacky Dustin
            8:15am Immediately following the national anthem, racers will be allowed on the water
            6-mile race begins @ 8:30am
            2-mile race begins @ 8:45am
            Live performance by Isaac Hayden
Location: Cumberland River – Riverfront Park, 100  1st Ave N, Nashville, TN 37201                                                                           
Directions:   https://www.google.com/maps/place/Riverfront+Park/@36.169279,-       86.777848,17z/data=!3m1!4b1!4m2!3m1!1s0x88646656c18cbbf1:0x7bebbed8074d476f
Awards:  Under Team Magic tent immediately following race.

All volunteers for the Open Water Swim Race will report back to the water immediately following the awards ceremony.

Friends and family who want to help can sign up to volunteer here: http://www.signupgenius.com/go/20f0f49aeab28a02-music
Event Entries Click on an event to see who entered.
Results Select an event to view results.
Note: All live times are unadjusted and unofficial.
BODY MARKING:
Racers will be body marked instead of race numbers. We will have body marking at pack pickup the morning of the race.  Race numbers need to be at least 3" on the right side of your body. We will need to mark your body below your race shirt or shorts. It's imperative that the timers see your race number when you finish.
Racers will be allowed in the water to warm up by 8:15am., immediately following national anthem.
Launch: Racers will launch on and off boards from the dock. You will paddle up river (away from bridge columns) to await your air horn start behind the start line. We will have 5-6 volunteers along the dock to help you safely come off the water. The volunteers can carry your board to the staging area if you need help.
Launch Point Cautions: The concrete dock at the start/finish can be pretty hard on our boards. Due to the fact we have a current at the dock/finish line; all racers will exit the water at the end of their race.
LUNCH:
Lunch from Crave will be served around 11 am under the Team Magic tent. Box lunches were pre-ordered when 
you registered. Additional box lunches cannot be ordered after Thursday, July 24th. At this point, we 
do not have any other outside vendors coming with food, but there are dozens of places to feast in 
the downtown area. 
LODGING:
Or call 
866-986-8089
. Request the Music City Sup Race rate to get the discount.
Rooms must be booked by June 25, 2014 to get the Music City Sup Race rate.
Hotel Preston, 733 Briley Parkway, for $109. 
The hotel has free parking.
STAGING: 
All racers will stage their boards in the grassy tiered lawn area. Look for signage. Racers are 
encouraged to bring SUP bags or other protection to go under your SUP when not racing. 

TIMING:
Timing will be provided by Team Magic, Inc.

SPECTATORS:
There are two ideal spots to view the race: Along the riverfront area or from the top of the Pedestrian 
Bridge. 
PETS:
Pets are allowed on leash (not to exceed 6').
RESTROOMS:
Portolets will be available on race site.
RAINOUT SCHEDULE:
Should we experience rain during the race…prepare to get wet! If we have wide spread storms, we will 
not go on the water until storms have safely passed and we are cleared from the Coast Guard. I suggest 
we all do the happy, sunshine dance. 
DOOR PRIZES & RAFFLE:
Each race packet will have one ticket; hold on to that ticket for door prizes. The grand prize of the race 
will be given a free race entry to another 2014 MHO SUP Race. Riviera has donated a paddleboard, 
come see who the lucky recipient will be this year! 
I would like to say welcome back to Rich, our Wounded Warrior and 2013 Riviera recipient. 
OPEN WATER SWIM RACE & MUSIC CITY TRIATHLON WATER SUPPORT VOLUNTEERS NEEDED! 
To Volunteer at the SUP Race: 
Sign up to volunteer:
http://www.
signupgenius
.com/go/20f0f49aeab28a02-music


A huge thanks to Margaret Littman (Nashville Paddle Co.) and Brooke Widmer (Soulshine SUP) for co-directing this event with Mountain High Outfitters. 

100 1st. Ave North,  Nashville, TN
Directions:
https://www.google.com/maps/place/100+1st+Ave+N/@36.1624,-86.7748258,17z/data=!3m1!4b1!4m2!3m1!1s0x8864665bae434b8d:0x5b7c3993276843a0
Parking:
With proper planning, parking shouldn't be an issue.  You can park your car in any of the public lots   downtown. Several are located on 1st and 2nd Ave, but the Metro Courthouse parking garage at 101 James Robertson Parkway is just $4 for the entire day. You will need to drive down 1st Avenue, pull over on the east side, quickly unload your board on the grass, then continue back up 1st Avenue to park, and then walk back to the race site. Volunteers will help you unload your board.
Reminder: Check clearance heights before entering in a parking garage w/your SUP still on top of your auto!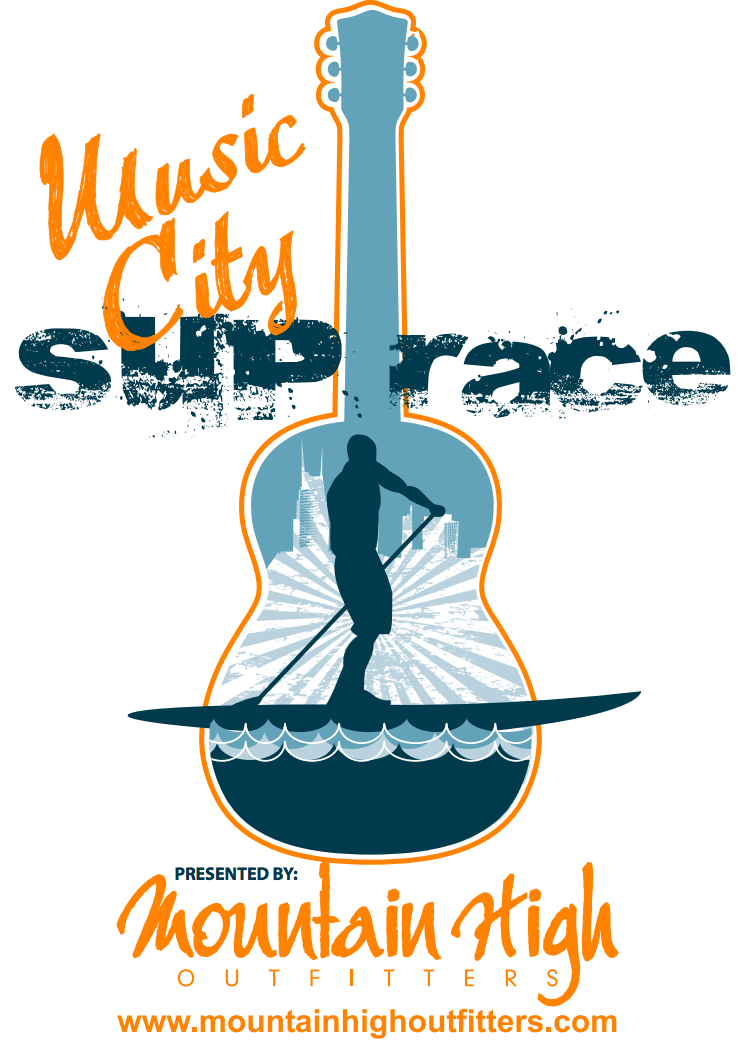 ---