Nish-Pombo Memorial OC & SUP Paddle Race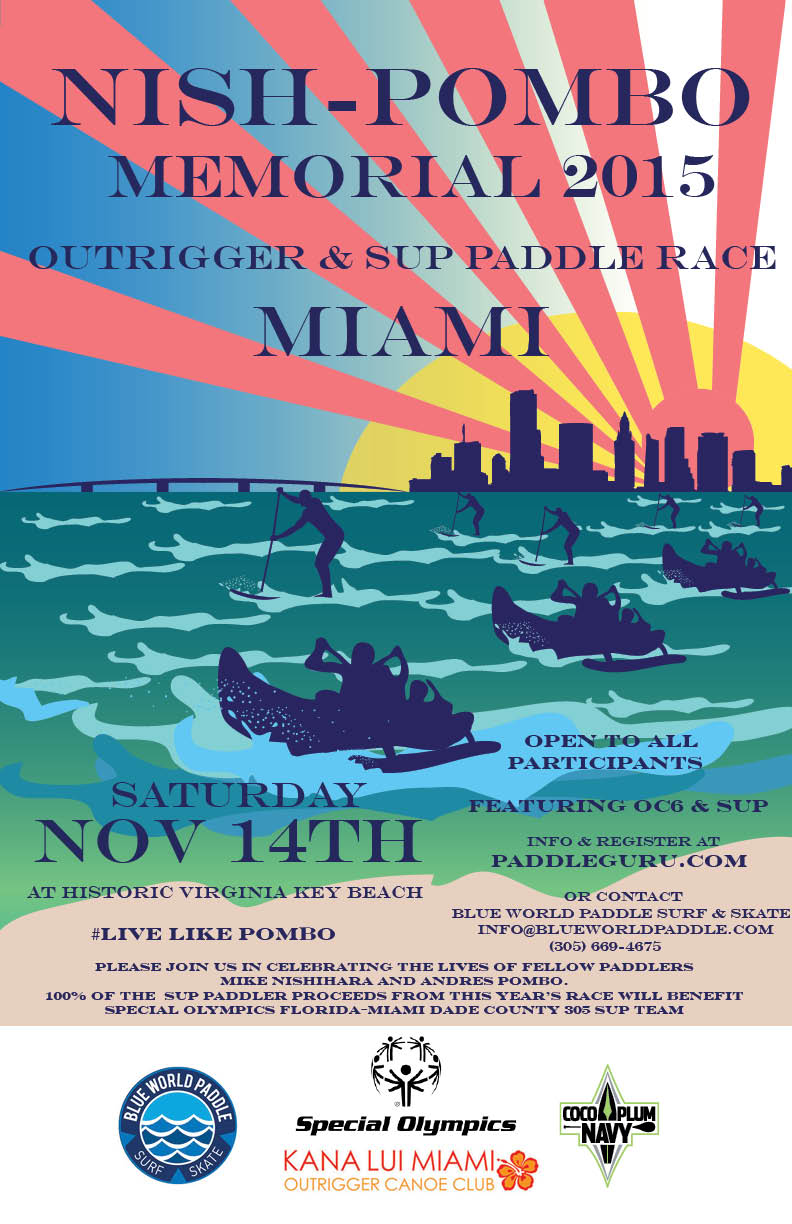 Saturday November 14th, 2015
Presented by 
Kana Lui Miami Outrigger Canoe Club, Coco Plum Navy Sup Group 
and Blue World Paddle Surf and Skate.
 The Nish Pombo will honor the lives of local paddlers Mike Nishihara and Andres Pombo
The race will be held at Virginia Key Beach Park and paddlers (both Outrigger and SUP) will paddle distances ranging from 2.5-10 miles. The outrigger course will take paddlers along Brickell Key, Fisher Island, and around Virginia Key. The Sup race will feature a recreational race of 2.5 miles and a elite race of 6.5 miles. 
 Race is open to all participants of all levels and ages.
MIKE NISHIHARA (NISH)
Our friend and fellow Kana Lui Outrigger paddler Mike Nishihara passed away in September 2007. At the time, we named our new (red) canoe "Mike 'Nish' Nishihara" and we organized a memorial paddle and lei ceremony on the water to pay our respects. In the spring of 2008 we held the first Nish Memorial race and Luau attended by his mother Rose and sister Beth. We blessed the canoe and Beth performed beautiful chants to honor Mike. Since then, we have held an annual race in his honor. 
ANDRES POMBO 
On August 21st, 2015 we lost fellow Sup Paddler and Waterman, Andres Pombo. He was to participate in the Naish Columbia Gorge Paddle Challenge, which is a huge downwind race in Oregon. During a practice run he got separated from his Fanatic SUP teammates. He was a pillar in the SFL paddle community. He was more than just another athlete. He was a giver, a gentleman someone you could count on. His happiness was contagious and the hole he left will be a tough one to fill. He was an intricate part in establishing the Special Olympics 305SUP team. Originally from Uruguay, he lived in Miami and is survived by his loving wife Luz Angela, parents and brother. The SUP community suffered a great loss that day but also learned a valuable lesson regarding water safety.
Equipment Requirements:
Each SUP participant must wear a USCG-approved PFD (life jacket).
Each participant/Canoe must also carry a signaling devise such as a whistle.
Leash required for all SUP no exceptions 
100% of the SUP Paddler proceeds from this year's race will benefit  
Special Olympics Florida-Miami Dade County 305SUP team
7am Park opens 
7am-8am Set Up
730am Check in begins/Canoe SUP drop off  
830am Blessing and Race course/Captains meeting 
9am: Women's OC6 race ( 10 miles)
9.10am: SUP Elite
10am: Mixed OC6 race ( 6 miles) 
11am:  Mens OC6 race begins (10 miles)
11.10 am SUP Rec race begin
11.30 SUP Special Olympics & kids
Event Entries Click on an event to see who entered.
Results Select an event to view results.
Note: All live times are unadjusted and unofficial.
4020 Virginia Beach Dr, Key Biscayne FL 33149
Park Website: www.
virginiakeybeachpark.net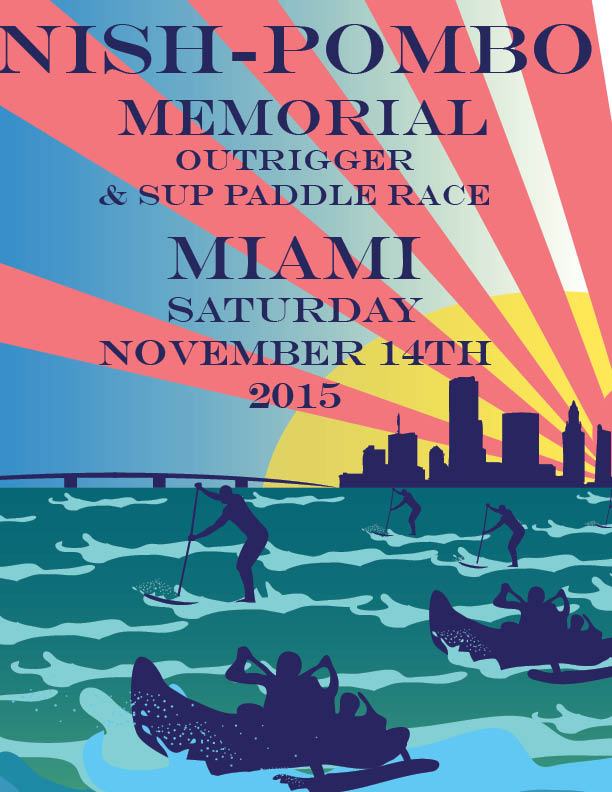 Where:
Virginia Key, Miami-Dade County, FL
---