Riverthon℠: The Ohio River Challenge 2016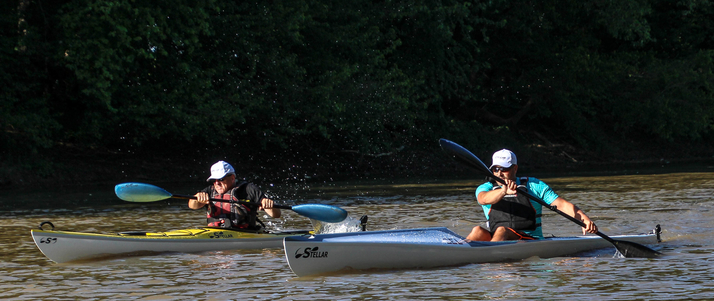 About Riverthon:The Ohio River Challenge
September 17th, 2016
Riverthon℠ is a series of three paddle sport racing events that take place on the mighty Ohio River within the greater Louisville, KY area. Our signature event is the Louisville 50 Race, a 50 mile race from Westport to West Point, KY. Enter the Mayors Cup 22 Race and be the first male and female solo paddler to cross the finish line and have your name engraved on the Louisville Mayor's Cup trophy. Experience the thrill of open water paddling racing 7 miles downstream in the Ohio River 7 Race. Each of these are a fun, challenging, and unique way to connect with the water, fellow paddlers, and experience both the rural beauty of the Ohio River Valley and the Louisville area urban landscapes and architecture along the way.
Registration Deadline: September 8th at 12 PM EST
Admiral Level Sponsors:
Stellar Kayaks River City, Stellar Kayaks, and Metro Louisville
Schedule of Events
Race Day: Saturday, September 17, 2016
Weather Date: Sunday, September 18, 2016
Friday, September 16
4 - 7 P. M Westport Boat Dock: Stellar Kayak River City Demo                       Our Admiral level sponsor Stellar Kayaks River City invites you to join them for a Stellar Kayaks Demo clinic as part of the 2016 Riverthon: The Ohio River Challenge schedule of events. SKRC owner, Pat Dour will have several models of Stellar Kayaks surfskis and kayaks available for a test paddle at the Westport boat ramp the Friday afternoon before the 2016 Riverthon. When you come to drop off your boat for race day, feel free to sign a waiver, and take a Stellar out for a demo paddle on the Ohio. This event is free, open to the public, and all level of paddlers are welcome to join. Please remember to bring your PFD, which must be worn while paddling any of the demo boats. 

Stellar paddles will also be availabe for demo and other paddling items available to look at and try on, like the Mocke Paddling Racer PFD. Riverthon event special pricing on boats and gear will be available at the demo. We hope to see you there!
5 - 10 P.M Westport Boat Dock: welcoming bonfire, boat drop off and          pre-registration.
Saturday, September 17: 
Registration begins 2 hours before the race begins, the mandatory captain's meeting is 45 min. before the race begins.
Races
The Louisville 50: Westport to West Point -  race begins 7 A.M .

The Mayor's Cup 22: Westport to Downtown Louisville - race begins 11 A.M .

The Ohio River 7:   Harrods Creek to Downtown Louisville – race begins 2 P.M .
Finish line celebration – 3 to 8 P.M
Refreshments: 3 P.M to 7 P.M (The National Jug Band Jubilee is going on at the same time)
Dinner: 6:30 P.M
Awards: 7:00 P.M  (some of the Louisville 50 paddlers might still be on the river)
Check for updates on the Riverthon℠ Facebook page: https://www.facebook.com/Riverthon
Questions email:
Riverthoninfo@gmail.com 



Gerry@explorekentucky.us
Event Entries Click on an event to see who entered.
Results Select an event to view results.
Note: All live times are unadjusted and unofficial.
Louisville Community Boathouse
1435 River Road
Louisville, KY, 40206
(Waterfront Park -Yellow Parking Lot on River Road)
community.boathouse@louisvilleky.gov
http://louisvilleky.gov/government/ parks/louisville-community-boathouse
502.574.3428
Mailing Address:
Louisville Community Boathouse
c/o Metro Special Events
527 West Jefferson Street
Louisville, KY 40202
The Louisville 50 and the Mayors Cup (22​ Mile) races begin at Westport Park and Boat Dock,  656​7 Main Street,  Westport, KY 40077
The Ohio River 7 mile race begins at Captain's Quarters at the confluence of Harrods Creek and the Ohio River.
| | |
| --- | --- |
| | 5700 Captains Quarters Road, Prospect, KY 40059 |
The Louisville 50 finish line is at:
West Point Park on the Ohio 
 399 North 4th Street   
West Point, KY 40177
The Awards Ceremony for all Riverthon events are at the Community Boathouse
Detailed paddling and shore information available at www.riverthon.org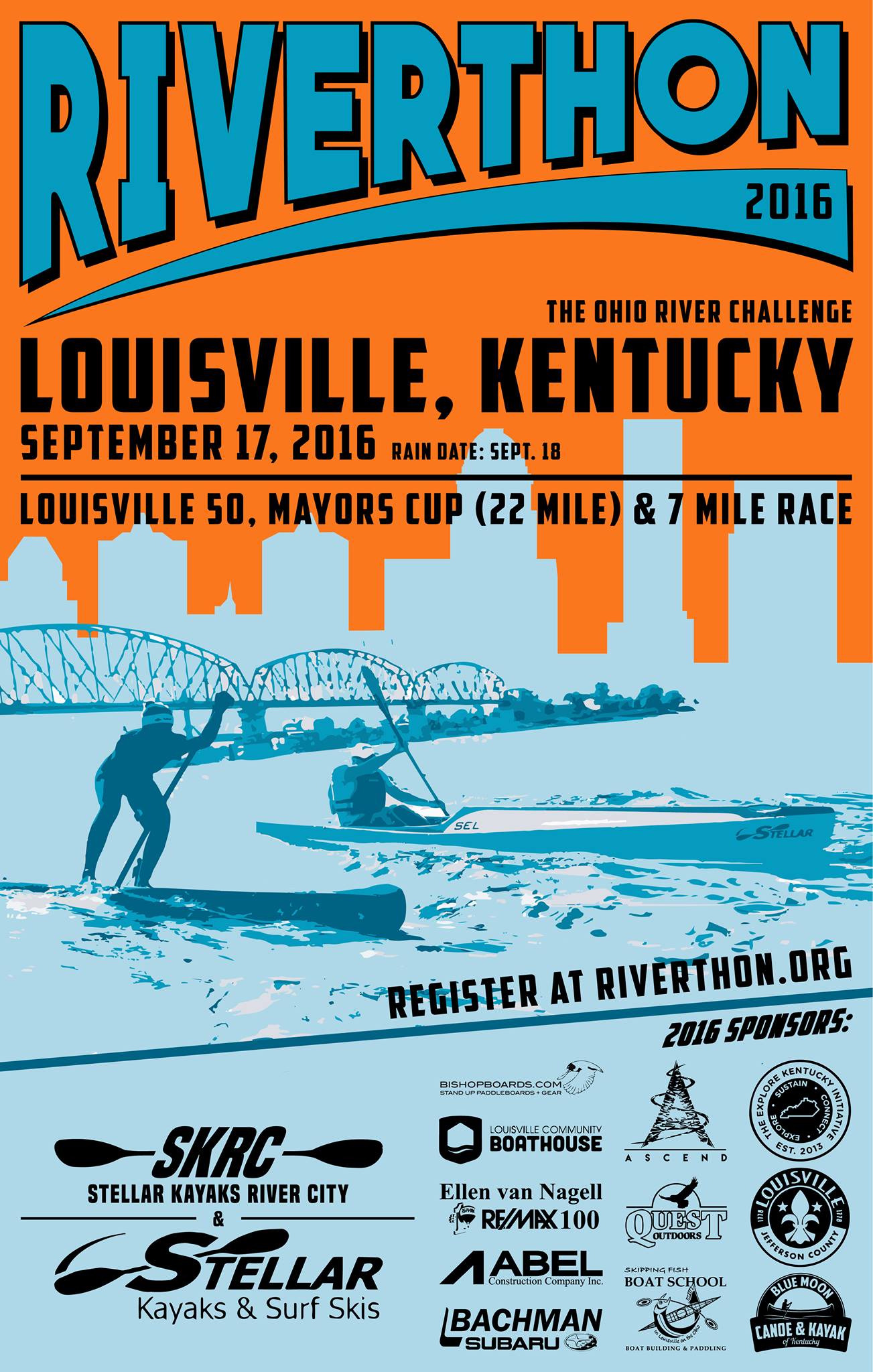 ---